Research can help keep up GDP growth
Says PM, lays stress on R&D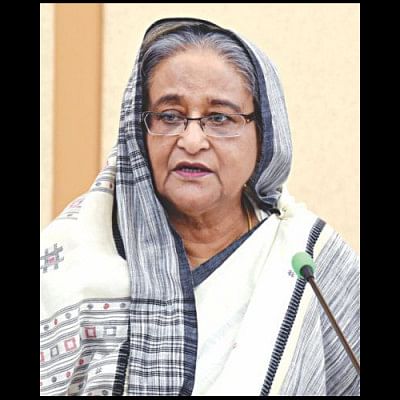 Scientists and researchers have responsibilities to find out sustainable ways to maintain Bangladesh's current economic and GDP growth, Prime Minister Sheikh Hasina said yesterday.
"We have to sustain our economic growth [and] only research can give us that solution," she told a programme marking the distribution of Bangabandhu Science and Technology Fellowship, National Science and Technology Fellowship and cheques of the grants for special research.
"We have formulated National Science and Technology Policy 2011 so that we can sustain our economic and GDP growth," she said at the event organised by Science and Technology Ministry at Bangabandhu International Conference Center.
Minister Yafesh Osman was in the chair while Chairman of the Parliamentary Standing Committee on Science and Technology Ministry Ruhal Haque spoke at the programme as the special guest.
Hasina said scientists and researchers have huge responsibilities towards the nation. "You will discharge your duties [properly] ... so that future generations can take the country forward," she said.
The prime minister mentioned that the government was formulating National ICT Policy 2018 to ensure the use of science and technology in every sphere of life. Research works are being emphasised for that reason.
She said Bangladesh gained a huge maritime area and research was essential to explore the potentials from its maritime boundary.
"We have already set up an institute in Cox's Bazar while studies are being conducted at Dhaka and Chittagong universities. We need a large-scale research," she said.
'WON'T LAG BEHIND'
The prime minister said the country needed more scientists, technologists and researchers.
She mentioned that the government had awarded fellowships worth Tk 84.64 crore from 2009-10 to 2017-18 fiscal to 13,713 persons.
"We are providing fellowships worth Tk 17.68 crore in the current fiscal year," she said.
Hasina urged the searchers and scientists to identify possible areas where the government could invest for development.
Earlier, she handed over the fellowships and cheques of the grants for special researches to the post-doctoral students and researchers.
The prime minister said Bangladesh sent a satellite to space. She noted that more research was needed as the country would send more satellites in future.
"We have to do some research on the issue. We will never lag behind," she said. "This is our aim and we are working hard for it."