Ekushey Boi Mela finally begins
PM inaugurates fair, dedicated to martyrs of 1971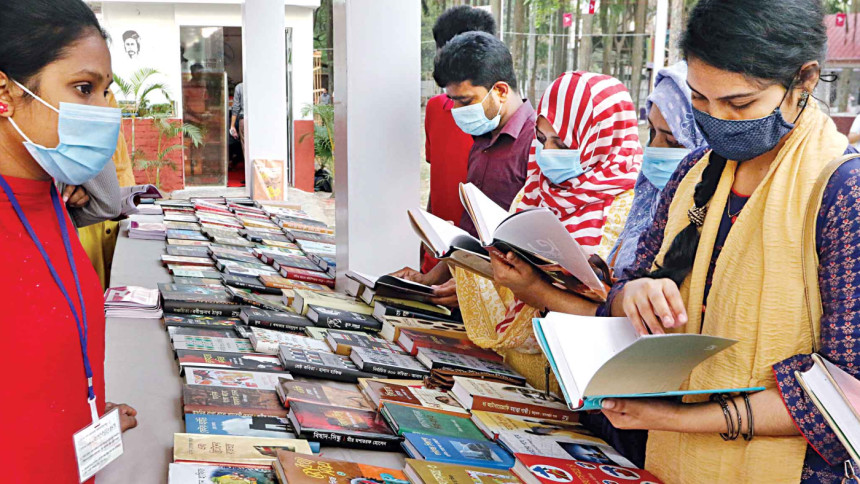 Prime Minister Sheikh Hasina yesterday inaugurated Amar Ekushey Boi Mela-2021 in the capital. She joined the inaugural ceremony at Bangla Academy virtually from the Gono Bhaban in the afternoon.
The fair will remain open from 3:00pm to 9:00pm on weekdays; 8:30am to 9:00pm on Fridays and Saturdays, with an hour break for lunch and prayers, until April at the Bangla Academy premises and at Suhrawardy Udyan.
The fair, traditionally organised in the month of February, was postponed due to the pandemic.
This year's book fair has been dedicated to the martyrs of 1971 Liberation War of Bangladesh. The main theme is "Birth Centenary of Bangabandhu Sheikh Mujibur Rahman and Golden Jubilee of Independence".
The prime minister unveiled the cover of "New China 1952", the official English version of "Amar Dekha Noya Chin" written by Bangabandhu Sheikh Mujibur Rahman and published by Bangla Academy.
She also distributed the Bangla Academy Literary Award 2020 among its recipients at the inaugural ceremony.
On behalf of the prime minister, State Minister for Cultural Affairs KM Khalid handed the awards over to the recipients. The land earmarked for this year's fair has been expanded to 15,00,000 sqft to accommodate Covid-19 social distancing requirements. A total of 834 stalls have been allocated to 540 organisations this year.
This year, the "Shishu Prohor" has been called off while the children's corner have been moved to Suhrawardy Udyan. The "Little Mag Corner" has also been moved there.
Visitors to the fair will have to mask up at all times. Hand sanitisation booths have also been set up at all entrances for visitors.
Seminars will be held at the main stage of the fair venue at 4:00pm every day from March 19 to April 14, followed by cultural events.
There are also four emergency shelters at the Suhrawardy Udyan.
Alongside all the necessary health precautions, there are strict security arrangements in the venue to prevent any unpleasant incidents.
The traditional Amar Ekushey Boi Mela began informally in 1972 at the Bangla Academy premises. However, the academy officially took the responsibility to arrange the fair every year since 1978.