Doomed, either way
RMG workers forced to make arduous journey to the capital only to find factories closed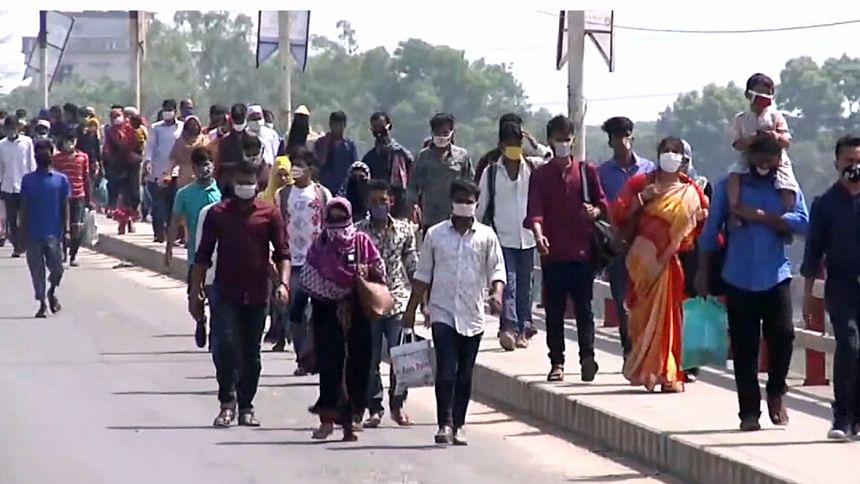 If you knew that the beginning of next month, you would have no money, none at all, how badly would you try to save your job?
"Work starts from April 5. We don't know how you will manage to come from your villages but you have to join work, or there will be no salary." This is what Ronny*, a jacquard operator from Posmi Sweaters, claimed his line supervisor told him.
"I had called on April 3, to tell them that there is no transport and it is not possible for me to to travel from Netrakona to Gazipur right now. But I was told that I must show up to work," said Ronny.
And show up he did. He set off from his home in Mohanganj upazila in Netrakona and reached Gazipur Chowrasta by walking, taking rickshaws, and hitchhiking on pickup trucks—covering a distance of around 150 kilometres.
He set off around 9:00am on Saturday morning and reached Gazipur late at night. But when an exhausted, sleep-deprived Ronny went to report for work yesterday morning, he found the factory gates locked. Security informed the workers that the shutdown had been extended till April 11 and possibly longer, said Ronny.
"Now, I am stuck here with no way to pay rent this month. I had to spend Tk 800 just to come to Gazipur."
Similarly, another male worker from Posmi Sweaters said he had called his assistant manager on the morning he set off. "I called him on April 4 to make sure that there is work the next day. He said yes, and so I started off from my home in Sreebordi upazila in Sherpur," he said.
His home is 160km from his factory. He, too, was met with closed gates yesterday morning.
"I walked around 40km… and whenever I could, hitchhiked on the back of pickup trucks. The police stopped us at several checkposts along the highway, and made me get down from my vehicle eight to nine times," he said. The trip cost him over a thousand taka. 
"Whatever money I have, I will spend on food. After that I will walk back to my village," he said. He has been told that he will get his salary when the factory reopens. 
Moshiul Azam (Shajal), managing director of Posmi Sweaters Ltd and vice president of Bangladesh Garment Manufacturers and Exporters Association (BGMEA), denied that the workers had been asked to come back.  He asked why the workers had gone home in the first place.
"That was irresponsible on their part. We are trying our best to keep our workers safe."
Ronny was asked why he had gone back to his village in the first place. "Five of us live in one room. We sleep side-by-side on the floor. When we first heard of the virus and that we would have to stay at home, I thought going to the village would be a better choice."
The stories are the same all over.  Most garments workers had left to avoid the squalid, overcrowded living quarters thinking it would help protect against the virus. They came back because they were told that factories would open and they would be paid.
Rana who works in Diraj Ltd in Jamgora, Ashulia had to set off before dawn yesterday. "I live deep in the hills of Madhupur. Nobody called me and told me that the factory will be closed. I walked from my village to Madhupur, and then took a rickshaw to Elenga in Tangail. After that I walked from Elenga to Chandora in Gazipur. Then I took a rickshaw again till Jamgora." This is a distance of around 100km.
"I had gone home because three of us live in a room that is 10 haat long. I came back because I needed the money. If I had known the garments would be closed I would have left my seat in the room for the month and just stayed back in the village."
BGMEA Vice President Azam said that discussions about whether the factories should remain open or not happened until the wee hours of yesterday morning. "We communicated the decision when it was taken," he said, adding that reorienting factories to tackle the shutdown has been a trying exercise.
When asked why the decision to extend the factory closures was taken the night before the factories were meant to reopen, he said coordinating everything has taken some time.
Meanwhile, as workers were rushing back to the factories yesterday, Dhaka Metropolitan Police completely locked down the city borders. "Nobody would be allowed in, and those inside will not be allowed out," said a statement circulated by the police.
On Saturday night, incoming garments workers were stopped at Keraniganj by the police, and they took refuge at the police station. The Keraniganj police called on Bidyanonda Foundation to help feed the hungry garments workers who had been travelling all day.
"We got a call from the police late in the night saying that garments workers are stranded at Keraniganj and needed food. We fed around 500-600 people, and even then around 50-100 people were left hungry. There might have been some locals in the crowds too, but garments workers made up most of the hungry people," said Aronno Arafat, a volunteer in the team.
Garments Shramik Samhati Federation slammed the lack of coordination in a press statement circulated yesterday. "How can there be two policies in the same country? Keeping the factories open has led to an inhuman situation," stated the press release.
Not allowed in, going back home
Yesterday, the Shambhuganj Bridge in Mymensingh city was teeming with workers making their way back home.
Md Moti Miah, town sub-inspector who was on duty at the bridge area, said they had been announcing since early morning that the factories have been declared closed but many did not listen and went on ahead to Dhaka.
Hailing from Rowmari upazila of Kurigram, Neela Akter and Momota Begum, along with their husbands, were returning to Gazipur yesterday as they had been asked by the authorities to join their garment factories to receive their wages.
"We have to receive the salary in cash tomorrow [today]," said Neela, who was returning to her factory in Sreepur of Gazipur from Kurigram via Sherpur and Mymensingh. The factory was open yesterday but they were not able to reach in time.
"We had to face at least 20 stops by taking rickshaws, vans, human haulers from Rowmari just to reach Mymensingh," said Momota.
Twenty five-year-old Mannan Mia from Mymensingh's Tarakanda upazila reached his garment factory in Bagerbazar in Gazipur around 11:00pm on Saturday night, contacted with his supervisors, and was informed the factory would be open from yesterday.
"But just an hour and a half later, we were informed about the closure of factories until April 11," said Mamun while talking to our Mymensingh correspondent at the Shambhuganj Bridge area.
As the government tried to stop garments workers in their paths, they closed down the ferries. Garments workers were seen hitching aboard trawlers to cross the Padma river, reports our Faridpur correspondent.
*The worker's name has been changed.
Shaheen Mollah contributed to the report.