Dhaka hotter in 20 years
City's temperature went up 3 degrees Celsius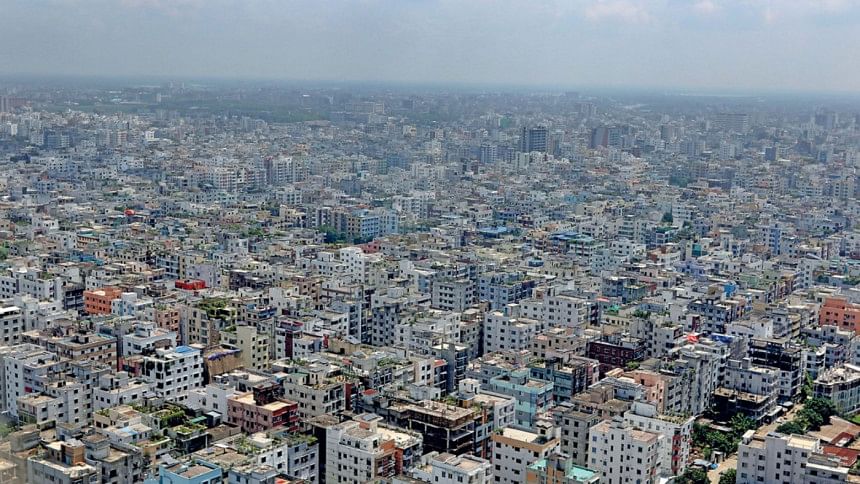 Dhaka has witnessed a rise in temperature of almost 3 degrees Celsius in the last 20 years while the world is fighting to contain the increase in global temperature to under 1.5 degrees.
The increase in annual daytime temperature in Dhaka over the last 20 years is 2.74  degrees Celsius, finds a study conducted on five major cities of Bangladesh.
Like Dhaka, Chattogram, Rajshahi, Khulna, Barishal and Sylhet have also witnessed rising trends of day and night temperatures in the timeframe, said the study, which surmised that population density, lack of greenery, uneven building heights, and human activities are the main reasons behind the trend.
The study titled "Surface urban heat island intensity (SUHII) in five major cities of Bangladesh: patterns, drivers and trends" was published in the Sustainable Cities and Society Journal of Elsevier on April 16.
According to the United States Environment Protection Agency, urban heat islands "occur when cities replace natural land cover with dense concentrations of pavement, buildings, and other surfaces that absorb and retain heat. This effect increases energy costs (e.g., for air conditioning), air pollution levels, and heat-related illness and mortality".
Temperature data of the five cities were collected twice a day from 2000 to 2019 and then analysed to identify the temperature trend and reasons behind the rise of temperatures.
"Results shows that annual SUHII temperature was greater in the larger cities of Dhaka and Chittagong than in the smaller cities," the report said.
The annual daytime temperature in Chattogram has risen by 1.92 degrees Celsius, in Khulna by 1.27 degrees, in Sylhet by 1.10 degrees and in Rajshahi by 0.74 degrees, according to the report.
When it comes to night temperatures, Chattogram scored highest with a 1.90 degrees Celsius increase, followed by Dhaka with 1.57 degrees.
The lowest night temperature increase was observed in Sylhet city (0.16 degrees Celsius).
"Human populations play a major role in shaping cities and influencing the thermal environment of urban areas, so increasing population both expand city size and are accountable for the rapid transformation of natural land cover to impervious surfaces," the report found.
"The situation is going from bad to worse. Poor environmental governance is accountable for temperatures rising at an alarming rate," Ashraf Dewan, lead researcher of the study, told The Daily Star.
He also said urban warming is increasing at an alarming rate in Bangladesh cities due to a variety of reasons including uneven building heights, extreme population density, meagre greenery, and above all, poor environmental governance.
"While buildings trap daytime heating and reduce nighttime cooling as a result of multiple reflection, extreme population density means increased metabolic heating and greater anthropogenic activities," said Dewan, also a professor at School of Earth & Planetary Sciences, Curtin University, Australia.
He also said the rise of urban temperature is also associated with reduced evapotranspiration (the sum of water evaporation and transpiration from a surface area to the atmosphere) due to abundance of concrete structures.
"Besides, waste heat from transports, buildings and industrial areas deteriorates the urban thermal environment," said Dewan.
To reduce urban heating, the expert geographer stressed on placing greenery strategically in heat-exposed areas instead of aiming for a high percent of green cover over particular areas.
"As the country is frequently affected by various types of natural hazards such as floods, public policies are well developed to lessen the impacts of natural disasters. Policies however are not well conceived for reducing urban warming. Hence, location-specific mitigation measures are imperative. In other words, adaptation strategies should be developed based on a city's attributes. Spatial planning can therefore be an important tool in this respect," Dewan concluded.
Renowned urban planner Neaz Rahman pointed at destruction of green space, especially those with large trees. If building height is more than the surrounding trees then these buildings will absorb heat and contribute to the urban heat island (UHI) effect.
"UHI are high in areas where highrise buildings are concentrated. Highrise buildings need more energy consuming mechanical gadgets (air conditioners, lifts, etc.) to operate, which generate more heat," he said.
Rahman also pointed at filling up of water bodies. Water bodies play a major role in controlling microclimates through controlling microclimate humidity and temperature. 
The other reason the urban planner cited was high building density, which hampers natural ventilation in buildings and contributes to the UHI effect.
He said the UHI phenomenon affects human welfare in terms of living conditions, especially for children and the older people.
Rahman, who was coordinator and deputy team leader, Detailed Area Plan, said in the DAP there were new guidelines for urban density control through regulating residential buildings' height and density.
"Restoration of khals (canals or creeks), rivers, wetlands and roads and railways as urban lifeline is important. These urban lifelines are designed as public health infrastructure," he said, urging the creation of a green-blue network criss-crossing the Dhaka metropolitan region.