No escape from searing heat
Power cuts aggravate Ctg dwellers' sufferings amid rising mercury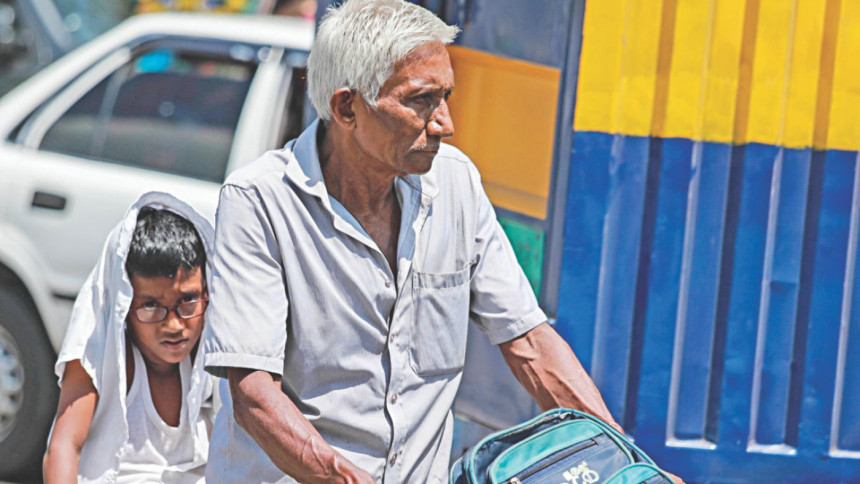 Despite record numbers in power generation in the national grid, residents of Chattogram city are suffering multiple power cuts throughout the day, amid rising heat and humidity.
According to Bangladesh Power Development Board (BPDB) sources, the country produced 11,623 megawatt electricity on Wednesday evening, exceeding the previous production record set just two days ago of 11,534 megawatt.
However, the port city continues to witness intermittent power cuts, lasting up to an hour in some areas, leaving residents short of breath.
City dwellers experienced 36.5 degree Celsius on Wednesday, which is the highest in last one year; 35 degrees on Tuesday and 35.2 degree Celsius on Monday, said Abdul Hannan, assistant met officer, Chattogram.
As residents sweat through humidity in the high fifties (percentage) and drivers honked their horns even more impatiently than usual, many decided to stay back at home, only to feel restless owing to erratic electricity supply.
"It feels like getting roasted outside home, and staying inside the house without power feels like getting boiled," said Rafiqul Dewan, a college student from Halishahar.
"It is nothing new in this city. Along with summer comes frequent power cuts. But the paradox is that at the same time BPDB claims to have hit milestones in power generation, we were struggling with frequent power cuts," said Shuvescha Ghosh, a master's student of Chattogram College and resident of Bakalia's Rahattar Pool area.
Besides multiple power cuts, some areas have been facing voltage fluctuations over the last few weeks.
"We cannot switch on air conditioners and fridges, owing to low voltage. We neither could increase the fan speed on such hot days," said Nusrat Lisa, a resident of Agrabad.
Amir Hossain, lecturer at a private college and a resident of Oxygen area, said, "We are facing power cuts eight to 10 times a day on average."
Other areas like Bahaddarhat, Chawkbazar, Battery Goli, Askar Dighir Par, Anderkilla, Shulakbahar, Panchlaish, Muradpur, and Bibirhat have also been facing more power cuts than before, some seven to 10 times on average, over the last few weeks.
When the problem was brought to the notice of BPDB officials in Chattogram, they initially did not respond clearly as to the reason behind these cuts.
When pressed for comment, Prabir Kumar Sen, chief engineer of BPDB Chattogram said, "This is not load-shedding. We are getting enough electricity from the national grid to meet the demand."
The power cuts are taking place due to technical glitches, cable faults, and maintenance and repair works, he added.
"We have to stop the total power supply in an area if a technical glitch occurs even in one line," he said.
"At present, we have 6,000 transformers for the port city. Of them, 4,500 have either been replaced or repaired. The rest 1,500 are decades-old which malfunction frequently," he said, adding, "Moreover, the cables are also decades-old and can fail anytime. It will take time to fix them all."
Businesses are bearing the brunt of the frequent power outages in the port city as well.
Junayed Rahim, owner of a restaurant in Panchlaish, said, "I don't even want to talk about the damage or loss we are incurring due to the power outages. We have faced the power crisis for years... and it is not going to subside in near future as our government only makes false promises about resolving this crisis."
"They only give us figures and numbers but we don't get any result. Living under such circumstances becomes unbearable especially when you have to pay electricity bills, which is incongruous with your consumption," he added.
Contacted, Prof Md Shafiqul Islam, chairperson of electrical and electronics engineering department at Bangladesh University of Engineering and Technology (Buet), said the government has put emphasis on power production, but has overlooked the fact that the transmission system needs to be modernised as well.
Due to a lack of proper maintenance, decades-old transformers and transmission cables malfunction frequently, and therefore citizens are not getting the benefit of the increased power production.
However, if the demand and power supply are equal, there is no reason for a particular area to experience power outages five to six times a day merely for technical problems, he added.