Dhaka Flood Flow Zones: Urban sprawl eats up 57pc
City planners reveal how conservable land was destroyed this decade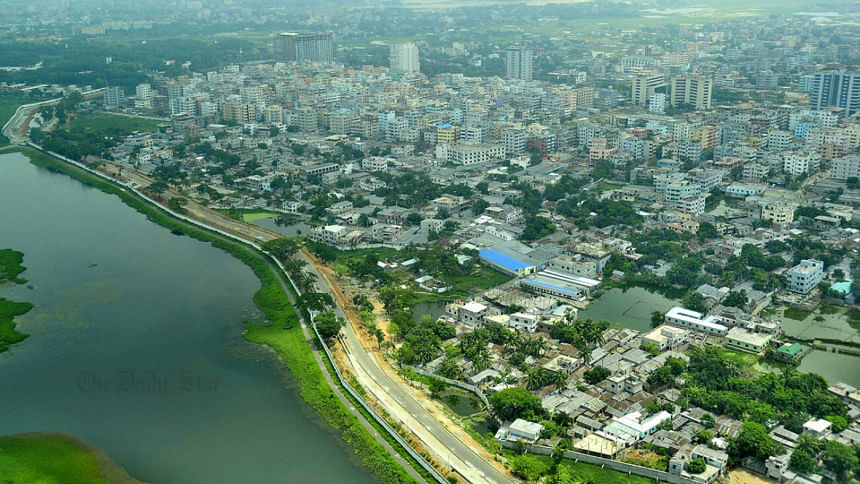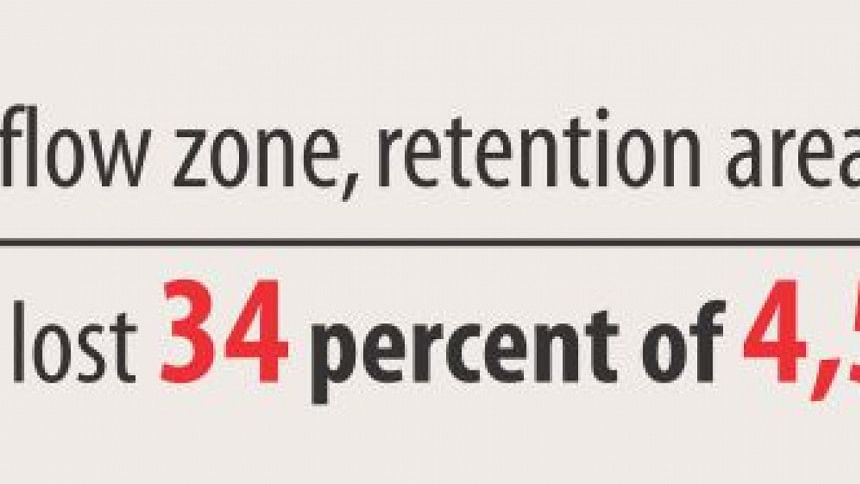 Individuals, businesses, real-estate developers, organisations, and even government agencies have gobbled up 1,072 acres (57pc) of the 1,879-acre flood flow zones in core Dhaka city in this decade, said leading urban planners yesterday.
They said the land was lost even though the capital city's master plan makes it mandatory to conserve the zones within the 300sqkm core Dhaka city (between Uttara, Badda, Mohammadpur, and Old Dhaka).
The picture of urbanisation becoming a devastating process is more vivid when water retention areas and water bodies, including rivers and canals, are taken into account.
Since the official gazette on the city's Detailed Area Plan (DAP) was issued in 2010, the core city lost 3,440 acres of 9,556 acres of flood flow zones, water retention areas, and water bodies, said Prof Adil Mohammed Khan, general secretary of Bangladesh Institute of Planners.
"Conservation of water bodies like rivers and canals, wetlands, water retention areas, and flood flow zones are all vital for making development and urbanisation sustainable with ecological balance, heat absorption, and bio-diversity, and for drainage of storm water," said Adil.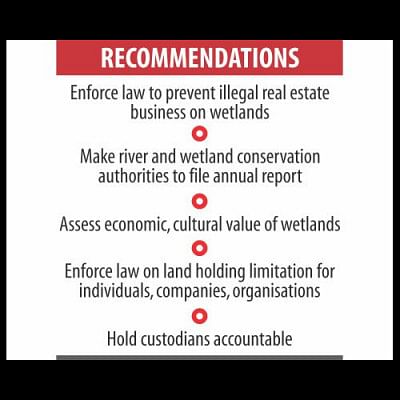 The city planners revealed this during a press conference jointly organised by Transparency International Bangladesh (TIB), Bangladesh
Institute of Planners, Bangladesh Environmental Lawyers Association (Bela), Nijera Kori, Association for Land Reform and Development, and Nodi O Poribesh Unnayan Parishad of Savar at the TIB office.
In the entire 1,528-sqkm jurisdiction of the master plan that includes Tongi, Rupganj, Keraniganj, and Narayanganj, a quarter of the 74,699 acres of legally binding conservable flood flow zones have been filled up in the name of "development", said Adil.
During the same decade, 57 acres of 154-acre water retention area were lost, the urban planners said. 
DAP has marked over 1 lakh acres as conservable water bodies, water retention areas, and flood flow zones. At least 22,206 acres of these have been lost this decade, said Adil.
The findings were based on the master plan maps and periodic images from satellites.
Basila, Bashundhara Residential Area, Beraid, Amin Bazar, north Uttara, Baktarchar of Narayanganj, and areas beside Dhaka-Mawa highway were some of the worst affected parts.
Feroze Ahmed Kanak, research associate of the government-run Centre for Environmental and Geographic Information Services, in his presentation said the government's Amin Bazar landfill was on a designated flood flow zone.
The government had acquired 52 acres but the landfill is now 74 acres, he said, adding that many people of adjoining areas had to leave their ancestral homesteads and livelihoods because of this.
Ishrat Islam, professor of urban and regional planning at Buet, said those responsible for destroying the wetlands must be made accountable. 
The grabbers are far more powerful and united than those who fight for conservation, said Ishrat.
Ishrat said she, as a technical expert on DAP revision, sat for a meeting once and realised that the upcoming revised DAP renamed flood flow zones and wetlands to conservation zone, which has no legal protection.    
TIB Executive Director Iftekharuzzaman said in the name of development, such destructive activities were carried out in connivance with businessmen, law enforcers, and politicians and taking advantage of poor governance.
Rajdhani Unnayan Kartripakkha, custodian of the master plan, has been a part of the destructive activities, he said.
Iftekhar said, "Frustrating is the fact that those who we seek the rule of law are involved in undermining the rule of law."
When the country's top court in its verdicts asks a matter be brought to the attention of the prime minister, it shows the court's lack of confidence in the regular mechanism of implementing a verdict, he said.
Isolated filling up makes flood flow zones fragmented and facilitates further land grabbing, said architect Iqbal Habib, adding that tools like satellite images and drones should be used for monitoring wetlands. 
Contacted, Rajuk Chairman Md Abdur Rahman last night told The Daily Star, "It needs to be looked into as to why the designated flood flow zones of the capital reduced since 2010. I would be able to comment after that."
Khushi Kabir of Nijera Kori and Syeda Rizwana Hasan, chief executive of Bela, also spoke at the press conference among others.