Dengue Prevalence: Upscale areas more prone
Govt surveys show; 5 to 35 age group more vulnerable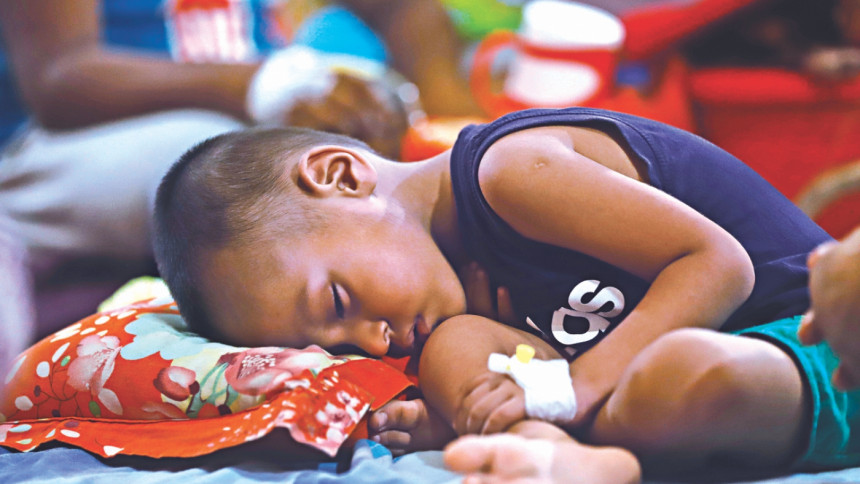 Dengue infections and Aedes mosquito prevalence are higher in areas with too many multistory buildings and shiny infrastructures adorned with decorative greeneries, although there are a few exceptions, analysis of two government surveys shows.
Take Baridhara, in Dhaka North City Corporation. It is one of the upscale areas in the capital and home to most foreign missions. But larvae presence in buildings is high here, and 50-75 people from this area have taken treatment for dengue from May 1 to August 2.
In contrast, Gabtoli, a poorly maintained area inhabited mostly by low-income people, has so far seen 25-50 people taking dengue treatment during the same period. No Aedes larvae was found here during the survey last month.
In Baridhara, Aedes larvae was found in 50-70 percent buildings during the survey done by the health directorate. It is almost the same in Banani, Gulshan-1 and Gulshan-2.
In Dhaka south, areas such as Meradia, Goran, Sayedabad, Muradpur and Hazaribagh have seen fewer patients admitted to hospitals than Lalmatia, Segunbagicha,
Malibagh and Moghbazar have.
In the capital, Moghbazar has been the worst affected, with at least 137 dengue patients taking treatment.
Malibagh, next to Moghbazar, saw the second highest number of patients -- 75 to 100. As high as 40 percent buildings in this neighbourhood are infested with Aedes larvae.
The presence of larvae is similar in Segunbagicha, secretariat area, Dhaka University area, Sabujbagh and Rajarbagh, Narinda, Tikatuli and Gandaria. 
MM Aktaruzzaman, programme manager of Communicable Disease Control at the Directorate General of Health Services (DGHS), said their survey team inspected under-construction buildings, semi-structured one- and two-story buildings, multistory buildings as well as unoccupied apartments.
Concentration of Aedes larvae was high in buildings where people stored water for aesthetic purposes, he said.
"This type of mosquito needs clean water for reproduction," he said, adding that many flats in upscale areas had unused bathrooms with commodes where female Aedes mosquitoes laid eggs.
The team found larvae in discarded tyres, water on the floors, plastic buckets, potteries/clay pots, flower vases and trays and metal cans with water stored in them.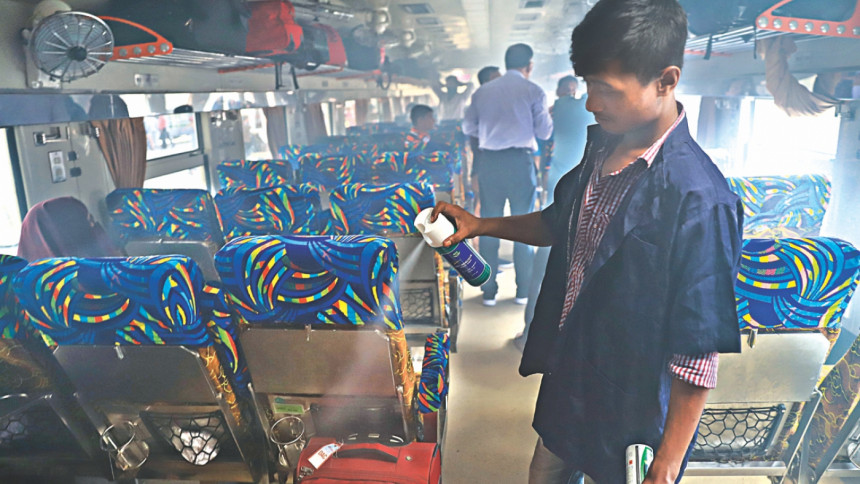 The survey on the concentration of patients was done analysing information about 3,000 patients who took treatment at 12 public and 35 private hospitals across the capital from May 1 to August 2. The Institute of Epidemiology, Disease Control and Research (IEDCR) carried out this survey.
The survey on the mosquito larvae was done by the DGHS from July 17-27, covering 100 neighbourhoods of 98 wards in the two city corporations in Dhaka.    
Aktaruzzaman recommended further studies for better understanding of mosquito prevalence and infection.
5-35 AGE GROUP MOST VULNERABLE
Findings also show that most dengue patients who took treatment are aged between 5 and 35, with the number of male patients much higher compared to female patients.
Students and job holders are at the highest risk as they remain outside home in the morning and evening hours, when Aedes mosquitos are known to bite, said Kankar Ghosh, an epidemiologist at Dhaka Shishu Hospital.
These mosquitos usually bite people two hours after sunrise and two hours before sunset, and people of these two groups remain outside home at these hours, he said. "For example, an officegoer leaves home before 8:00am and returns after sunset, meaning he remains outside home at risky hours."
And although people can keep their homes clean, they have to rely on the authorities or the city corporations for cleaning offices and educational institutions, he said.
"The number of infections would come down by half if children stopped going outside their home at the risky hours," he noted.
The study found 56 percent children aged 5-11 were infected from schools, he said.
HM Nazmul Ahsan, associate professor at Suhrawardy Medical College Hospital, said students were very vulnerable as many schools, colleges and coaching centres were not cleaned properly, a reason why students are being infected there.