Dengue cases hit 18-yr high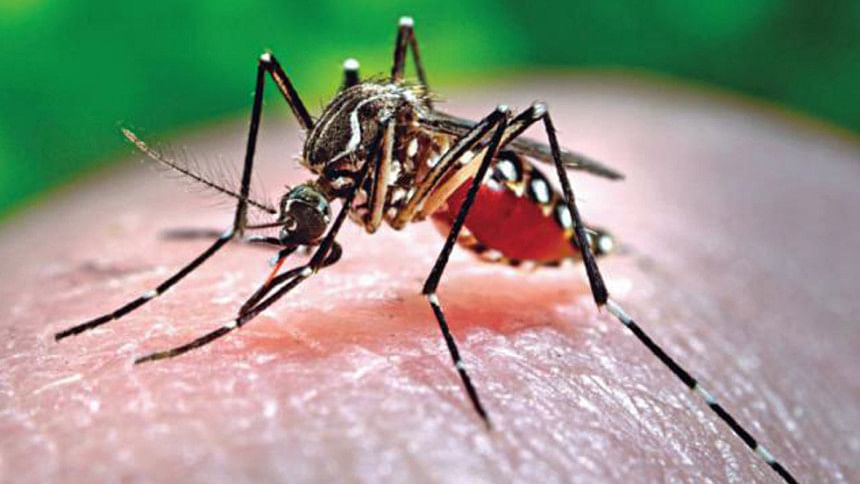 The number of recorded cases of dengue infection this year hit 9,531 yesterday, the highest in 18 years, according to the Directorate General of Health Services (DGHS).
The situation has made people of all spheres, including doctors, worried. "Unlike previous years, children from outside Dhaka are pouring in [to the hospital]. This means, the outbreak is not limited to the capital only," Dhaka Shishu Hospital Director Abdul Aziz told this paper. 
The number of dengue patients exceeded the 6,000 mark twice in the last 18 years: 6,232 in 2002 and 6,060 in 2016, according to a DGHS report.
The number of deaths caused by the mosquito-borne disease has, however, been higher in previous years. Dengue took 24 lives this year.
The country saw 93 deaths in 2000, the year dengue outbreak hit the country for the first time. A total of 5,551 people got infected that year.
Tonmoy Dey, assistant registrar at Dhaka Medical College Hospital (DMCH), said the hospital was treating fewer patients since November but they were coming in with worse conditions. "Now about 12 patients come in a day whereas last month, 30 to 40 patients came daily. Most patients have symptoms like liver problems, shock syndrome, and dengue hemorrhagic."
Tonmoy mentioned four strains of dengue and how a person who has been infected by one of the types remains vulnerable to the rest.
"This year most patients are second time infected. They have critical conditions like fluid loss, haemorrhage, or haemolysis," Tonmoy told this correspondent.
Most patients suffered Den-1 and Den-2 strains last year, but this year, den-3 is causing the menace, according to a DGHS official.
Last month, the DGHS prepared a special guideline for dengue which all physicians have been asked to follow, said Ayesha Akhter, in-charge of National Health Crisis Management Centre at the DGHS.
Fluid management is very important to treat dengue patients, especially those with shock syndrome, she added.
It gets difficult for doctors to treat patients if they are not brought to the hospital early, a practice prevalent among majority of the population, Ayesha said.
She said hospitals across the country have become more diligent in reporting dengue cases, raising the numbers this year.
MM Akhtaruzzaman, manager of malaria and dengue programme at DGHS, said an Aedes mosquito egg remains viable for two to three years in a dry place and a single drop of water may result in the eggs hatching.
Experts said this year's weather being conducive to Aedes mosquito breeding could be a reason for the high number of infections.
Dhaka South City Corporation Mayor Sayeed Khokon recently told the media that a drive against Aedes mosquitoes held earlier this year destroyed 50,000 risky containers at different households under its jurisdiction.
Jamal Mustafa, a panel mayor of Dhaka North City Corporation, said Aedes mosquitoes lay eggs in fresh water. So, the problem needs to be tackled at home.
"Through campaigns we have been engaging communities in wards to raise awareness."
Mohammad Jasim Uddin, a resident of Golapbagh, had been suffering from high fever since October 31. Despite having knowledge about dengue, he took antibiotics for a quick recovery, which worsened his condition.
A common advice given by entomologists and doctors is that no drug like aspirin or antibiotics should be taken for fever. One may take paracetamol before consulting a doctor.
"I asked him not to take the antibiotics but he wanted respite from the high fever," said Ashamoni, wife of Jasim.
Jasim was admitted to DMCH later.
"I should have come to the hospital earlier instead of allowing him the antibiotics," Ashamoni said.