Demo for Pay: 25 hurt as RMG workers, police clash in M'singh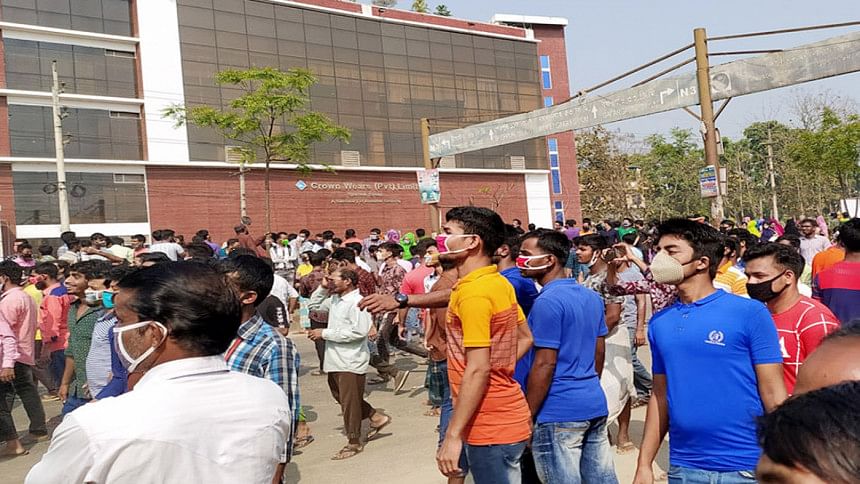 At least 25 people were injured as police and garment workers clashed in Mymensingh's Bhaluka upazila yesterday.
The workers were demonstrating for their salaries for the month of March.
The injured include garment workers and three police personnel.
Meanwhile, over 100 garment units were open in Savar and Ashulia yesterday despite repeated calls for closure of garment factories by the BGMEA and the BKMEA to contain the spread of novel coronavirus.
In Bhaluka, hundreds of workers of Crown Wears (Pvt) Ltd came to the factory at Jamirdia Masterbari around 7:00am and found a notice hanging at the gate, said Nurun Nabi, assistant superintendent of police of Bhaluka industrial police.
The notice read, "The factory will remain closed until February 14, and the information regarding salary will be informed them later," he said.
Seeing the notice, the workers got incensed and gathered in front of the gate and started demonstrating. They blocked the Dhaka-Mymensingh highway. 
They also alleged that some 2,000 workers were terminated who did not join the work, said the ASP. But their claim could not be verified as the workers failed to give details about the terminated workers.
On information, police rushed to the spot and talked to the workers.
Superintendent of Industrial Police Saheb Ali Pathan met the factory authorities, and it was finalised that the workers' salaries would be paid on March 8. But the workers refused it and continued their agitation, said the ASP.
They then began throwing brick chunks at police and the factory, and police went for action to bring the situation under control around 9:00am, said the police official, adding that 24 teargas shells and 34 rubber bullets were fired during the incident.
Some workers alleged that a group of outsiders, believed to be loyal to the factory authorities, and security men and staffers of the factory attacked them with bamboo sticks.
They also claimed over 20 workers were injured in police action and they took treatment at local clinics.
Police official Nabi said three constables -- Masud Rana, Sanjoy Kumar Borman, and Tanvir Ahmed -- were admitted to Bhaluka Upazila Health Complex.
The outsiders also snatched the mobile phone, camera, and ID card of Johirul Islam Jewel, Bhaluka upazila correspondent of Daily Jugantor. Police rescued and handed over those to the journalist.
Talking to The Daily Star, Zakaria Sohel, general manager (Admin, HR and Compliance) of the factory, said they opened the factory on Sunday. But following the central decision, they announced closure of the factory from yesterday, he said.
He added that they talked to the workers in the morning and convinced them to take their salaries on April 8.
But they suddenly became agitated, which might be fuelled by some outsiders, alleged the official. But he denied any attack on garment workers by their men.
RMG FACTORIES REMAIN OPEN
More than 130 garment units were open in Savar and Ashulia areas yesterday, according to industrial police.
The factory owners have been operating their units over two reasons, including finishing the work orders for emergency shipments and paying salaries to their workers.
Mahmud Naser Jony, additional superintendent of police of Dhaka Industrial Police-1, told The Daily Star that 130 factories were operating in Savar and Ashulia areas. About 10 of the factories were large, he said.
He told this newspaper over phone that workers of Ha-Meem group attacked factory staffers and vandalised its two units at Ashulia's Norshinghapur, demanding closer of factories and salary.
During the incident, some police personnel were injured, he said, adding that the factories were closed later.
Additional police have been deployed in the area, he added.
Talking to The Daily Star, a factory owner at Ashulia, said he kept open his unit mainly for two reasons, including finishing the work orders and completing the process of payment of the workers for the month of March.
He said his buyer was putting pressure on him for completion of work orders and quick shipment.
"So, I kept open my factory and completed work orders of nearly $3.5 million,"the factory owner said, asking not to be named.
"At the same time, I have also finished the process of paying salaries to the workers. My factory usually pays salaries to the workers on the seventh and the eighth of each month," he said.
Rubana Huq, president of Bangladesh Garment Manufacturers and Exporters Association (BGMEA), in a WhatsApp message yesterday said
in line with the government shutdown, the BGMEA and the BKMEA were recommending closure of all factories until April 14.
Factories making PPE and having urgent shipment will need to inform their respective association for continuing operations after complying with full heath and safety requirement, she said.
Authorised dealer bank branches will operate special hours as requested by the associations. So, all factories are requested to pay salary by April 16, she said.
AKM Salim Osman, president of Bangladesh Knitwear Manufacturers and Exporters Association (BKMEA), said it was not possible to say the exact number of opened factories.
A good number of knitwear units were open yesterday, he said by phone.
Salim added that the factory owners were running their units despite issuing closure notice because some of them had emergency shipments and had to give salaries to their workers.
The Department of Inspection for Factories and Establishments (DIFE) could not be reached by phone for comments on closing factories.
Earlier, the DIFE in a circular said the factories could run their operations if they had work orders from the international retailers and brands with adequate health safety measures for the workers, and the factories which produce Personal Protective Equipment and masks could also continue their operations.
Talking to this newspaper, many RMG workers at Ashulia and Savar expressed anger over keeping their factories open.
Jasmine Tara, a factory worker in Ashulia which was open yesterday, said it was not possible to work at the factory maintaining social distancing as they had to work very closely with each other.
"I am in fear of being infected with coronavirus, thinking that some of my colleagues have joined the work after returning their village homes," she said.
Abdur Rahman, another garment worker at Ashulia, said there was no public transport on roads."In this situation, we have to come to the factory on foot."
He added that the factory authorities told them that they had emergency shipments for which they reopened the factory, but they were yet to set the date when their salaries would be paid.
Khairul Mamun Mintu, general secretary of Garment Workers' Trade Union Centre, said a countrywide shutdown was going on to slow down the transmission of coronavirus.
In this situation, the factories owners should not open the factories. "If any worker is infected with coronavirus, it will be difficult to control the situation," he said.
Khairul urged the factory owners to close the factories and save the lives of workers.
As of Sunday, $3.04 billion worth of garment export orders were cancelled by international retailers, according to data compiled by the BGMEA.
Our Mymensingh and Savar correspondents contributed to this report.