Dangerous defiance of kiln law
On the banks of the Halda at Uttar Mohra point, within the boundaries of Chattogram city corporation area, a lone brick kiln emits plumes of poisonous smoke.
Whipped up by the wind, the smoke travels steadily towards a school which stands just a few hundred feet away. Some 40,000 who live nearby are also affected.
The dangerous practice is replicated in two other places within the city corporation, in defiance of the law. 
As per the Brick Manufacturing and Brick Kiln Establishment (Control) Act 2013, brick kilns cannot be established in areas declared as a municipality, city corporation, reserve forest, or sanctuary.
The law also states that such establishments must be a kilometre away from city corporations and municipalities, and two kilometres away from reserve forests.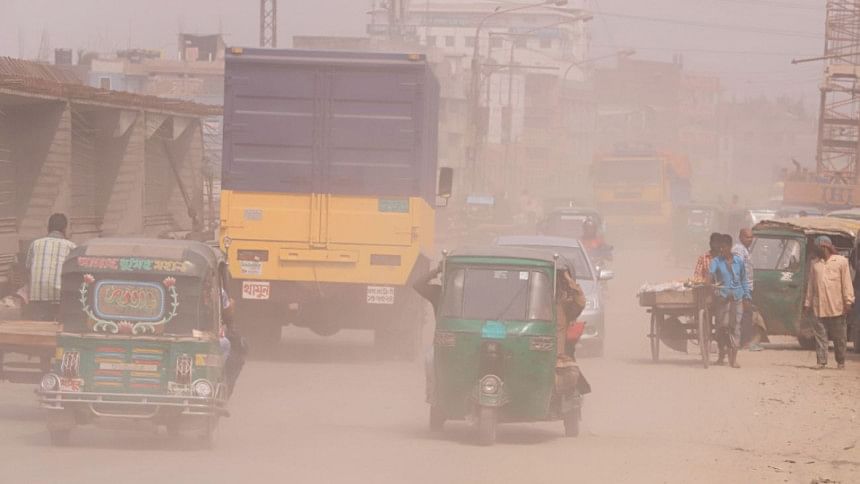 Al Amin, a professor at the Institute of Forestry and Environmental Science, said the impact of these brick kilns operating within the periphery of city areas can be devastating.
Mentioning that the authorities concerned should take steps to ensure installation of environment-friendly kilns as these were necessary for a country's development, he cautioned against the current practice.
"The population density [in city corporations] is higher compared to rural areas. Brick kilns in cities mean more people will be affected by the high level of air pollution," he told this paper.
The kiln at Uttar Mohra point, "Akhter Bricks", was shut down by the DoE a few years ago before resuming operation.
In this regard, Director of Department of Environment (DoE) in Chattogram Azadur Rahman Mollik said they had shut down Akhter Bricks a few years back and had finalised charges to submit in court.
"I didn't know that they resumed operations. We will take action soon," he told this correspondent.
He then reiterated his commitment to taking stern actions against the kilns if they did not comply with the relevant act.
Elsewhere in South Pahartoli, at least three brick kilns are operating within the periphery of the city corporation.
Around 35,000 people live in the area, under the smog that clings to the very air around them.
Azizul Islam Siddiqi, civil surgeon of Chattogram, told The Daily Star that the smoke emitted by the kilns contains particles that include carbon dioxide and carbon monoxide, which are seriously injurious to public health.
People exposed to it over a certain period risk developing lung cancer, skin diseases and respiratory illnesses.
Pregnant women and the children they carry are also at higher risk if they live around such kilns, he added.
Khondokar Tahajjut, assistant director of Chattogram DoE, told The Daily Star that they had issued notices recently to the brick kilns being operated within the city corporation's periphery and would take action against them after a hearing.
But such hearings can go towards favouring brick kiln owners This is also something that brick kiln owners have taken advantage of.
Travelling further towards North Kattoli, a reserved forest, two more brick kilns -- KML Brick Suppliers-1 and KML Brick Industries-2 --  can be seen emitting the dark plumes of poison.
Around 334 acres of North Kattoli along the Bay of Bengal was declared a reserve forest in 1998.
Divisional Forest Officer SM Golam Mowla said at least six cases had been filed against KML unit 1 and 2.
"But they simply show up in court and secure a stay order, thus preventing further action against them."
He added that his department had written to the Department of Environment (DoE) Chattogram at least five times in this regard.
DoE director Azadur said, "KML was fined several times. But whenever we take action, they secure court orders..."
Additionally, around six more kilns are located within the city corporation boundaries. Although those are currently not in operation, many believe it is only a matter of time before their chimneys start billowing smoke again.
The kilns in question have also not been demolished.
Asked, DoE officials said they did not demolish the structures first as the owners promised to comply with the brick kiln act by setting up the less-polluting zigzag technology -- which reduces emissions considerably -- and relocating away to a permissible distance.
They also alleged that some influential quarters had earlier pressurised them not to demolish the structures.
Chattogram Deputy Secretary Elias Hossain said it was not acceptable in any way to have brick kilns within city areas. He promised stern action against the owners.