Culprits won't be spared
Says PM on Nusrat killing; 2 more suspects held; NHRC terms it planned murder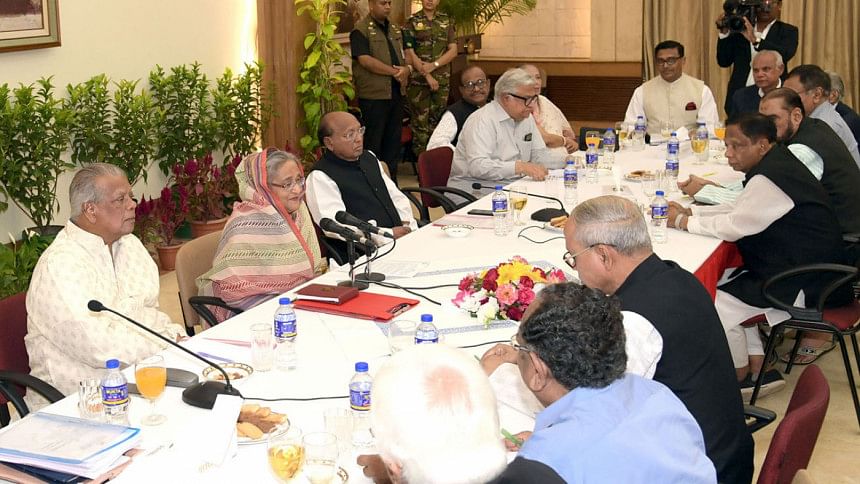 The criminals who set Feni madrasa student Nusrat Jahan Rafi on fire would not be spared, Prime Minister Sheikh Hasina said yesterday.
Addressing an advisory council meeting of the Awami League at the Gono Bhaban, the premiere said, "Some of the perpetrators have already been arrested and others will also be arrested soon.
"I personally believe they will face exemplary punishment so that no one can dare to commit such a heinous crime in future."
Meanwhile, law enforcers held two accused in Nusrat murder case from Dhaka and Mymensingh in last two days.
Nusrat's brother Mahmudul Hasan filed a case with Sonagazi Police Station accusing at least 12 people.
According to a Police Bureau of Investigation (PBI) source, they conducted a raid in Mymensingh's Bhaluka upazila around 11:00am yesterday and detained Nuruddin, a close aide to principal Siraj Ud Doula.
The source also confirmed that Nuruddin was brought back to Feni.
Shafiqul Islam Khan, former joint secretary of Bhaluka Garments Sramik League, who accompanied the law enforcers during the raid, also said that Nuruddin was held.
However, Mohammad Maniruzzaman, additional superintendent of PBI in Feni, also the investigation officer of Nusrat murder case, could not confirm if PBI detained Nuruddin.
Besides, another accused in the case Moksud was arrested in Dhaka's Fakirapul area on Thursday.
The investigators suspected that Nuruddin was among the four who set Nusrat on fire at Sonagazi Islamia Senior Fazil Madrasa on April 6.
Nuruddin along with another accused Sahadat alias Shamim went into hiding following public outrage over the incident, said locals.
Nusrat died on Wednesday, five days after she was set ablaze at her madrasa in Feni.
PRE-PLANNED MURDER
A team of National Human Rights Commission (NHRC) termed the death of Alim examinee Nusrat a "pre-planned murder" after visiting the locality in Feni's Sonagazi upazila.
The two-member team, led by Mahmud Faizul Kabir, director (complaints and inquiry), visited Sonagazi Islamia Senior Fazil Madrasa to get first-hand information about the tragic incident.
"If the madrasa authorities and local administration took step against Siraj Ud Doula, the girl might not have met the tragic end," Mahmud told reporters on the madrasa premises.
CANCEL MPO
The Directorate of Madrasa Education (DME) on Thursday requested for scrapping of the Monthly Pay Order (MPO) of Siraj Ud Doula.
In a letter to the Directorate of Secondary and Higher Education, the DME also said that it should scrap MPO of Afsar Uddin, English teacher at the same madrasa, as he was     allegedly involved in setting Nusrat on fire.
The MPO is the government's share in the payroll of the non-government education institutions. Under the scheme, the government gives 100 percent basic to the teachers of non-government schools. The teachers also get a lump sum amount as other allowances from the MPO.
ACTION AGAINST OC
Javed Patwary, Inspector General of Police (IGP), said action would be taken if negligence of Sonagazi Model Police Station Officer-in-Charge Moazzem Hossain is proved.
"Primarily we have already withdrawn the OC. Now investigation is going on. If from his activities it is proved that he did not handle the case properly then action will be taken against him [OC] as per the law," IGP Javed said.
The police chief also said PBI has now been investigating the case and action would be taken against those involved in the incident, reported UNB.