2020: The Year of Pandemic
Covid-time Education: New approach, old disparity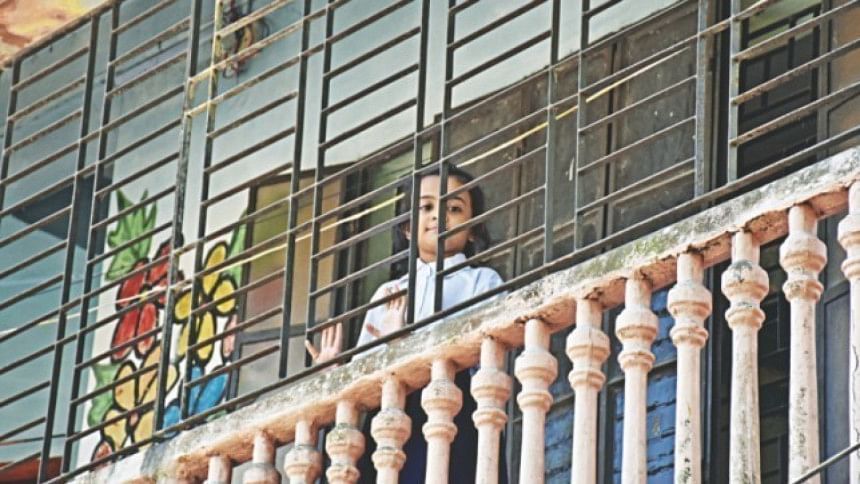 When the Covid-19 outbreak led to a closure of educational institutions in late March, students, guardians and teachers alike speculated that the disruption would last a few months.
But with a continuous surge in infections and deaths, the pandemic is now likely to keep many students out of the classrooms until well into 2021.
It has changed how students are being taught, and left the education system scrambling to meet the needs of schools, families and over four crore students over the last year.
With traditional classroom learning coming to a complete halt, the pandemic compelled the government to take measures like promoting students to the next class without having them sit for final exams -- a move not seen in recent memory. It also caused many private schools, especially kindergartens, to close down for good.
But the pandemic has also become a catalyst for educational institutions worldwide to search for innovative solutions in a relatively short period. In Bangladesh too, online learning and recorded lessons were adopted to make up for educational losses.
Such efforts to reach students staying home seem to have been successful to a greater extent in urban areas, but a lack of digital devices and poor internet connections disrupted the learning process of many rural students.
Amid such a reality, educationists say it is high time the government introduced "blended learning", combining online education and traditional face-to-face classroom teaching.
The institutions should also continue airing recorded lessons and other remote learning methods alongside in-person classes because this shift can keep students away from private tuitions, coaching centres and guidebooks, they said.
But they stressed the need for minimising the disparity between rural and urban students in accessing online learning facilities.
"Prolonged school closure not only causes learning loss, it will also increase dropouts, child labour and child marriage. Therefore, special measures should be taken," Brac University Prof Emeritus Manzoor Ahmed.
One of the measures, he said, could be the blended learning.
Prof Siddiqur Rahman, a former director of the Institute of Education and Research at Dhaka University, said interim arrangements can hardly bridge the gap as many students from rural and poor families are not being able to access distance learning due to lack of devices like smartphones and computers.
UNPRECEDENTED CLOSURES
With the first Covid-19 cases detected in the country on March 8, the government on March 17 closed educational institutions; the shutdown was extended in several phases till January 6 next year.
The coronavirus crisis exposed the fact that a majority of schools, colleges and universities were not equipped to take online classes -- a new reality for the country's educational system.
Private schools were quick to adopt online learning methods, offering lectures delivered via video conferencing apps like Zoom and social media platforms like Facebook.
However, a lack of infrastructure and uneven access to internet and devices such as a desktop computer, laptop, or smartphone for students in poor urban areas are vital obstacles to virtual learning.
To address the disruption, the government started broadcasting live and recorded lectures through Sangsad TV for secondary and primary students, and directed all schools, colleges and universities to hold online classes.
The shutdown led to the cancellation of major public examinations -- Higher Secondary Certificate, Primary Education Completion, Junior School Certificate and their equivalent tests. The examinees are evaluated based on their results in preceding classes.
Now, the government is planning to hold next year's Secondary School Certificate and equivalent examinations in June and the same year's HSC exams in July-August.
"We will hold the exams if the Covid-19 situation is favourable," Education Minister Dipu Moni said yesterday at a virtual press briefing.
More than one crore students of class 6 to 10 have been promoted to the next class this year and there were no annual examinations. Instead, the school authorities are giving assignments to students, to identify their learning shortcomings.
The government moved to enrol students at schools for all classes for the next academic session on the basis of the lottery.
It had to put on hold the "Textbook Festival" on January 1 when textbooks are handed to primary and secondary students for free. This time, students of a certain class will come to school to collect books on three days, divided in three groups.
The pandemic-induced closure also brought a drastic change in the daily lives of thousands of students. Apart from putting considerable psychological pressure on them, it made parents worried about the impact of this unprecedented length of school closure.
"We are waiting for the day when our children will go back to classes again. Because school is more than a centre of learning; it is a source of social activities and human interaction," said Mizanur Rahman, father of a school-going child.
BRIDGE THE GAP
Both Prof Manzoor and Prof Siddiqur said the government needs to ensure digital devices and accessibility to all in order to cope with the new reality as well as to reduce the digital divide.
"During the pandemic, students from affluent quarters have had better access to online classes than their peers in poor households," said Prof Manzoor, also the founder-director of Institute of Educational Development of Brac University.
"As a result, the gap between students from affluent and disadvantaged groups is being widened further," he added.
Prof Siddiqur said the government must learn lessons from the pandemic.
One of the lessons is to enhance teachers' capacity, properly equipping them so that they can impart education effectively using distance learning methods including online education, he said.
Prof Syed Md Golam Faruk, director general of the Directorate of Secondary and Higher Education, said they will take steps to change the classroom instruction process.
"We will continue online classes alongside the traditional classroom teaching," he said.
It is true that many students do not have digital devices, he said. "We would need a lot of money if we want to give digital devices to all. We will look into the matter in future planning."
He said the government will continue to give assignments to school students even after the Covid situation gets normal as it will also lessen dependence on digital devices.
As per the government's directive, assignments are given to the students on the first day of the week and they submit handwritten copies at the end of the week. The students can submit and take the assignment in person or via a guardian from the school, or online.
The assignments include explanatory questions, short question-answers and creative questions. Once these are submitted, the teachers are directed to receive the assignments, evaluate, put their comments and show that to the students.
The process of giving assignments began on November 1.
Education Minister Dipu Moni said they would give more importance to online education in the coming days.
HIGHER EDUCATION
On-campus classes at universities have been closed since mid-March, creating worries about session jams.
The University Grants Commission (UGC), on several occasions, asked universities to begin online classes, but many universities were not ready institutionally for such a transition.
Both private and public universities, however, took some time to adopt online classes amid fears that students from disadvantaged backgrounds would be left behind due to the digital divide.
In such a situation, the UGC in August asked the public universities to prepare lists of students who could not access online classes due to not having smartphones.
Thirty-nine public universities sent lists of 41,501 students who needed assistance. The UGC decided to provide these students with an interest-free Tk 8,000 loan each so that they can buy smartphones to attend online classes.
In mid-December, the UGC announced that public universities can hold honours and master's final examinations following proper health safety measures if the respective academic councils approve.
Meanwhile, in a major development, 19 public universities announced that they would hold a uniform admission exam titled "Central Admission Test" to reduce the hassles faced by admission seekers.
Prof Muhammed Alamgir, a member of UGC, said a significant lesson of the pandemic was that universities need to develop a strong and vibrant platform for holding online classes.