Coronavirus Outbreak: Low test rate may be belying reality
Fear experts; govt moves, though late, to scale up tests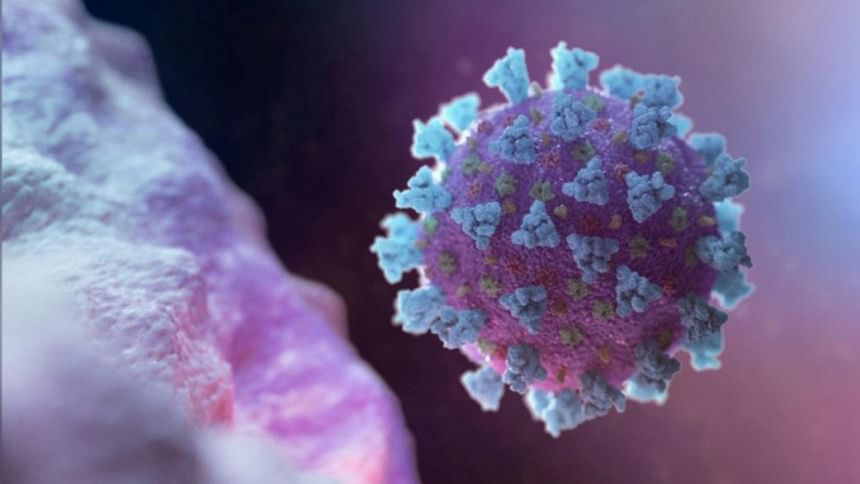 "We have a simple message for all countries: test, test, test."
These were the words Dr Tedros Adhanom Ghebreyesus, director-general of the World Health Organisation, said at a press briefing in Geneva in mid-March while expressing concern over the actions some nations have taken on detecting and containing the novel coronavirus.
With 51 reported infections and five deaths so far, is Bangladesh conducting enough tests?
The available data gives a grim picture. The country tested 1,602 people from late January until yesterday, which hardly gives a clear idea about the real situation in the entire country. And the reason is limited testing.
Until now, Bangladesh has a restrictive testing policy -- it tests only those with recent travel history to affected countries or those known to have come into contact with confirmed cases and have Covid-19 symptoms. And Bangladesh is now among the countries with very low testing rates.
Three weeks elapsed since the country recorded its first coronavirus case on March 8, but the authorities are still struggling to get ahandle on the extent of the spread of the virus.
The Institute of Epidemiology, Disease Control and Research (IEDCR) maintains that there has been community transmission on a limited scale.
Experts, however, fear the number of infected people could be higher as many carriers of the virus could be off the radar due to limited testing.
They said widespread testing makes a big difference because, in many cases, coronavirus patients can be asymptomatic. Unless those are detected, the risk of virus transmission will be high.
Till last week, the IEDCR was the sole Covid-19 testing authority in the country. Only a couple of days ago, six other organisations -- five in the capital and one in Chattogram -- got the government nod to conduct tests.
People with coronavirus-like symptoms found it difficult to get tested after making phone calls on the hotlines provided by the IEDCR and Directorate General of Health Services (DGHS).
The IEDCR and the DGHS received more than 70,000 coronavirus-related phone calls in 24 hours till 3:00pm yesterday. Of those, only 140 suspected cases were tested and two fresh cases were detected.
A lack of sample collectors is one of the major reasons behind limited testing. The institute has only 20 staffers who collect samples in the capital, said sources.
Just a couple of days ago, medical technologists of 130 healthcare organisations completed training, arranged by the government, for collecting samples from suspected Covid-19 patients.
A shortage of test kits, on the other hand, initially hindered the government's response to the crisis. Like other countries, Bangladesh too had difficulties in getting the kits from abroad because of flight restrictions imposed by several countries.
At a press briefing yesterday, Habibur Rahman, director of Management Information System of the DGHS, said they collected 92,000 kits for Polymerase Chain Reaction (RT-PCR) tests, and of those, 21,000 were already sent to different laboratories.
The country is now scaling up its testing capacity. It is now readying seven organisations in the capital and three outside for conducting tests.
"We have already increased the testing capacity within a short period of time," said Habibur.
He mentioned that they plan to increase by April 20 the number of Covid-19 testing organisations to 28.
By April 5, three labs will be ready in the capital and another five in other parts of the country for conducting Covid-19 tests. By April 20, four more labs will be prepared in the capital and six outside, said Habibur.
The Daily Star yesterday learnt that the labs in Mymensingh and Rangpur were yet to start conducting tests.
Experts say the government should have expanded the testing facilities much before, preferably by February, when it became clear that the epidemic was spreading across the globe.
Bangladesh cannot afford to lose any more time as it has already spent three months on preparations for dealing with the crisis, they point out.
They say the US and Spain, which did not put emphasis on widespread testing, are now seeing an explosion of cases.
On the other hand, South Korea, Taiwan and Singapore, which have so far managed to contain the spread of the virus, have been able to do so by testing more and more suspected cases, they mention.
"As of now, the number of tests appears to be very limited," Prof Nazrul Islam, a virologist and former vice chancellor of Bangabandhu Sheikh Mujib Medical University, told The Daily Star.
"Unless we go for widespread testing, we will not be able to get a clear picture of the real situation," he said, adding that it is difficult to say anything about the level of community transmission as no scientific data is available.
"We have to wait till April 5. By that time, two incubation periods [since the first reported case] will be over, and it will be possible to come up with an estimation [of the number of infections]."
He pointed out that sudden deaths of people with coronavirus-like symptoms is another matter of concern.
"Each and every one of these cases should be analysed," he noted.
Speaking on the issue at a briefing yesterday, IEDCR Director Prof Meerjady Sabrina Flora said they did not find any coronavirus infections in the samples that they had collected from the people who died after showing virus-like symptoms.
She, however, did not mention how many samples the IEDCR had collected.
COORDINATORS FOR 8 DIVISIONS
The DGHS has assigned eight experts to coordinate Covid-19 prevention and control activities in the eight divisions.
They will also oversee the activities of the medical technologists under the DGHS, who will collect samples from suspected cases in each upazila. The samples will then be sent to divisional laboratories, sources said.
"If we can test at least 1,000 samples in each lab a day, the total number of tests would be 8,000," said Prof Dr Shah Monir Hossain, coordinator of Dhaka Division.
He hoped the number of tests will go up next week.
Asked whether the existing workforce is capable of doing the task, Prof Monir, also former director general of the DGHS, said that if any problem arises, the staffers concerned would be given training or be replaced.