Community Transmission: Tests too few to rule out possibility
Experts say about authorities' claim over extent of coronavirus spread; 3 more infected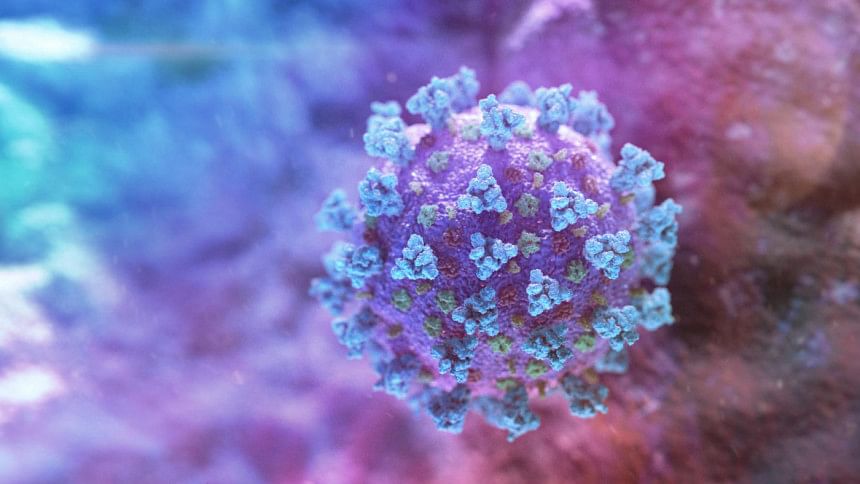 The authorities keep sticking to their claim there is no community transmission of coronavirus in the country, but experts say too few tests have been conducted to reach that conclusion.
The government should run more tests in all regions of the country to determine the level of transmission. Otherwise, the situation will be "misevaluated" and the government programmes "misguided", the experts added.
Meanwhile, officials yesterday confirmed that two men and a woman were tested positive, bringing the total confirmed cases to 27. Institute of Epidemiology Disease Control and Research (IEDCR), the only facility where coronavirus tests are done, has so far tested 365 people.
At a press conference, IEDCR Director Prof Meerjady Sabrina Flora yesterday said the two men came from abroad and the woman got infected by coming in contact with another patient. They are aged 20, 30, and 40.
Of the 27 confirmed cases, five recovered, two died and 20 are being treated at different hospitals, Flora told the press conference at Bangladesh College of Physicians and Surgeons (BCPS) in the capital.
Besides, 40 suspected patients are in isolation in different government facilities. In the 24 hours until 10:00pm yesterday, three people who came from abroad were sent to Kuwait-Bangladesh Moitree Hospital in the capital from Dhaka airport. They had high temperature, said Group Captain Touhid-ul-Ahsan, director of the airport. 
The country's first coronavirus case was confirmed on March 8 and the first death on March 18.
The IEDCR is yet to find out how the second person who died got infected, officials admitted.
Iqbal Abdullah, son of the second victim, told The Daily Star: "None of our family member recently visited us. I asked my father whether he came into contact with any potential Covid-19 patients. He said no. We don't know how he got infected."
'NO COMMUNITY TRANSMISSION'
The IEDCR director claimed that there was no community transmission.
"We are collecting information about the second victim. We will reveal the result when we reach a conclusion. In all the cases, we try to identify the source of infection. Community transmission means that we have not been able to identify the source," she said, adding that IEDCR officials oversaw the second person's funeral.
She claimed that IEDCR was testing every case that could be considered suspected coronavirus infections as per the WHO definition.
"We have collected samples from different hospitals and homes. In the last 24 hours, we tested 65 samples and found three positive cases. We also tested 40 atypical pneumonia cases from different hospitals. None of them were positive for Covid-19.
"Community transmission is the next level for us. After we get enough evidence, we will term it community transmission," she said yesterday afternoon.
According to WHO definition, community transmission refers to countries or areas or territories experiencing larger outbreaks of local transmission defined through an assessment of factors including, but not limited to large numbers of cases not linkable to transmission chains, large numbers of cases from sentinel lab surveillance, multiple unrelated clusters in several areas of the country or territory or area.
WHAT EXPERTS SAY
Experts, however, said the tests that IEDCR did were not enough to know the level of transmission.
They added that many people who returned from abroad are roaming in different parts of the country and most of them should have been institutionally quarantined.
"Unless the number of tests is increased, we will not be able to grasp the situation. And the response programme will be misguided," Prof Nazrul Islam, virologist and former vice-chancellor of Bangabandhu Sheikh Mujib Medical University told The Daily Star last night.
The IEDCR should not jump to a conclusion based on these tests, he said, adding, "Maybe there were issues that forced officials to let the people coming from abroad to go home. But many of them are defying the advice of quarantining themselves. The authorities must find them and institutionally quarantine them now."
Prof MA Faiz, former DG of the Directorate General of Health Services (DGHS), said, "The government needs to estimate how many people may get infected, how many may need hospital care, ICU and other special interventions, and the number of protective gear for healthcare professionals."
IEDCR STRUGGLING WITH MANPOWER
According to IEDCR officials, only 44 epidemiologists have been coordinating the tasks -- ranging from responding to calls at hotline numbers to sample collection and from laboratory research to contract tracing.
"We have officials in 17 offices across the country. It is tough to manage everything, especially during this crisis. We need more human resources," IEDCR consultant Prof Mushtuq told The Daily Star last night.