Cold snap sweeps north
Lowest temperature 5.7 degrees Celsius in Tentulia; 3 die in fire lit to keep warm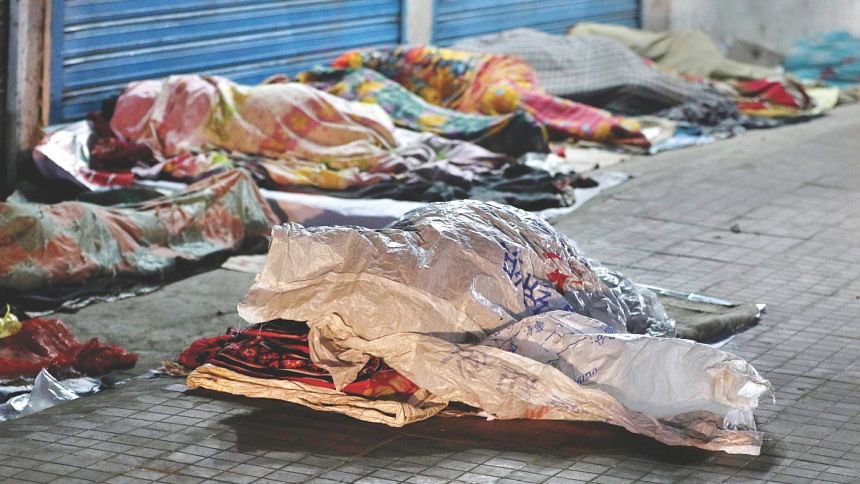 People of lower-income group in the northern region have been immensely suffering for the last few days as a cold wave sweeping over the country.
The lowest temperature was recorded at 5.7 degrees Celsius in Tetulia upazila of Panchagarh yesterday, reported Bangladesh Meteorological Department (BMD).
According to the Met office, temperature across the country may fall further in the next 72 hours as light rain is expected in different regions.
"Light rain or drizzle is likely to occur at one or two places over Khulna, Barishal, Chattogram and Dhaka Divisions," read a forecast of the BMD's central office which would remain valid until 9:00am today.
The forecast also read that mild to moderate cold wave was sweeping over Rangpur division and the regions of Mymensingh, Rajshahi, Nogaon and Sirajgonj and it might continue.
Our correspondents in different districts reported on public sufferings because of the weather.
The day labourers in Thakurgaon have remained unemployed, reported our correspondent in the district.
Bidesh Chandra Roy, a farmer of Kochubari village in Thakurgaon Sadar upazila, said, "We are staying at our homes because of the weather. We cannot work at croplands."
Afajul Islam, a rickshaw puller in the upazila, said, "The number of passengers have reduced due to cold. On the other hand, I cannot even pull rickshaw as my body feels like it's frozen."
Businesses in the district were also hampered as labourers were unwilling to work due to the cold, said Mehedi Hasan Khan Babla, president of Panchagarh Exporters and Importers Association.
Meanwhile, around 130 children and 162 adults were admitted to the Thakurgaon Sadar Hospital with diseases that were related to the weather, said sources at the hospital.
KM Kamruzzaman Selim, deputy commissioner of Thakurgaon, said the district administration already distributed around 35,500 blankets and 200 quilts.
THREE DIED OF BURN
A minor girl and a youth, sustained burn injuries while trying to keep themselves warm by sitting beside fire, died at Rangpur Medical College Hospital yesterday.
The dead are Sabiha, 3, of Sundarganj upazila, and Alam Mia, 35, of Sadullahpur upazila in Gaibandha.
In Thakurgoan, one Romija Bewa, 70, was burnt alive at Senua Bazar area in Pirganj upazila on Wednesday night.
Around 7:00pm on the evening, started burning firewood under her bed to keep her room warm. At one stage, her mosquito net caught fire. She was burnt alive, said Prodip Kurmar Roy, officer-in-charge of Pirganj Police Station.
Our Dinajpur and Thakurgoan correspondents contributed to this report