After Month-Long Traffic Campaign
Dhaka streets still mired in chaos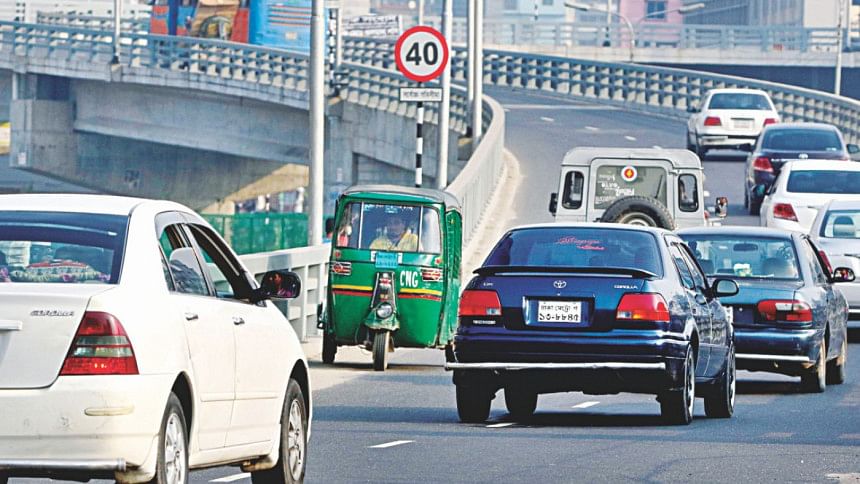 Most pedestrians were jaywalking at Shahbagh. Only a handful used the zebra crossings and footbridges. Buses were picking up and dropping off passengers in the middle of streets as rickshaws waited for passengers blocking part of the busy intersection.
This was the situation around noon yesterday, the first day after the month-long traffic safety awareness campaign ended. The picture was similar at many other busy intersections in the capital.
Members of Rover Scouts, Girl Guides, Red Crescent and other organisations had forced pedestrians and transport workers to obey traffic rules during the campaign.
But the utter lack of discipline came back after they left.
At Shahbagh intersection around noon yesterday, four traffic constables struggled to bring order to the chaos. Motorcycles and cars kept speeding when they were asked to stop.
"It is not possible to bring change unless people are aware. Is it possible to make people aware and maintain traffic at the same time?" said Mohammad Yeasin, one of the constables.
As soon as he said this, several vehicles, including a police pickup, stopped at the southern end of the intersection, occupying the zebra crossing and forcing pedestrians to walk on the road.
Minutes later, a motorcyclist coming from Shishu Park attempted to speed away towards Farmgate, ignoring the police asking him to stop.
This correspondent found the biker in front of Bangabandhu Sheikh Mujib Medical University (BSMMU) and asked him why he did that. The man nonchalantly said the road was free and he did nothing wrong.
Meanwhile, a motorcyclist with his female pillion passenger rode through the wrong side of the road in front of the BSMMU and went towards Shishu Park.
At Shahbagh and several other major intersections, such blatant traffic violations were rarely seen during the campaign.
Asked, traffic policemen working at Karwan Bazar and Bangla Motor intersections and higher officers of Dhaka Metropolitan Police said curbing traffic violations would require more personnel on the roads.
At Bangla Motor, Karwan Bazar, Mirpur-10, Farmgate, Nilkhet and many other intersections, most people jaywalked while only a few used footbridges.
Buses kept their doors open, picking up and dropping off passengers in the middle of the streets. They did not stop at the DMP designated bus stops.
Meanwhile, the footpaths remained occupied by hawkers and vendors. But police took no visible steps to evict them.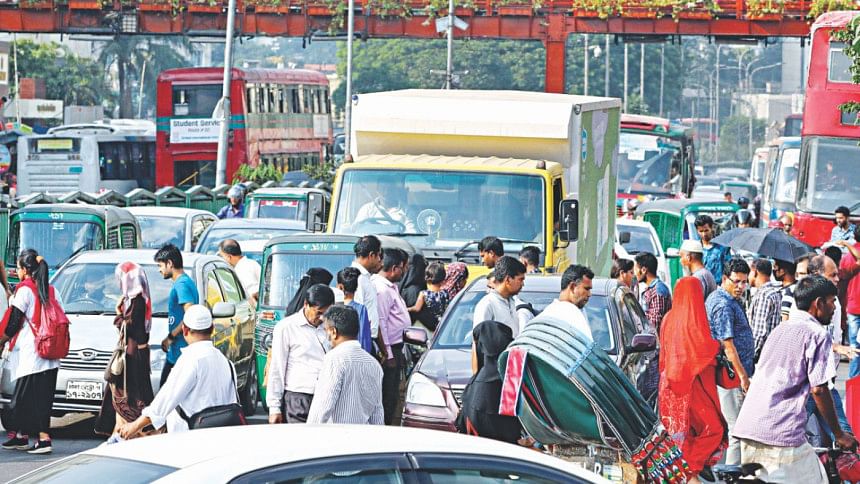 Around 1:30pm at Mirpur 10 roundabout, many people were seen crossing the roads right under a foot bridge. Policemen working there did not stop them.
The awareness campaign, which began on September 1, followed widespread student protests triggered by the deaths of two college students on a city street.
During the campaign, police filed around 1.7 lakh cases for traffic violations and realised around Tk 14 crore in fines.
At the end of the campaign, DMP Commissioner Asaduzzaman Mia on Sunday said, "There is no lack of sincerity of police to bring discipline in the streets, but their attempts are not yielding results due to people's tendency to violate traffic rules.
"It is not possible to change habits and behaviour in a month, but we are hopeful that people will gradually abide by the law."