Buet student beaten to death: Critical FB post costs him his life?
10 BCL men promptly arrested; outrage sweeps through campuses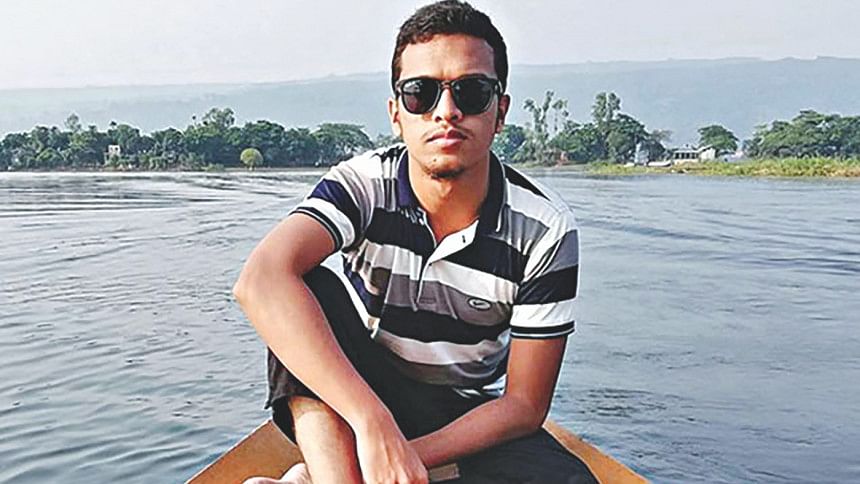 The bruises on his body speak of the cruelty Abrar Fahad suffered. His hands, legs and back -- injury marks were everywhere.
The second-year Buet student died after he was brutally beaten allegedly by some Chhatra League leaders at a university dormitory sometime between 7:00pm Sunday and 2:30am yesterday.
The incident triggered a firestorm of protests on campuses across the country. Many took to the social media to demand justice for Abrar.
Law enforcers suspect the 22-year-old student of the university's electrical and electronic engineering department was attacked because of one of his recent Facebook posts, which seemed critical of some recent deals with India.
They said 10 members of Buet BCL were arrested in connection with the murder.
The arrestees include the chapter's General Secretary Mehedi Hasan Rasel and Joint Secretary Muhtasim Fuad, who is also the vice president of the university's BCL Sher-e-Bangla Hall unit.
"They have been taken into police custody," Chawkbazar police station Officer-in-Charge Md Sohrab Hossain told The Daily Star.
Last night, Abrar's father Barkat Ullah filed a murder case against 19, including the arrestees, with the police station.
Talking to this newspaper, police and one of Abrar's roommates said Abrar returned to his room at Sher-e-Bangla Hall from his home in Kushtia around 5:30pm on Sunday.
He was studying when some BCL activists of the dormitory suddenly asked him to come out after 7:00pm.
"I was also studying and I thought they were calling Abrar for something very casual. I did not suspect anything bad," Abrar's roommate Shaikat said.
Wishing not to be named, another student of the hall, said the BCL leaders in question instructed some third-year students of the dormitory to take Abrar to room number 2011, where he was assaulted.
Talking to reporters, Buet BCL leaders said Abrar was called for "questioning" over his alleged involvement with Shibir, student front of the Jamaat-e-Islami.
Abrar's family members said he had nothing to do with Jamaat or Shibir.
Ashikul Islam Bitu, assistant secretary of Buet BCL, said, "Abrar was called in to room number 2011 [on the first floor]."
He said Abrar was quizzed by Mujtaba Rafid, deputy office secretary of Buet BCL; Ifty Mosharraf Shakal, social welfare secretary; and Amit Shaha, deputy law secretary, of the same unit.
Later, some fourth-year students were asked to go to the room. Buet BCL Sports Secretary Meftahul Islam Zion, Information and Research Secretary Anik Sharkar also went there, he said.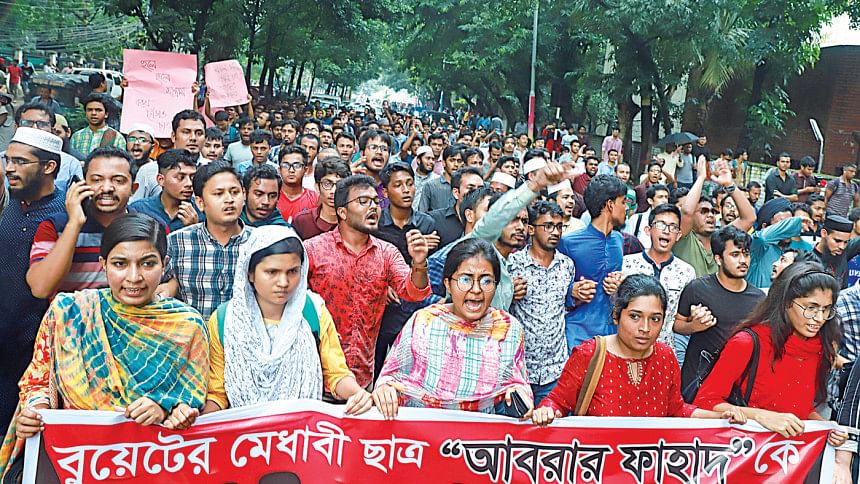 "At one stage, I left the room. Maybe, they beat him up after that. Later around 3:00am, I heard that Abrar was dead," said Bitu.
Students found Abrar's body on the staircase between the ground floor and the first floor around 2:30am yesterday. They called the hall provost and the resident doctor who declared him dead. The authorities then informed the matter to police, said Kamal Hossain, DMP additional deputy commissioner of Lalbagh division.
According to DB sources, Buet BCL's Publication Affairs Secretary Ishtiaque Munna, a student of the mechanical engineering department, was the first to notice the Facebook post of Abrar.
In the post, uploaded at 5:32pm on October 5, Abrar apparently criticised some recent agreements with India on the use of Mongla Port, water sharing and gas export.  
Munna told six other BCL leaders of batches 16 and 17 to take Abrar to room number 2011. Two of them, from batch 17, followed the order, the sources said.
As Abrar stepped inside the room, BCL leaders took away his mobile phone. They checked his Facebook, messenger and started interrogating him.
They slapped him and then started beating him mercilessly, said DB officials, quoting the arrestees.
Abrar eventually passed out.
Then they took him to a nearby room (room number 2005) which belonged to Munna. After Abrar's condition worsened, they left him in the staircase, the sources said.
Some students of the hall said Mujtaba Rafid, Ifty Mosharraf Shakal and Amit Shaha live in room number 2011.
Amit, Rafid, Ifty and some third-year students were present at the room when Abrar was beaten, they said.
A Buet physician, Dr Mashuk Elahi, told reporters, "Some students of the hall called me over my phone around 3:00am. Abrar was dead by the time I found his body at the staircase."
As the news spread, hundreds of Buet students took position in front of the provost office, demanding immediate arrest and punishment of the killers.
They alleged a video clip of a CCTV installed at the hall was missing and demanded that the footage be shown to everyone.
Later in the evening, the footage went viral. It shows three youths, believed to be Buet students, carrying Abrar on a corridor and taking him towards the staircase.
A youth is seen walking next to them while six others are behind.
It is not clear whether Abrar was dead or alive at that time.
Meanwhile, Buet authorities have formed a probe committee, comprising several teachers, to investigate the murder.
In a press release, the authorities said a general diary was filed with Chawk Bazar Police Station in connection with the murder.
Last night, Chhatra League expelled 11 leaders and activists of the Buet unit on charges of their involvement in an "unfortunate" incident.
Most of the accused were arrested.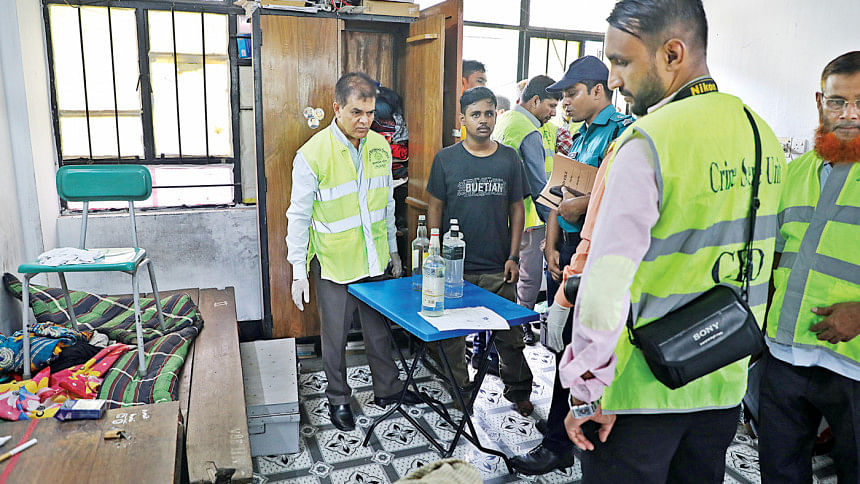 INJURY MARKS
Following autopsy, Sohel Mahmud, head of forensic medicine department at Dhaka Medical College, said, "We saw injury marks all over Abrar's body."
"Heavy bruises were found on his hand, legs and back," he said, adding that it seemed the victim was beaten with objects like sticks or cricket stumps.  
The student died of internal bleeding and excessive pain, he said.
Abrar's relatives and fellow students thronged the DMC morgue.
Talking to reporters there, Abrar's aunt Shahara Banu sobbed, "Parents sacrifice a lot to raise a child and get him or her admitted to an institution like Buet. A life cannot be lost this way. I am lost for words.
"The only thing I want now is the highest punishment to the killers."
Abrar's father Barkat Ullah entered the Buet campus in tears around 4:45pm. He went to the provost's room and stayed there for more than an hour. He also went to the room where his son was tortured.
"I want justice," he said and broke down in tears.
DEMO
As the news of Abrar's death spread, protests spread fast on campuses of Buet, Dhaka University, Jahangirnagar University, Jagannath University and Rajshahi University.
They said they will continue protest today and will announce further demands and ultimatums.
On Dhaka University campus, students led by Ducsu Vice President Nurul Haque Nur held banners and chanted slogans on the foot of Raju Sculpture demanding justice for Abrar.
At Rajshahi University, students staged an hour-long demonstration in front of the university's main gate, blocking Dhaka-Rajshahi highway from 1:30pm.
At Jahangirnagar University, students formed a human chain and staged demonstration protesting the killing.
Throughout the day, Buet students demonstrated for footage of the CCTVs installed at the Sher-e-Bangla Hall.
To calm them down, police officials and hall authorities said that the footage would be shown soon.
In the evening, police, however, refused to show the footage to protesters citing the ongoing investigation. This angered the protesters who tried to confine some DMP officials.
Additional policemen were called in but they could not enter the campus. The police officials finally managed to leave after the full footage was handed over to the students.
Later in the day, the protesters brought out a procession slamming the university authorities for their role.
At that time, they voiced several demands which included expulsion of the killers, their highest punishment and steps for protecting people with "different opinions". They also demanded that killers be tried at the speedy trial tribunal.
Abrar's first namaz-e-janaza was held at Buet Central Mosque around 10:00pm. Later, an ambulance carrying the body left for Kushtia for burial.