Bangladesh-nz 2nd Test: Rain washes out Day Two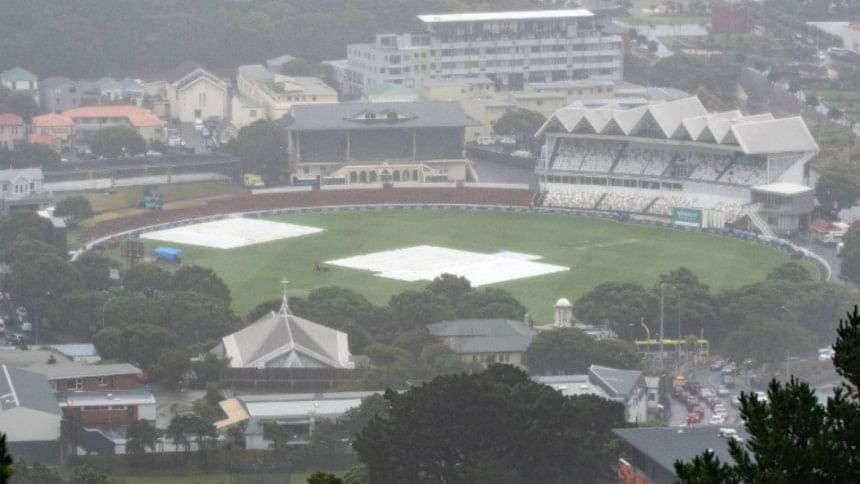 Rain played hide and seek throughout the day in Wellington before umpires eventually abandoned play for the second consecutive day of the second Test between Bangladesh and New Zealand yesterday.
The Tigers came to the ground at 1.10pm local time as it had been raining since the morning.
There were two instances when the rain did seem to cede.
The first time was just after lunch, and allowed enough time for the groundsmen to uncover the Basin Reserve pitch for the first time. However, just as everyone was gearing up for some cricket, rain once again poured all over their hopes.
With players of both teams eagerly waiting, rain again stopped at 3.00pm. The umpires inspected the thirty yards and the bowlers' run-up area and wanted to have another inspection 25 minutes later before starting the game.
Both sets of cricketers even came out to practise at the side-nets and started warming up, but the skies opened up yet again. Ross Taylor, who was heading towards the dressing room, remarked to this reporter: "Well it seems the weather is in a pretty bad mood. I would say goodbye for today [yesterday]."
Just after Taylor's prediction, match officials finally called off the day's play in a match where the toss has not even taken place. The game is scheduled to start half-an-hour earlier tomorrow at 10.30am local time today.
While heading out of the ground after play was called off, Tamim Iqbal was seen having a chat with Neil Wagner and New Zealand skipper Kane Williamson. Perhaps the cricketers were talking about the forecast, which suggests more rain today as well.