Al Mahmud passes away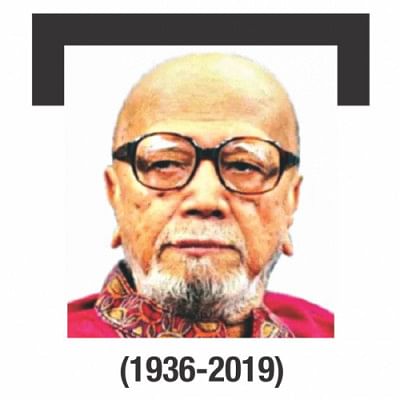 Al Mahmud, one of the major poets of Bangla literature, died around 11:00pm at the Intensive Care Unit of a city hospital yesterday. He was 83.
Earlier on February 9, he was admitted to Ibn Sina Hospital in Dhaka's Dhanmondi area as he was suffering from multiple old-age complications for a long time.
Mir Abdus Shukur Al Mahmud emerged in the realm of Bangla literature in 1950s. He won over the hearts of hundreds with his masterpiece poetries "Lok Lokantor" and "Sonali Kabin".
His other literary creations include Mayabi Porda Dule Otho, Arobbo Rojonir Rajhash, Bokhtiyarer Ghora, Dinjapan, Ditiya Bhangon, Pankourir Rokto, Nodir Bhitorer Nodi, Prem Prokritir Droho Ar Prarthonar Kobita and Upomohadesh.
With more than 50 books in his six-decade long career, he is considered as one of the finest novelists, short story writers and essayists in the country.
Political and economic issues and nature are some of the major hallmarks of his writings that are full of metaphors, images and striking themes.
Al Mahmud received the Bangla Academy Award in 1968.
The frequent uses of colloquial dialects and his outspoken approach fetched him international acclaim.
He regularly wrote about for Chatushkon, Chaturanga, Mayukh and Krittibash.
In Dhaka, he started writing regularly for Sikandar Abu Zafar's Shamokal, a magazine published between 1959 and 1970.
After independence, Mahmud joined The Daily Ganakantha as an assistant editor. In 1975, he joined Bangladesh Shilpakala Academy as assistant director and retired from the academy as director in 1993.
He also edited and ran a number of journals, magazines and dailies.
Al Mahmud's last publication was his autobiography titled "Jiban Jakhan Bak Ghore". It was published in 2018 Amar Ekushey Grantha Mela.
Born in Brahmanbaria on July 11, 1936, Al Mahmud was honoured with many awards including Ekushey Padak, Kabi Jasim Uddin Award, Joy Bangla Award, Humayun Kabir Memorial Award and Jibonananda Memorial Award in recognition of his contribution to Bangla literature.