Aedes sources need to be wiped out
Say experts on checking dengue outbreak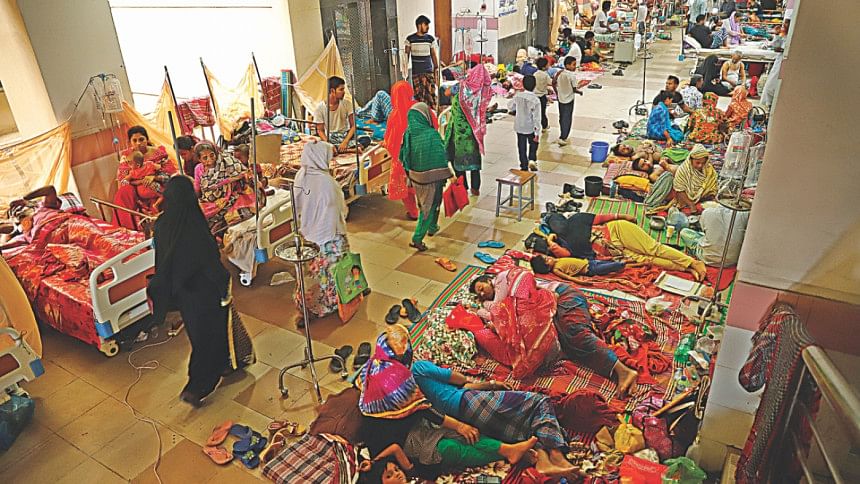 The source eradication is the key to eliminating Aedes mosquitoes as well as checking Dengue outbreak and for this participation of mass people is necessary alongside the government efforts, experts say.
"Eradicating the sources is the most important thing to do and people from all walks of life has to come forward," Abul Kalam Azad, director general of Directorate General of Health Services, told The Daily Star.
Dengue is an infectious tropical virus transmitted to humans with the bites of female Aedes mosquitoes, which breed in clean and warm water.
There is no known cure or vaccine for dengue, the world's fastest spreading vector-borne viral disease, making prevention critical.
"So, we have to focus on the source eradication," Prof Mahmudur Rahman, former director of Institute of Epidemiology, Disease Control and Research (IEDCR), told The Daily Star.
"We need microlevel approach to contain the dengue disease. And community involvement is a must. If mass people do not take part in the process and do not become aware, the situation will not be normal," he added.
Aedes mosquitoes, which carry dengue virus, cannot fly more than 300 metres on an average, but they can reach far away by taking shelter in buses or other vehicles.
In urban and semi-urban areas, gutters, old tyres, plastic containers and refuse -- in short, any items that have become water receptacles in close proximity to households -- make excellent hatcheries for dengue-carrying mosquito larvae.
So, experts say, urban waste management, especially tackling the plastic pollution, is one of the major challenges in fight against dengue.
Surveys carried out by Directorate General of Health Services, have found that plastic buckets, plastic drums and under construction buildings are the key breeding grounds for Aedes.
"Basically, clean water remains stagnant in plastic tyres, drums and even in single-use plastics. We have found that plastic is one of the major sources of vector borne diseases," said DGHS chief Abul Kalam Azad.
A research paper titled "Dengue Situation in Bangladesh: An Epidemiological Shift in terms of Morbidity and Mortality" was published in Canadian Journal of Infectious Disease and Medical Microbiology early this year.
It said that in 2016 pre-monsoon Aedes survey found that the most common outdoor habitats of Aedes vectors were plastic buckets (13%), plastic drum (11%), and clay pots (7%).
It also said the most productive wet indoor habitats of Aedes vectors were plastic drums (15%), buckets (15%), flower tubs and trays (2%), and water tanks (0.77%).
"We may conclude from the findings of our survey that the dengue vectors are present in the domestic and outdoor environment throughout the year in Bangladesh," the report said.
Dr Sanya Tahmina, director of disease control at the DGHS, who was involved with the study, said, "Plastic is one of the big sources of mosquito breeding and incubation.
"We got the same trend in the following years. This year we found under-construction buildings to be another big source."
She said at least once a week plastics and other containers where clean water gets stagnant should be removed. It doesn't matter who will be doing it -- the city corporation, community-based organisations or volunteers.
"If we fail to do so, all the efforts will go in vAin and sprays alone will not yield any result."
A senior entomologist of WHO is now in Bangladesh and giving advice to the government on controlling Dengue.
The expert suggested using granular temephos to treat vector-infested water instead of the liquid one as the granules remain effective for 21 days while the liquid remains effective less than a week, said DGHS chief.
According to the World Health Organisation, the main methods to control or prevent the transmission of dengue virus include preventing mosquitoes from accessing egg-laying habitats by environmental management and disposing solid waste properly.
It also says mosquitoes should be combatted by applying appropriate insecticides to water storage outdoor containers and improving community participation and mobilisation.
Active monitoring and surveillance of vectors should be carried out to determine effectiveness of control interventions, it added.