76,000 Rohingya children born in last 3 years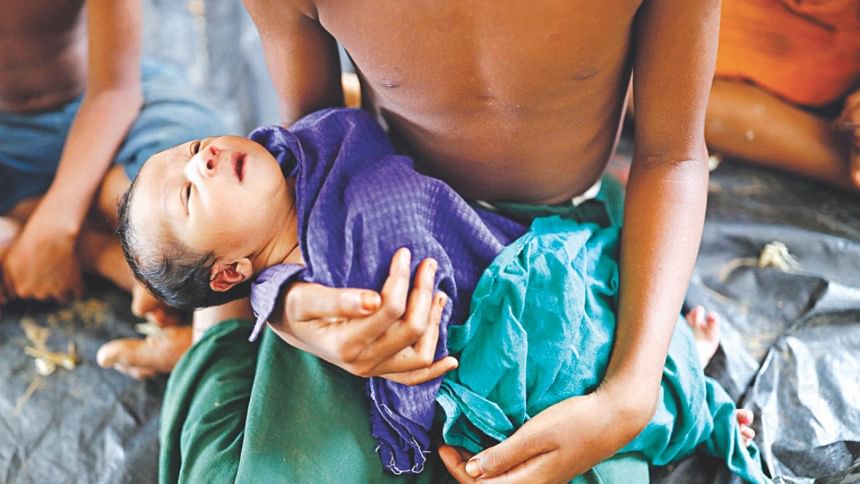 An estimated 76,000 babies were born in the Rohingya camps in Bangladesh over the past three years, said Save the Children in a new report released today.
"The children's agency found 75,971 children aged under three in the Cox's Bazar refugee camps -- or nine percent of the total refugee population. The implication is that almost all of them were born after their mothers fled to Bangladesh," said the report.
Save the Children, which made the estimate based on data from Cox's Bazar up until May 31 this year, however, said the children under three are living in conditions that are not suitable for them.
There is limited access to education and healthcare, no freedom of movement or citizenship and they are almost entirely dependent on aid, the report said.
Three-year-old Runa*, who born during her mother's gruelling journey across the Myanmar-Bangladesh border as she fled for their lives, now suffers from chronic malnutrition.
"I'm worried about my children's education, their future, their behaviour," Runa's mother Hamida told Save the Children.
"I can't give them whatever they ask for as we don't have money. We can't fulfil their dreams. We can't love and take care of them properly. That's why I feel very sad. I can't even provide them with good food."
Some 750,000 Rohingyas fled a brutal military campaign against the Rohingyas in Myanmar's Rakhine state and joined around 300,000 others who had fled previous waves of violence.
Save the Children said that in Myanmar, displacement camps in central Rakhine have been housing Rohingya Muslims as well as Kaman Muslims since 2012, due to previous waves of ethnic violence.
Based on UNHCR data from Myanmar up to December 2019, the children's agency estimated that there are 32,066 children under seven years of age spread across 21 camps, representing over 25 percent of the displaced population.
Onno van Manen, Bangladesh's Country Director for Save the Children, said the birth of a child is a joyous occasion but these children have drawn the short straw.
"We teach our children to dream big but for a child who knows nothing but a refugee camp, many of their hopes and dreams will seem out of reach. The people and government of Bangladesh welcomed the refugees when they fled violence in their home country but three years on we are no closer to a sustainable solution to this refugee crisis.
"Rohingya children and families must be able to return to their homes in Myanmar voluntarily and in a safe and dignified manner. World leaders -- particularly those with close ties to Myanmar -- must do everything they can to encourage a swift resolution to this crisis. We can't allow the years to pile up and for children to spend their entire childhoods in confinement."
Mark Pierce, Myanmar, Sri Lanka & Thailand (MST) Director for Save the Children, said more than 30,000 children in the Rakhine camps have known no other life, no opportunity to explore the world outside, or visit their towns and villages.
"We must avoid the harmful consequences of an entire generation of children growing up in enforced segregation, which only further divides communities," he said, adding, "Nearly three decades after Myanmar ratified the UN Convention on the Rights of the Child and pledged to protect children at all costs, it needs to make good on its promise to guarantee the rights of all children."