Covid-19 fallout: 68% lost jobs in Dhaka and Ctg
Finds a rapid phone survey by World Bank on those who stopped working during pandemic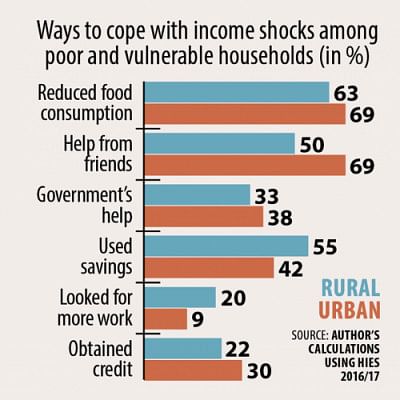 Around 68 percent of the people who had to stop working in urban areas of Dhaka and Chattogram due to the pandemic have lost their jobs, according to a World Bank report.
The rate of the job losses was 76 percent in the capital while it was 59 percent in the port city, said the report, titled "Losing Livelihoods: The labour market impacts of Covid-19 in Bangladesh".
Slum areas witnessed higher -- 71 percent -- job losses than non-slum areas where it was 61 percent, it said, adding that some of the people expecting to resume their previous jobs may not be able to do so, thus the actual job losses may have been even higher.
The report was prepared based on rapid panel phone surveys among respondents from Dhaka, Chattogram and Cox's Bazar.  The survey was carried out in two phases -- one after the pandemic began and the second one from June 10 to July 10.
In Dhaka, one in four respondents reported not actively working in the week preceding their interviews but having worked before March 25. This figure was 22 percent in Chattogram.
In Cox's Bazar, economic lockdowns were imposed early. Around 90 percent of the Bangladeshi living in the district reported being employed during a coronavirus-driven lockdown.
According to the World Bank report, the income losses were widespread across the three areas. In Dhaka and Chattogram, about 80 percent of wage earners and 94 percent of business owners said their earnings were lower than usual.
Median wages for salaried and daily workers declined by about 37 percent compared to usual earnings immediately before the Covid-19 struck. The decline was higher in Dhaka -- 42 percent -- and in Chattogram, it was 33 percent.
Among waged workers, daily and weekly wage labourers faced much higher losses in income (49 percent) compared to salaried workers.
Given the low rates of female labour force participation, women appear to be disproportionately affected by the pandemic and have experienced relatively higher job losses, the report said.
To cope with the income losses, 69 percent household reduced their food consumption; the same number of people took help from their friends.
Thirty-eight percent household surveyed received government help while 42 percent used their savings, according to the World Bank data.
This is mentionable there is a widespread uncertainty among participants in Dhaka and Chattogram about keeping jobs and business running. Only 58 percent of active workers surveyed thought they would be able to keep their job or activity running in the coming months. In Chattogram, it was 69 percent.
In the meantime, high levels of uncertainty in the job market are generating stress and anxiety that may further exacerbate health impacts associated with the pandemic, notably in mental health, the report said.
In poor areas of Dhaka and Chattogram, eight in 10 adults reported experiencing stress or anxiety that affected their ability to carry out their day-to-day activities.
"Reductions in wages among salaried and daily workers were significantly higher for women, consistent with their high engagement in the garment sector and housemaid services, both of which have been severely impacted by the pandemic."
Among those who lost jobs, cleaning workers or housemaid received the biggest blow because 54 percent job losses were reported in these arenas. Second highest job loss was reported in the garments sector with 19 percent.
About the pre-pandemic situation regarding poverty, the report said a large share of the population -- eight in 10 Bangladeshis -- were poor or vulnerable to falling into poverty before the pandemic.
About 25 percent of population was living in poverty and another 54 percent could be considered vulnerable as they had consumption levels very close to the poverty line, according to the Household Income and Expenditure Survey 2016-17.
That indicates income losses related to Covid-19 are likely to push a large share of the population into poverty. And in most of the cases, the people are from the informal sector.
Incomes of informal workers and in affected sectors are assumed to decline by 50 percent and international remittances are also assumed to fall by half.
Comparing with a scenario without Covid-19, in 2020, average household per capita consumption would decline by an estimated 13 percent with an estimated loss in annual consumption of about $ 10.7 billion.
The national upper poverty rate is estimated to rise from 23 percent to 35 percent. This represents approximately 2.1 crore additional people falling into poverty in 2020.