5 Bangladeshis killed in NZ attack named
Five Bangladeshi nationals who were killed in Friday's attacks on Al Noor Mosque and Linwood Mosque in New Zealand's Christchurch have been named by the Honorary Consul of Bangladesh in Auckland, NZ yesterday.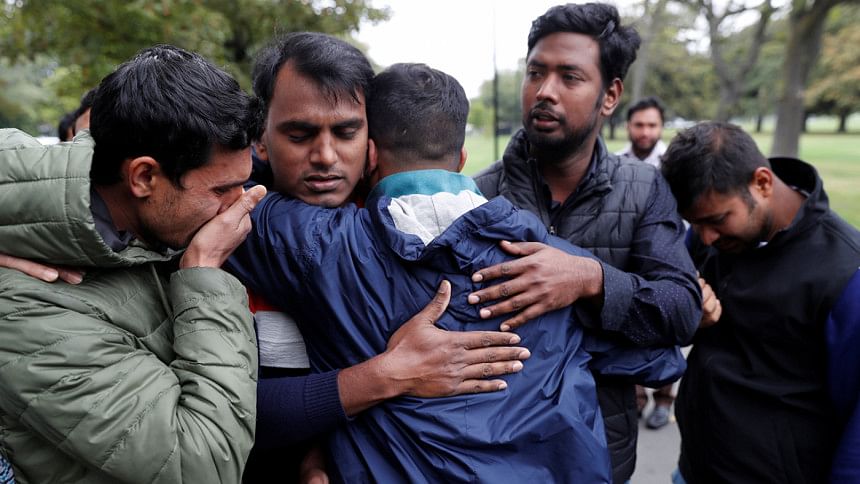 The number of Bangladeshis killed in Friday's mosque massacre in New Zealand's Christchurch rose to five, said the honorary consul of Bangladesh in Auckland.
The consul Shafiqur Rahman Bhuiyan yesterday confirmed the identities of three more Bangladeshi victims. They are Omar Faruk, of Narayanganj; Mojammel Haque, of Chandpur; and Zakaria Bhuiyan, of Narsingdi.
Two other Bangladeshi nationals -- Dr Abdus Samad, Prof of Department of Agronomy at Bangladesh Agriculture University; Hosne Ara Ahmed, of Sylhet -- were earlier declared dead by the New Zealand authorities.
Shafiqur also said three other Bangladeshis, who survived the shootings attacks at Al Noor Mosque and Linwood Mosque with injuries, were receiving treatment at a Christchurch hospital. They are Sajeda Akter Lipi, Sheikh Hasan Rubel and Motassin Billah. Of them, Lipi's condition is stated to be critical and other two were out of danger.
According to Shafiqur, Prof Samad used to live in New Zealand with his wife and two sons. Another Bangladeshi, Hosne Ara, was killed when she tried to save her physically challenged husband Farid Ahmed.
The NZ authorities could not find close relatives of the three others -- Omar, Mojammel and Zakaria -- to hand over the bodies, he added.
Shafiqur said that NZ would start handing over the bodies of the identified victims from Monday morning.
State Minister for Foreign Affairs Md Shahriar Alam yesterday told The Daily Star that one close relative of each dead would be able to travel to Christchurch to bring the bodies back as the NZ authorities would arrange it for them.
According to Reuters, 41 people were shot dead as a "white supremacist" indiscriminately attacked unarmed devotees at the Al Noor Mosque on Friday. Seven more   were killed in the neighbouring Linwood Mosque where the terrorist conducted his second attack. Later, one died after taking to Christchurch Hospital and another was discovered at the crime scene, making the death toll 50.
WHAT DO FAMILIES SAY?
Quoting the family members of Dr Samad, State Minister for Foreign Affairs Shahriar said he would be buried in NZ. Samad's son would join them in the funeral from Bangladesh.
However, no decision has been made yet whether Hosne Ara would be buried in NZ or in Bangladesh, he said.
"We are urging all concerned families to communicate through our hotline numbers who are yet to communicate," he added.
Meanwhile, our Narayanganj correspondent found that the family members of Omar Faruk were hoping against hope that he would return home alive.
"My son is alive … he will come back," said Rahima Begum, mother of the victim.
In Chandpur, our correspondent found that Mojammel's family members were waiting for the remains of him.
Mojammel's elder sister Josna Akter demanded punishment for the murder of her brother.
"We demand punishment of the killers of my brother," she said.
HOTLINE
Honorary Consul of Bangladesh Shafiqur Rahman Bhuiyan could be contacted over his mobile phone: +64 21024 65819. Besides, two additional numbers for emergency contact are: +61 424 472544 and +61 450173035.