26 die as speedboat overturns in Padma
It hit a sand-laden bulkhead in Madaripur
Twenty-six people were killed as a speedboat capsized after it crashed into a sand-laden bulk carrier in the Padma river in Madaripur yesterday. 
All the deceased -- three women, two children and 21 men -- were passengers of the speedboat.
Bodies of 22 victims were handed over to family members till 6:00pm yesterday, said Ashiqur Rahman, inspector of Banglabazar ferry terminal traffic police in Madaripur.
Five persons, including the driver of the speedboat, were rescued alive. They were undergoing treatment at different hospitals, he added.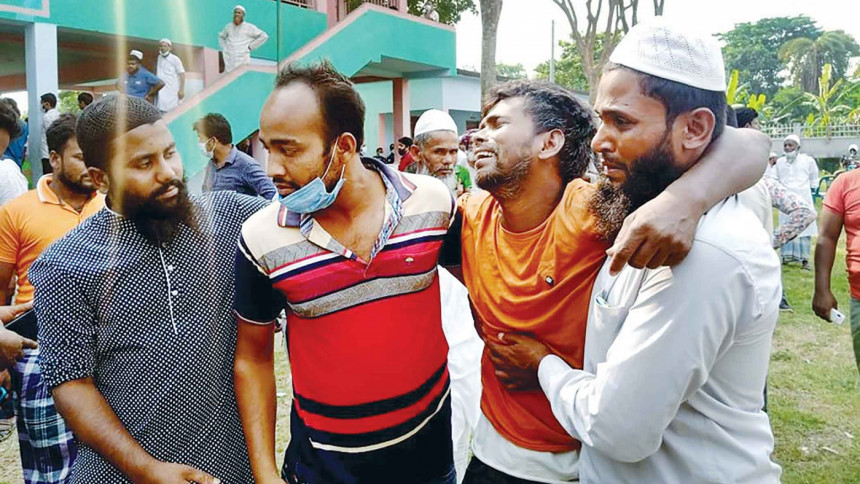 The accident took place around 7:00am near the old terminal at Kathalbari, around one kilometre away from Banglabazar terminal in Shibchar upazila of Madaripur.
The speedboat, which was carrying 30 passengers, had started from Shimulia terminal of Munshiganj and was heading towards Banglabazar terminal, said Abdur Razzak, in-charge of naval police's Char Janajat outpost.
When it arrived near Kathalbari, the motorboat collided with the bulk carrier, causing it to capsize, he added.
Aduri Begum, 35, a passenger of the speedboat who survived the accident but lost her husband and one-and-a-half-year-old son, said, "Since the beginning, the driver was operating the speedboat haphazardly. It was clear to all of us that the driver was not skilled. We were all anxious. Finally, our speedboat hit the bulk carrier and I saw everyone going under water.
"I became unconscious and when I regained my senses, I found myself in a hospital bed," she told The Daily Star near the site of the accident, where she had returned to receive the bodies of her husband and son.
Contacted, Madaripur Deputy Commissioner (DC) Rahima Khatun said the speedboat was carrying passengers, violating the restriction imposed by the government to curb the spread of Covid-19.
The accident occurred due to poor visibility on the river in the morning. Furthermore, the driver was not skilled enough, the DC told The Daily Star.
PROBE BODY
Hours after the incident, Madaripur district administration formed a six-member committee -- with Deputy Director of Local Government Division Azharul Islam as its convener -- to investigate the accident, said DC Rahima Khatun.
The committee, which also includes magistrates, representatives of naval police and fire service, has been asked to submit the probe report within three working days.
The family of each victim will receive Tk 20,000 assistance for funeral arrangements, the DC said
Bangladesh Inland Water Transport Authority (BIWTA), a government body under the Ministry of Shipping, is responsible for development, maintenance and control of water transport and waterways in the country.
Contacted, BIWTA Assistant Director Md Shahdat Hossain, who is assigned to ensure marine safety and traffic management at Shimulia terminal, yesterday said his department does not monitor speedboat operations on the Shimulia-Banglabazar route due to a lack of manpower.
The naval police and Coast Guard monitor it, he said.
Contacted, Lt Ashmadul Islam, commander of Coast Guard's Pagla station in Narayanganj, said they are only responsible for ensuring safety measures like wearing of life-jackets and controlling overloading. The BIWTA is responsible for the overall services.
Sirajul Kabir, in-charge of naval police at Mawa of Munshiganj, said law enforcers are supposed to ensure safety and security; but BIWTA is responsible for controlling operations of vessels.
UNREGISTERED BOATS AND UNSKILLED DRIVERS
Around 400 speedboats are being operated daily on this route. But these speedboats do not have any registration or fitness certificates from the government.
Contacted, BIWTA Chairman Commodore Golam Sadek said all the speedboats are unregistered. Recently, 28 speedboat operators have applied for registration.
If anyone wants to run a business, he or she just has to negotiate with the terminal's leaseholder, said sources at the terminal.
Perhaps most alarming is that the speedboat drivers do not have any institutional training or license.
They move up the ladder from a driver's assistant to becoming the actual driver after a few days of gathering experience, said Ashraf Hossain, the leaseholder of the speedboat terminal in Shimulia.
Contacted, BIWTA official Md Shahdat Hossain admitted the fact and added that the speedboat which capsized yesterday, owned by one Chandu Mia, is not registered and its driver Md Shah Alam has no license.
"We have already asked law enforcement agencies to take action against them," he added.
Leaseholder Ashraf Hossain said the process of registering speedboats was initiated a few years ago, but the initiative did not see any progress due to a lack of cooperation from speedboat owners and workers.
ILLEGAL SERVICE
Multiple government officials are now saying the speedboat services on this river route are illegal, although speedboats have been plying the route for the last few years.
"Operation of speedboats are totally illegal. But we don't know how these are being operated. We can inform you after investigation. We will talk to our higher authorities to stop these speedboat services," said DC Rahima Khatun.
Md Abdul Arek, superintendent of naval police in Faridpur Region, who visited the spot, said, "Speedboats are illegal during normal times. Furthermore, operations of such transports are very much illegal during lockdown. We will investigate the matter to know how and why these transports were being operated," the police officer told journalists.
The driver of the speedboat has been arrested and is now undergoing treatment under police custody.
LACK OF SAFETY MEASURE
As per the rules, all passengers of speedboats are bound to wear life-jackets but most do not follow the rules, said locals and speedboat operators.
About overloading, locals said capacity of carrying passengers varies according to the size of speedboats.
About the speedboat that capsized yesterday, Lt Ashmadul Islam, commander of Coast Guard's Pagla station in Narayanganj, said the speedboat had a capacity of carrying 28 passengers.
But it is assumed that the driver took some 30 to 35 passengers. Of them, some wore life-jackets while most of the passengers did not wear it, he added.