A mother's light has gone out
Thanks to violent politics, eyes of blind Selina remain hardly dry
For 91 days from January 5 to April 5 last year, there was hardly a single day when innocent people were not burnt to death or injured in arson attacks on public transports.
Some lost their loved ones, others their lone bread earners during the longest spell of horror allegedly carried out by the BNP-led coalition, protesting the January 5, 2014, elections.
At least 95 people were killed and about 1,500 injured. Most of them were ordinary citizens, living from hand to mouth. Another 45 got killed in "shootouts" with law enforcement agencies. About half of them were allegedly involved in arson attacks.
The economic loss from the blockade and shutdown was enormous.
One year on, the overall picture has changed but the ordeals of those injured and the families of those killed have not. The Daily Star visited over a dozen such families.
This newspaper will tell their stories for six days, starting today. 
"O bazan (son), where have you gone, bazan? ... Won't you ever come to see me anymore?"
The feeble body of visually impaired Selina Begum trembled as she bent over her son's grave. Her desperate wails pierced the silence that hung over the large field where the "light of her life" lies buried.
"What a deep sleep you've fallen into that you don't wake up? Tell me, bazan?" she managed to say between her unintelligible wailing. Her questions floated in the air, unanswered.
Sohag Biswas, 19, was killed in a petrol bomb attack last year during the BNP-led coalition's indefinite blockade, which took a heavy toll on people's lives as well as the economy.
Sohag meant everything to the mother, aged about 37, who lost her eye sights at the age of 12 following a mistreatment.
That was only the beginning of her sufferings. At 15, she was married off to a man who remained ill and therefore out of work almost all the time.
But the birth of Sohag about a year and a half later gave her some hope. But within two years, misfortune struck again: her husband died from illness. With no permanent income, raising the boy was an uphill task. Even so, Selina overcame this challenge with the help of her parents. As Sohag was growing up, Selina started to dream of better days.
Sohag, for his part, read his mother well. At 10, when he was in class four, he dropped out of school and began working, first as a helper of a mason and then as a waiter, to support his mother. For better pays, he changed his job several times. His last job was that of a truck helper. The mother and son were happy.
But on January 18 last year, Selina's world went dark again: Sohag came home dead.
Suspected pro-blockade pickets firebombed his truck in Bamrail area on Dhaka-Barisal highway around 6:30am. The driver managed to get out, but Sohag got trapped. Police later recovered his body.
"Before leaving for work, he took his shower with hot water. But my tall, nice boy came home charred and blackened. I touched his burnt face," said Selina, who hails from Shankarpasha village in Nagarkanda upazila of Faridpur.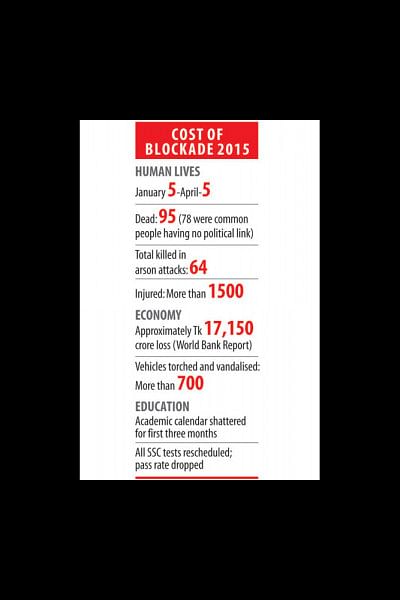 "Before going out, he told me: 'I will come home in the morning, ma,'" she said, with tears streaming down her cheeks.
Sohag gave her Tk 20, as she said him goodbye. "I told him: bazan, be careful when you work."
Only two days earlier, Selina bought Sohag a green jacket, which he was wearing when he left home on the afternoon of January 17.
"When he put on the jacket for the first time [that day], he asked his aunt to take a look at him and tell him if he looked like a groom," Selina told these correspondents at her father's house at Shankarpasha last month.
"Sohag was my dreams, my hopes. Everything."
When Sohag was about 13, Selina's parents married her off for a second time so that she has somebody to look after her. She has a five-year-old son with him. The man, Osman Bepary, does not see in one eye. 
After Sohag's death, the government gave Selina Tk 5 lakh in compensation. She deposited the money with a bank and draws the monthly interest for her expense. She also gets Tk 5,000 a month from the local administration.
But what about justice?
Selina said she heard a case was filed over the killing of her son but police were yet to contact her.
Now involved with an organisation working with disabled people, she demands justice.
"They [the perpetrators] should be tried and given exemplary punishment," she said, flying into a rage over violent politics.
Politicians do politics and are doing just fine. "But I lost my son amid all this. Like me, many mothers lost their children. My son went out of home for work. He was not in politics; he knew nothing about politics."
After some moments' pause, she posed some serious questions: "They [politicians] say people are everything to them. But for whom do they do politics if they kill people? With whom would they wage movement? Whom do they love then?"