Misaligned wheels or faulty lines
Rail officials suggest as cause for Upaban Express derailment
The derailment of Upaban Express in Moulvibazar was caused likely by faulty lines or misaligned carriage wheels, say officials.
Rail Secretary Mofazzal Hossain yesterday mentioned those two possible causes for the accident that killed four people and injured over 100 passengers on Sunday night.
Talking to reporters on the spot in Kulaura's Boromchal, he said the specific reason would be known after the probe bodies submitted their reports. 
The railway ministry formed two probe committees that have been asked to submit their reports within three working days. 
The first committee is a four-member body led by Mizanur Rahman, chief mechanical engineer (east zone) of Bangladesh Railway.
The second one is a four-member divisional probe committee led by Mainul Islam, divisional transport officer of Dhaka division.
While briefing reporters at the secretariat after the cabinet meeting at the Prime Minister's Office, Cabinet Secretary Mohammad Shafiul Alam said, "The train derailed as it was overloaded with passengers. There was no space left unoccupied," reports BSS.
However, the railway authorities denied the derailment caused by overcrowded carriages. 
One of the 17-carriage intercity train, heading to the capital from Sylhet, fell into a canal, while two others fell close to the canal's banks. Three other carriages also derailed. 
The train with 11 other carriages left Kulaura Railway Station around 5:30am yesterday and reached the capital around 11:00am, according to Kulaura Railway Station.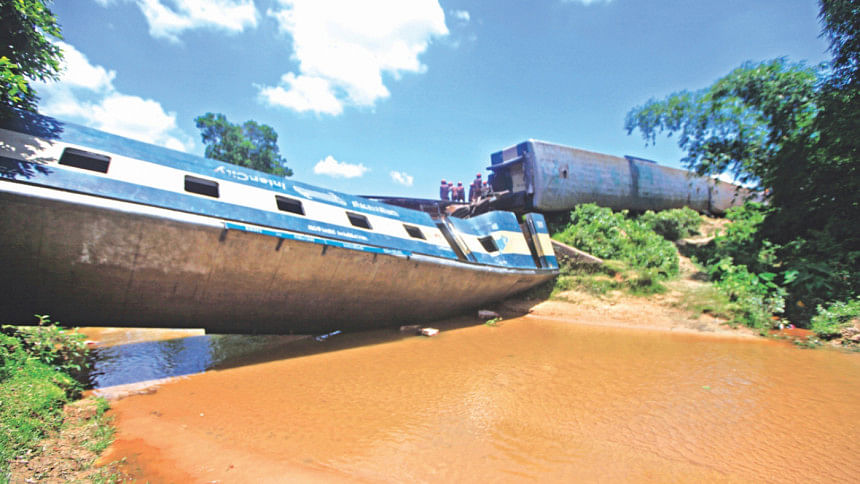 There were 891 passengers with tickets in the train. Besides, many passengers were travelling in the train without tickets, said Sajib Kumar Malakar, acting station master of Sylhet Railway Station.  
Rail communications on Dhaka-Sylhet route resumed yesterday afternoon as the lines were repaired and the derailed carriages were removed. 
Several injured passengers said all the carriages that fell off the track were overcrowded and the train had gained speed immediately before the accident happened. 
"I was on the first derailed carriage and it was overcrowded as the road communications with Dhaka have been cut off for the last couple of days," said Sharif Hossain, a businessman from Chapainawabganj.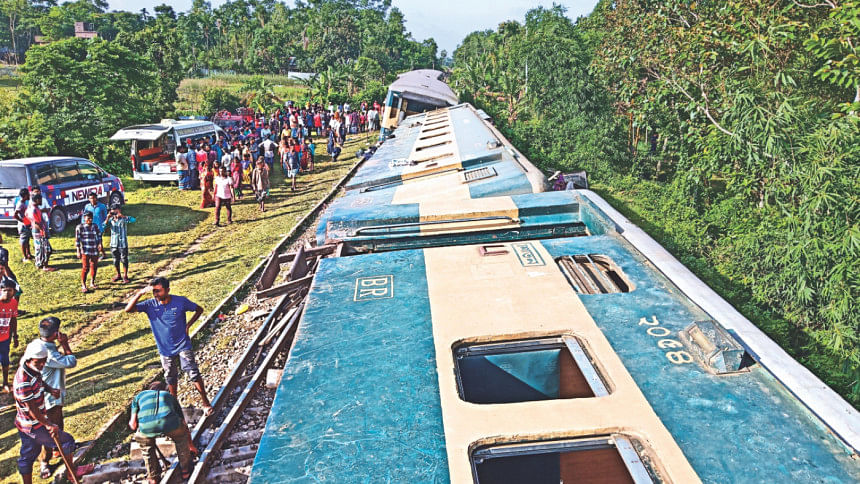 "I think the train's excess speed with overloaded carriages led to the derailment."
Another injured passenger, Humayun Kabir, who works at the Social Welfare Department in Sylhet, said, "I was in the last carriage. It was overloaded and over 30 people were standing in my carriage alone." 
"The train departed Sylhet Railway Station on time at 10:00pm, but halted for an hour at Moglabazar Station, just a couple of kilometres from Sylhet Railway Station, to let inbound Kalni Express pass," he said at Sylhet MAG Osmani Medical College Hospital.
"The train then made another stoppage at Maijgaon Station. It started gaining speed after leaving Maijgaon Station in Fenchuganj and derailed while crossing the bridge at Boromchal," he added. 
Describing the incident, Anwara Begum, an injured passenger, said, "All I can remember is that some loud bangs and it went dark while our carriage derailed on the bridge. We were panicking there were shouting and groaning until locals rescued and sent us to hospitals."
She was being treated at Kulaura Upazila Health Complex.
Shahbajpur bridge over the Titas river on the Dhaka-Sylhet highway in Brahmanbaria was damaged on June 19. The long detour made many people to opt for rail. 
Abdul Jolil, chief engineer of Bangladesh Railway (east zone), said, "A passenger train is designed in a way so that there is no chance to get too many people on-board. Freight trains run on the rail lines regularly and there is no way that an overcrowded train could outweigh a freight train."
But excess speed might be a cause as there are restrictions in many parts of the rail lines where speed is limited as per the line capacity, he added.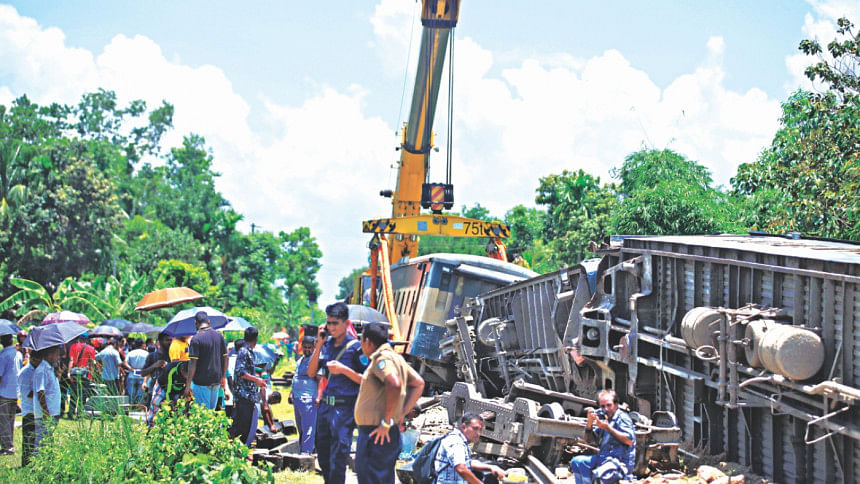 He said as far as they could understand, the carriages derailed way before the bridge.
The four dead are: Monwara Begum, 55, of Sylhet's Fenchuganj upazila, Sanjida Akhter, 20, of Bagerhat's Mollahut upazila, Fahmida Yasmin Eva, 20, of Sylhet's Dakshin Surma upazila, and Kawsar Hossain, 26, of Habiganj's Bahubal upazila.
The injured were undergoing treatment at different hospitals and clinics. 
Enamul Kabir, of Boromchal village, said, "When we heard the sound of the train crash, we rushed to the spot. The incident was announced from all mosques so that locals could start rescue before police and firefighters arrived."
Talking to The Daily Star, a youth of the area, Shahan Miah, said he called police emergency service 999 right after the accident.
Though several hundred locals came forward to rescue, there were allegations of robbing valuables of train passengers.
Tofayel Islam, deputy commissioner of Moulvibazar, said, "To ensure security of passengers and speed up the rescue operation, members of Border Guard Bangladesh were deployed."
"We will give Tk 25,000 to each of the deceased's families."