Medicare stops in Chittagong
Doctors in pvt hospitals, diagnostic centres stop work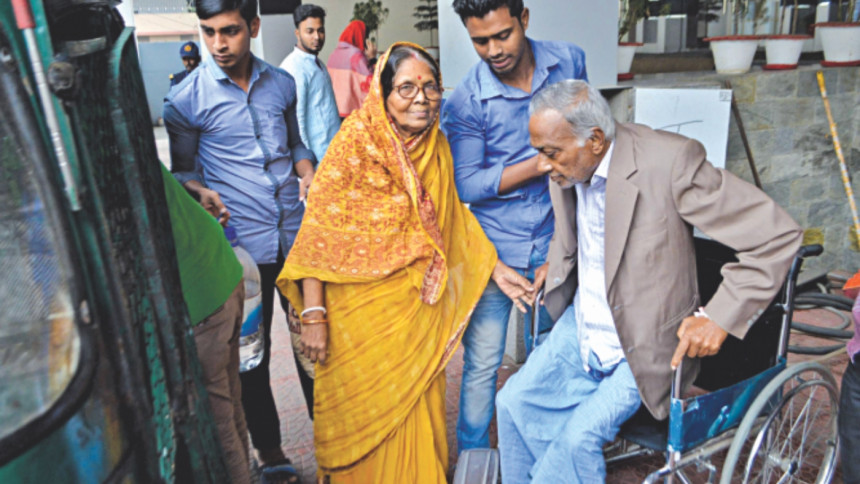 Patients were left to suffer yesterday as doctors stopped providing all sorts of healthcare services in private hospitals and diagnostic centres in Chittagong.
They staged the work stoppage demanding withdrawal of two cases filed on Tuesday against three physicians for their "negligence" in treatment.
The Daily Star visited around 20 private hospitals, clinics and diagnostic centres, including Centre for Specialised Care and Research (CSCR), Epic Healthcare, Popular Diagnostic Centre, Metro Diagnostic Centre, and Doctor's Lab, in the port city throughout yesterday but saw no doctors in any of them.
Around 10:00am, Soumitra Das, a businessman, along with his ailing brother Nayan arrived at Chevron Clinical Laboratory near Probortok intersection. But much to their frustration, they found the main gate of the diagnostic centre locked.
Right in front of the gate, a banner read, "There will be no diagnostic tests, except for some emergency ones, and the private chambers shall remain closed as per a decision of Bangladesh Medical Association (BMA)."
"My brother is having a severe abdomen pain. We have been to several other places to diagnose his problem but found them closed too," Soumitra told this correspondent there.
A few minutes later, Mujibur Rahman, a local, went there to collect the report of his 12-year-old son's urine test but had to return empty handed.
"How can we start his treatment without the report?" he asked before leaving.
Around noon, one Rashedul Hasan went to CSCR, a private hospital, on OR Nizam Road for an appointment with a professor at Chittagong Medical College Hospital (CMCH). But he found a notice on the doctor's door instead. It read: "The chamber will remain closed for an indefinite period upon a BMA directive."
"The condition of my brother is critical. Where will we go if doctors stop attending patients this way?" he asked.
This correspondent saw many private chambers of doctors in several places of the city shut as well.
Hundreds of patients had to suffer yesterday due to the doctors' move.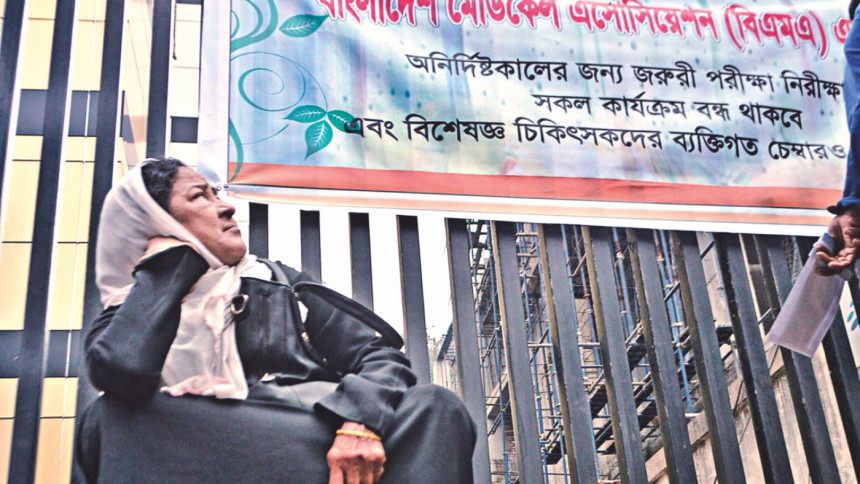 On Wednesday, doctors' leaders in a meeting gave a 24-hour ultimatum to the authorities to withdraw the two cases filed against their colleagues.
They had threatened to stop providing their services in private hospitals and diagnostic centres if their demand was not met within the deadline.
According to the Chittagong Civil Surgeon office, there are 107 authorised private hospitals and clinics along with 271 diagnostic centres in the port city.
Contacted, Mujibul Haque Khan, president of Chittagong BMA, said doctors could not be sued for anything that happened during treatment. "How can we provide patients with treatment if we have to be in constant fear of cases?"
"Those who filed the cases could have gone to the BMDC [Bangladesh Medical & Dental Council] or BMA with their complaints.
"We will continue our work abstention until our demand is met," he said.
 Asked about patients' sufferings, the doctor said the government hospitals are out of the purview of their demonstration. "We have also asked the authorities of diagnostic centres and clinics to offer healthcare services to the patients in critical condition."
On January 10, Meherun Nesa, 22, niece of Expatriate Welfare Minister Nurul Islam, died at a private clinic in Katalganj area following a caesarean operation due to alleged negligence of doctors. Another doctor at CMCH mistakenly left a bandage inside the body of Nur Absar during a surgery recently, according to the case statements.
The accused doctors are Shamima Siddique Rosy and Mahbubul Alam of Surgiscope Hospital, and Assistant Registrar Rana Chowdhury of CMCH.
After the cases were filed on Tuesday, a Chittagong court took cognisance of those and directed the officer-in-charge of Panchlaish Police Station to take the lawsuits as FIR, said CMP Additional Deputy Commissioner (prosecution) Kazi Muttaki Ibnu Minan.
Last night, Khairul Bashar, father of Meherun Nesa, in an email to this correspondent said his fight was not against doctors but for justice. And now, a section of doctors are observing work stoppage to divert attention from the issue, he added.