Voyage for safety ends in tragedy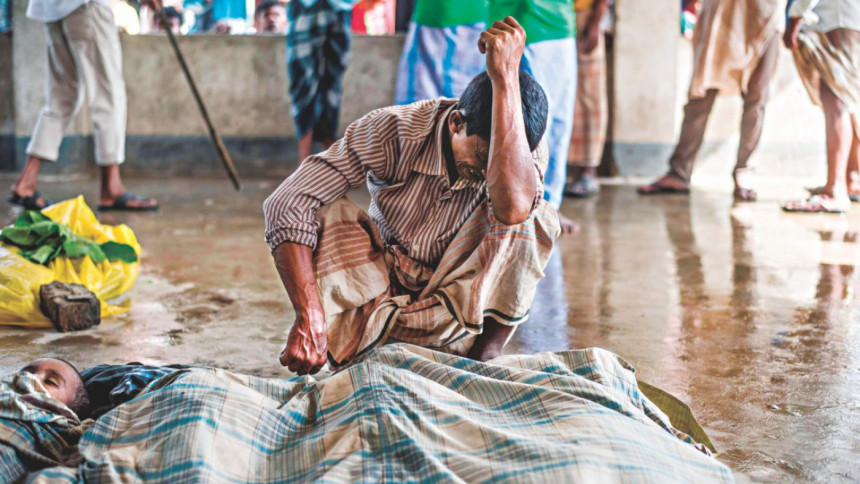 Mohammad Zafar held one of his twin sons tight in his arms and kept the other in the lap as the trawler bobbed up and down in rough waters amid heavy rain.
Sitting close to him, his wife put her arms around their older son, six-year-old Jaber.
When the coast of the Bay of Bengal was just 300 yards away, a strong wave hit the rickety boat, causing it to break and overturn.
Zafar, a farm labourer from Myanmar's Mwai Daung village, managed to grab the hands of his twin sons -- Yeasin and Nur Kaiyas -- in the water for a few minutes while his wife struggled to stay afloat with Jaber.
Soon the twin slipped through his fingers and the waves swept them away. He then looked for his wife and Jaber, but they were nowhere to be found.
"I could not save them. They all drowned before my eyes… What's the point of being alive now?" asked Zafar, giving a vacant look at the motionless bodies of his three sons and wife at Inani Government Primary School in Ukhia yesterday.
At the school ground, 12 more bodies of Rohingya women and children had been kept since Thursday night after the boat carrying them and other Rohingya refugees capsized near Patuartek of Ukhia.
Four more bodies -- three children and a woman -- were recovered yesterday and brought to the school ground.
The victims fled violence in Myanmar to seek safety in Bangladesh, but they finally ended up dead.
Locals of Patuartek bathed the bodies and wrapped those in shrouds before the family members of the dead bade the last farewell in tears. They broke down in loud sobs, making the atmosphere heavy with grief and pain. Nothing and nobody could console them.
Thursday's tragedy is the latest in a series of incidents of boat capsize. So far, 128 people have died in such incidents since desperate Rohingyas started pouring into Bangladesh from the strife-torn Rakhine State of Myanmar on August 25.
And still, they keep coming by ramshackle boats, risking their lives.
On Wednesday night, around 70 Rohingyas, including Zafar, his wife and their three sons boarded the small boat with their belongings. They all crammed in the small hull, and there was hardly any space for them to move.
But none of them could imagine the horrors that lay ahead.
"The boatmen told us that they would take us to Shah Porir Dwip -- a three-hour journey from the ghat where we boarded the boat. But they did not keep their word," said Zafar who managed to swim ashore.
He said the sea was rough and they got drenched several times. As the weather got worse on Thursday afternoon, the boatmen lost their way.
"The boat was close to the shore but couldn't make it... I have lost everything," he said, trying to choke back tears.
At the school ground, Nur Fatema of Myanmar's Mwai Daung village was crying inconsolably after she was given the last chance to see the body of her nine-month-old son Shahidur Rahman.
Fatema, who is in her early 20s, embarked on the perilous journey with her husband Abdus Salam and their two sons -- Shahidur and three-year-old Abdur Rahman.
After boarding the small boat, she took Shahidur in the lap while her husband held Abdur in his arms.
"As the boat capsized, I took Shahidur on my shoulder. I grabbed a broken part of the boat to stay afloat but it was constantly moving up and down in the wave.
"My son died in between," said the mother of two, with tears rolling down her cheeks.
After a while, she lost her grip on her son's body and almost drowned. Luckily, locals rescued her.
Her husband managed to swim ashore with their older son Abdur.
At least 21 Rohingyas were rescued, and 13 of them are receiving treatment at hospitals in Ukhia and Cox's Bazar town.