Condemnation not enough
Says Khaleda, calls upon all to ensure safe return of Rohingyas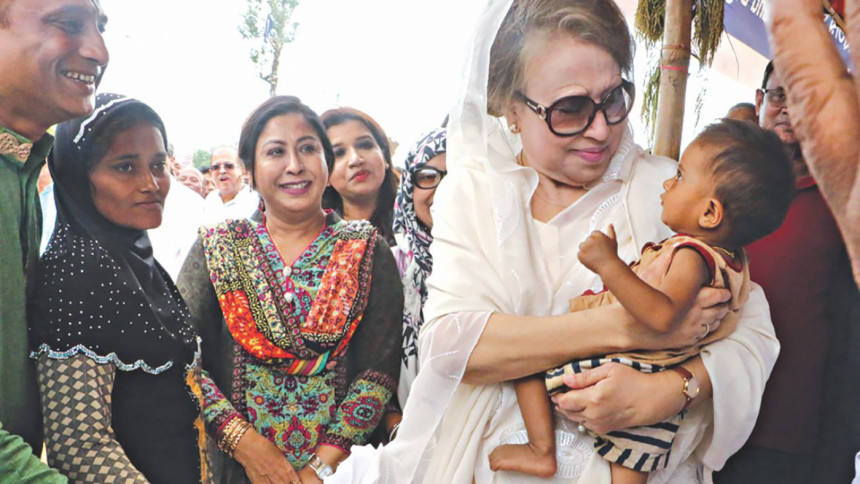 BNP Chairperson Khaleda Zia has called upon international
organisations
and communities as well as the Bangladesh government to step up efforts to ensure Rohingyas' safe return to Myanmar.
"Condemnation and sympathy are not enough. Take steps immediately so that Rohingyas can return to their motherland safely," she said.
The BNP chief was talking to reporters after distributing relief supplies among Rohingyas at Moynargona refugee camp in Ukhia yesterday.
Khaleda said the Bangladesh government has to make diplomatic efforts to send back Rohingyas and the international organisations should also have to take the responsibility. "It is their moral responsibility."
The BNP chairperson said her party would continue its relief distribution programme for as long as possible. "But the distribution of relief is not the solution. They [Rohingyas] should be repatriated through holding talks and making diplomatic efforts."
Drawing the attention of the international community to the Rohingya crisis, Khaleda said, "Your words won't work unless you translate it into action. You should also think of Bangladesh. Bangladesh is not a rich country; it's a poor and small country. People of Bangladesh have big hearts and that's why they extended support to Rohingyas. Now it is Myanmar's responsibility to take them back."
About the Saturday's attack on her motorcade and journalists, the former premier said, "It's a humanitarian programme. But my motorcade came under attack and many journalists were injured. The government knows who carried out the attack and their photographs have also been published [in media]."
"I want the government to stop it. These activities will not produce any benefit. Rather, you will be isolated from people. That's why I think steps should be taken so that everybody can work together for the sake of humanity."
On her way to Chittagong, Khaleda's motorcade was attacked in Feni. The BNP and the ruling Awami League have been trading blame for the attack.
Recalling that the previous BNP governments had sent back Rohingyas to Myanmar in 1978 and 1992 through talks and continuous engagement, the BNP chief said strong diplomatic efforts and talks with Myanmar were crucial for sending Rohingyas back home.
Accusing the government of not standing by the Rohingyas with enough relief, Khaleda said the government was rather "obstructing" those who were trying to help Rohingyas with relief materials.
"We believe that it's not possible for Bangladesh to shelter Rohingyas for a long period for different reasons.... The government is yet to make any effort [to send them back]."
Fleeing a military crackdown in Myanmar's Rakhine State, over 600,000 Rohingyas have crossed into Bangladesh since August 25.
Khaleda said the early-arriving Rohingyas had been in a sorry state and the BNP had demanded deployment of the army to mitigate their suffering.
She lauded the army's role in distributing relief in a disciplined manner and said her party gave 110 tonnes of rice to the army for distribution.
Expressing concern about the impact of the Rohingya influx on Bangladesh's environment and ecology, Khaleda said the country's environment and ecology were threatened due to habitation of Rohingyas and indiscriminate felling of trees in Cox's Bazar.
Later, she visited Rohingya camps at Hakim Para and Balukhali and a medical camp set up by Doctors Association of Bangladesh (DAB), a pro-BNP physicians' body, in Ukhia.
The BNP chairperson talked to some Rohingya families at the camps. She was shocked to hear the harrowing tales of torture on the Rohingyas in Myanmar. She cradled some babies in her arms.
Khaleda distributed relief at the camps and also handed over food, medicine and other goods for Rohingya children and expecting mothers to the DAB medical team at its camp in Balukhali for distributing those among refugees.
Asked whether the BNP was satisfied with the government's diplomatic efforts, she said, "Earlier I said diplomatic efforts should be stepped up to end the crisis."
Around 9:00am, BNP standing committee members Mirza Abbas and Nazrul Islam Khan handed over relief materials, loaded in 45 trucks, to the army relief coordination cell in Ukhia on behalf of the party chief.
Thousands of BNP leaders, activists and supporters, including a large number of women, stood along the Cox's Bazar-Teknaf road to greet Khaleda on her way to Ukhia in the morning.
The BNP chief left Cox's Bazar for Chittagong last night. She will stay at Chittagong Circuit House at night and is expected to start for Dhaka today.