Expecting mothers in urgent need of food, healthcare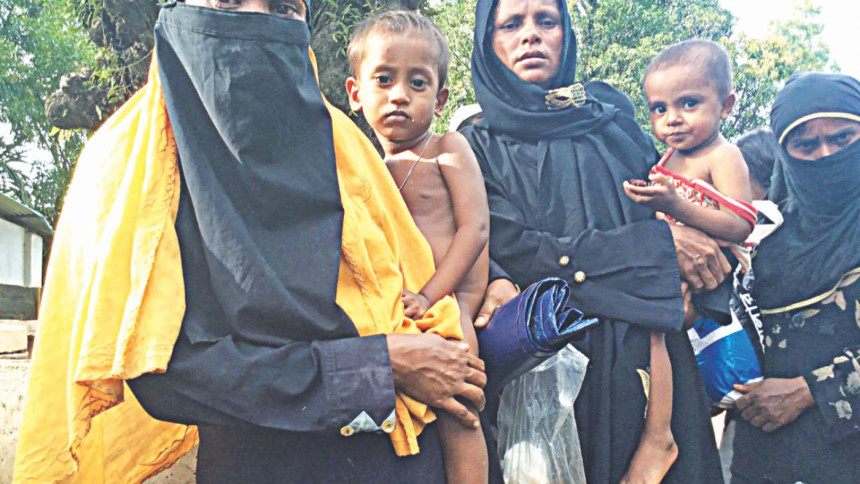 Amid several hundred Rohingya people, Sajeda Begum was trying her best to grab some food or other aid thrown from running vehicles on Cox's Bazar-Teknaf road yesterday.
But after a while, the four-month pregnant mother stopped trying as she lost her strength to fight with hundreds of refugees jostling for food near the Kutupalong camp.
"Please, give me something for my baby," begged Sajeda, 22, in a broken voice holding her one-year-old son.
Like her, many expecting Rohingya women, especially whose husbands went missing or got killed, are in urgent need of food and medical care.
Among the new arrivals of some 4,29,000 Rohingya refugees, more than 16,000 are expecting mothers, according to Health Minister Mohammed Nasim. 
"Sometimes we ate dry food that we brought from home and sometimes borrowed food from others," said Sajeda, describing how they survived on the way before crossing the border.
Three days before the Eid-ul-Azha, she along with her son Mojnur Alam, brother-in-law and parents-in-law fled their home at Fakirabazar in Mongdu as they saw their village go up in flames.
Walking through the hills for five days with occasional stopovers, they reached Baishbari border of Bandarban. All of them now live in a 15-feet-by-8-feet hut for Tk 2,000 a month at Pashchimpara of Kutupalong.
To date, the malnourished mother did not receive any relief.
"I'm relying on the food that my relatives can manage to get," she said, adding that Mojur was suffering from fever and diarrhoea.
Like her, Rashida Begum, 24, who lost her husband, is six months' pregnant. She too needs food and urgent medical attention, which she hardly gets.
The mother of three sons -- Safayat, Junayed and Aiyaz -- fled to Bangladesh about 15 days ago.
Aiyaz, her youngest son aged two and a half, is suffering from fever for the past few days. So keeping her two elder sons at the camp, she went to the Kutupalong Community Clinic to get some medicine for him yesterday. But the clinic was closed as it was weekend. She returned to the camp empty-handed.
Abdur Nur Bulbul, coordinator of the medical unit of the Relief and Rohingya Refugee Repatriation Commissioner (RRRC), said there were medical camps at the registered Rohingya camps where thousands of pregnant women were being treated.
But those are not enough to meet the demand of all the expecting mothers, he said.
Also, many of these women do not know the medical camps and, at the moment, they are more concerned about getting food than medical care.
Lutfa Aktar, a midwife at Kutupalong Primary Medical Camp, said they delivered 50 babies so far and that many women were expecting their babies any day.
Most of these women are suffering from acidity and stomach cramps, she said, adding that they were struggling to provide service to all the women due to manpower shortage.
Meanwhile, the World Health Organisation has set up a control room to monitor health issues affecting the the Rohingya refugees in Cox's Bazar.
"The Control Room will help strengthen disease surveillance system and daily reporting of morbidity and mortality," said Dr N Paranietharan, WHO representative to Bangladesh, while inaugurating the control room along with the Directorate General of Health Services (DGHS).
"We need to scale up quickly. If we don't drastically improve water and sanitation we will face water-borne diseases including cholera," he warned.
The control room will help in the management of health situation, as the population is very mobile, dispersed in 68 camps, and undocumented. Also, there is very limited information about their health needs.
It will also coordinate the medical care efforts by various government and nongovernment actors.