Endless influx: 1m by year end, predicts IOM
Rohingyas pouring in day and night, making it difficult for local officials to manage the refugees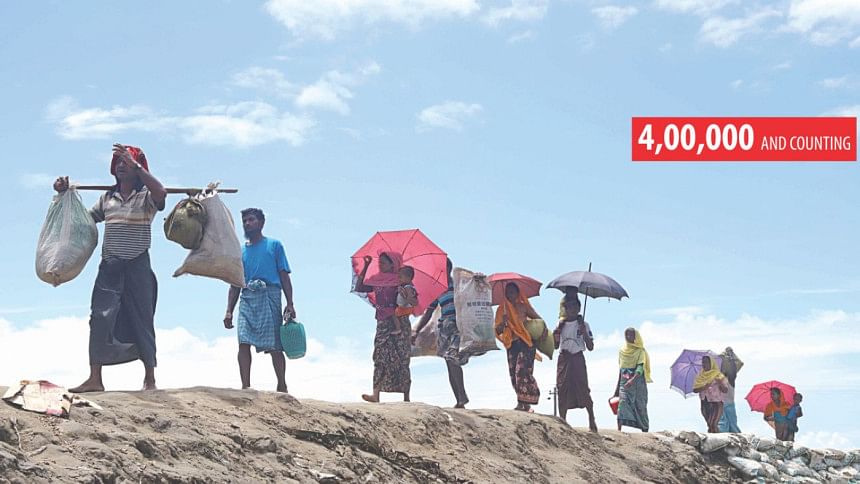 It was an endless stream of Rohingyas crossing into Bangladesh from the strife-torn Rakhine State in Myanmar.
Some had lost all their loved ones while others were lucky enough to escape with their family members.
Crossing the Naf river, dozens of boats with 20 to 25 people each docked at Shah Porir Dwip round-the-clock. The new arrivals got down from boats and headed for the refugee camps in Teknaf of Cox's Bazar.
Tens of thousands of Rohingyas continue to pour into Bangladesh since August 25 when Rohingya insurgents attacked police posts and an army base, prompting a military counter-offensive.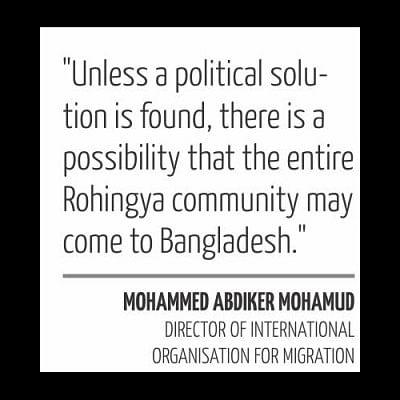 Yesterday, International Organisation for Migration Director (operations and emergency) Mohammed Abdiker Mohamud said 10,000 to 20,000 refugees are arriving every day, and if this trend continues, the number may reach a million by year end.
The number of newly arrived Rohingyas was about 400,000, he said.
"We are really getting concerned that the number will increase … Two weeks ago, we talked about 70,000 to 80,000. Yesterday, we talked about 379,000," Mohamud said at a joint press conference organised by UN Refugee Agency UNHCR and the IOM at a hotel in the capital.
"Unless a political solution is found, there is a possibility that the entire Rohingya community may come to Bangladesh," he said, according to an AFP report.
The number of refugees is going up so fast that the administration is struggling to ensure food and shelter for them.
Md Ali Hossain, deputy commissioner of Cox's Bazar, said, "We are busy managing relief for Rohingyas."
He further said 14 shelters were set up for them in the last 20 Days.
Mahmud Sharif, lessee of Hariakhali terminal on Shah Porir Dwip channel, said, "Rohingyas are arriving both day and night. But over the last two days, the flow of refugees seems to have increased."
He said there were 57 boats at the terminal and almost all of those were busy ferrying Rohingyas from Myanmar.
Sabrang Union Parishad Chairman Noor Hossain said the flow of Rohingyas arriving through Shah Porir Dwip was a bit slow from Saturday to Tuesday, but it gained momentum again since Wednesday.
He estimated that around 25,000 Rohingyas arrived via Shah Porir Dwip alone in the last two days.
A number of newly arrived Rohingyas and local boatmen told this newspaper that 50,000 to 60,000 refugees were still waiting on the other side of the Naf river to enter Bangladesh.
With her 18-month-old daughter, Shahina, a Rohingya woman in her 20s, fled home in Garzania village of Rakhine State four days ago. 
She finally reached Shah Porir Dwip yesterday morning after walking through hills and forests for four days.
She was on her way to Teknaf terminal from Shah Porir Dwip.
Shahina said she had lost almost all her family members. The Myanmar army took away her husband, and she lost her two sons while coming to Bangladesh from her village.
"I was captured by the Myanmar army. They have taken away everything I had. They asked me to go to Bangladesh," said Shahina.
She was looking for her aunt and uncle who had reached Bangladesh three days ago.
With the help of his son, Habibur Rahman, a Rohingya farmer, was carrying his 90- year-old father who was too weak to walk.
"We left home nine days ago. But we could not travel to Bangladesh directly as we didn't have the money to hire a boat to cross the Naf river."
They hid in the jungle and sold the belongings they brought with them from home.
The 40-year-old farmer said they paid 7,000 Myanmarese Kyat (around Tk 420) each as boat fare.
From Shah Porir Dwip and bordering areas in Teknaf, plumes of smoke were seen on the Myanmar side of the border from noon till around 4:00pm.
Several newly arrived Rohingyas said the Myanmar army continued to set fire to Rohingya houses in villages along the Naf river. 
Many locals were seen providing dry food, oral saline and cash to distressed Rohingyas on their arrival at Shah Porir Dwip.
Some were handing out money and arranging boats for Rohingya refugees.
MORE SUPPORT NEEDED
UNHCR Assistant High Commissioner (operations) George Okoth-Obbo and IOM Director Mohamud, who visited Rohingya camps in Cox's Bazar on Wednesday, lauded Bangladesh's support for the Rohingya refugees.
They, however, voiced concern over the huge need for life-saving assistance for the large number of refugees.
"They are coming in large numbers -- traumatised, injured, tired. And a lot of them are staying under the open sky," Mohamud said yesterday.
The Rohingya refugees are in urgent need for food, water, medicine and shelter, he added.
Okoth-Obbo said, "There are people who have lost everything... children abandoned by the parents. They need protection.
"You could have a risk, for example health epidemic... it would be an emergency within an emergency," he said.
In a statement yesterday, Unicef said the sheer number of refugees has overwhelmed pre-existing camps, with new arrivals seeking shelter anywhere they can find space.
"Conditions on the ground place children at high risk of water-born disease. We have a monumental task ahead of us to protect these extremely vulnerable children," it said.
The UN agencies last week estimated the need for $77.1 million as immediate life-saving assistance for some 300,000 Rohingyas.
"As the numbers are rising every day, the figure has to be drastically revised," said Okoth-Obbo.
"That is putting us under stress."
Asked if the response from the international community is enough, he said assistance is coming in, but that is not enough yet.
"We urge the international community to step up their support."
About the coordination between different agencies addressing the Rohingya crisis in Cox's Bazar, he said the Bangladesh government is in the position of leadership.
"We are here just to support the government," added Okoth-Obbo.