MARCH 2, 1971: First flag flies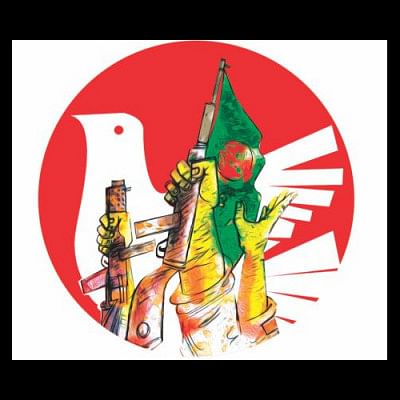 March 2, 1971 -- a historic day when Bangladesh announced its imminent arrival to the world by waving its flag for the very first time, sending a very bold message by the then people of East Pakistan of their aspirations of independence.
The flag, a green background with a red circle symbolising the rising sun nestled in Bangladesh's map in the centre, was conceived and designed by Shib Narayan Das.
A few courageous youths of Dhaka University led by ASM Abdur Rob, the then vice president of Dhaka University Students' Union, raised the flag with a vision of a free country. It was unfurled on the rooftop of the western porch of the Arts Faculty of Dhaka University in front of hundreds of students and general people to witness.
Saluting the flag, they all expressed their solidarity with the movement for liberation. Eventually, it became the emblem of the patriotic spirit of the Bangalees.
On that very day, a meeting was held as well where fiery speeches were delivered by the students, expressing their determination to undergo any sacrifice and continue to fight till the end. A pledge to continue the battle for freedom under the leadership of Bangabandhu Sheikh Mujibur Rahman was taken.
The meeting was followed by a huge procession chanting slogans of independence. In the afternoon, the Pakistani flag was pulled down and the new flag was hoisted at Dhaka University and on the secretariat premises.
Later that night, a curfew was imposed in Dhaka city.
As soon as the announcement of the curfew was made, students came out of their hostels and general people of their houses and formed   processions, chanting slogans to oppose it.
Their slogans "Sandhya ain mani na", "Joy Bangla", "Bir Bangali osthro dhoro, Bangladesh shadhin koro" echoed throughout the city.
The curfew was broken and barricades were formed.
In front of Morning News newspaper's office at DIT intersection, the military opened fire on people at around 9:30pm. When another procession of people broke the curfew and headed towards the Governor's House, they became targets of bullets as well.
The ruthless killing of unarmed men was denounced by Bangabandhu, as he declared province-wide hartal everyday from 6:00am-2:00pm starting from March 3 to March 6, 1971.
The battle was only beginning.