A long, insulting walk to justice for rape victims
Raped, they drown in humiliation while seeking punishment to culprits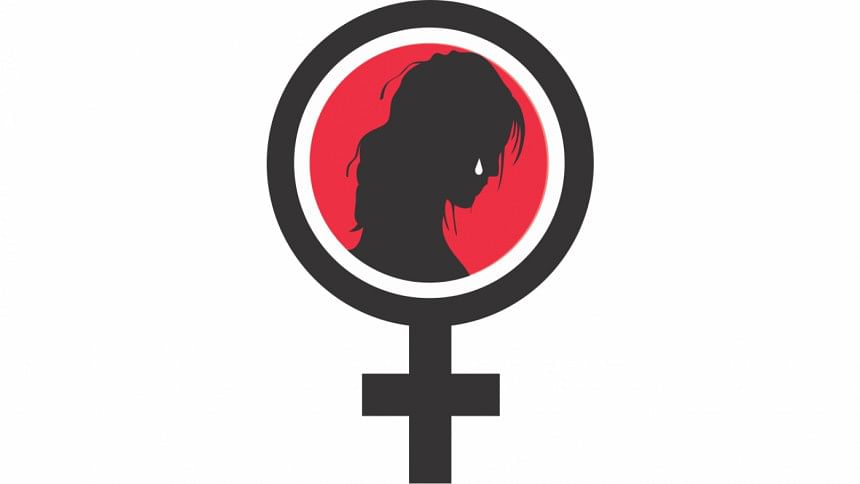 The dead do not feel anything, but those who survive do. The horrendous experience of the insensitive two-finger test after rape. The courtroom insults during trial because a draconian law permits the accused to question the victim's character. The families suffer no less humiliation as they wait for justice. While nations around the world have overhauled relevant laws with provisions that shield the rape victims, ours still favour the offender instead. Isn't it time we were a little more sensitive towards the victims of a crime now regarded as a crime against society? In the wake of Tonu murder after suspected rape, The Daily Star tries to shed some light on all these aspects. 
Today, the first two instalments of a three-part series. 
Her dark-circled, deep-set eyes gave her a hollow look. The eyes were full of fear and mistrust.
The girl gave sideways glances as she hesitantly walked into the office of the One-stop-Crisis Centre (OCC) at Dhaka Medical College Hospital last month. She looked afraid, and when she noticed a man sitting in the room, she immediately cringed.
She is a rape victim.
For about a week after her rescue, she hardly spoke, OCC officials recall. 
Her trauma and fear is shared by another rape survivor, a married woman, who was rescued from a sex racket in India last year.
"It's not easy to tell even your closest family members what has happened to you," the woman told The Daily Star recently. Humiliation and shame initially prevented her from telling her husband about the sexual assault when he found her in a shelter home in India months after her rescue. Her husband later came to know about it from others.
But Joya (not her real name), a teen girl, did not need to tell anyone anything. When she was found lying unconscious beside a road by her cousin four years ago, the marks on her body said it all.
"My cousin took me to a hospital. I hardly remember anything as my mind was all confused," she told this correspondent recently by telephone from a shelter home run by Bangladesh National Women Lawyers Association (BNWLA).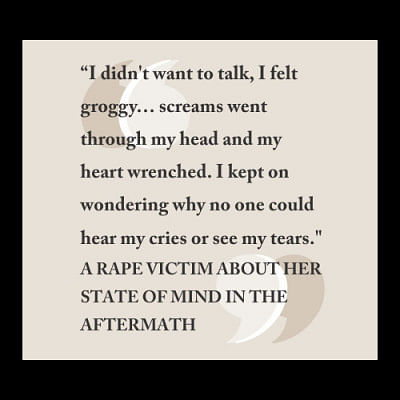 The Daily Star is withholding all the victims' names.
In 2012, Joya was abducted by her stalker who "confined and raped her at gunpoint". Later, her unconscious body was dumped by a road. When her family tried to seek justice, the alleged rapist and his cronies attacked her house and killed her father.
In between long pauses and painful sighs, she described the difficult path she had been walking to get justice. The first blow came at the police station where there were no women's cells or woman law enforcers. 
"I felt very afraid. I couldn't trust any one of them. They were all men," she described her feelings at the police station.
"I didn't want to talk, I felt groggy… screams went through my head and my heart wrenched. I kept on wondering why no one could hear my cries or see my tears."
Then came the time for medical examination -- the two-finger test -- and the girl, now 16, had no idea about its insensitive nature.
For the test, doctors use their index or middle finger to check the condition of the hymen and also to look for injuries on the vaginal wall.
So when a female doctor proceeded to do the test, the girl put up resistance at first. But eventually she had to give in because, as her aunt told her, there was no other way to get justice.
Adding to her ordeal, she had to narrate the sexual assault in details repeatedly not just to the police but also to journalists against her will.
"I felt very bad, embarrassed and hurt. But I told myself I needed to do this for justice," said the girl, who is now in class nine.
Four years on, the hearing of her case has not started yet.
But for those who have gone through the trial, the court proceedings have been a nightmare: character assassination, insensitive and even vulgar questions, cross-examinations for hours are in the defence lawyers' arsenal to further traumatise the victim.
Fahmida Akhter Rinky, a lawyer for BNWLA dealing with rape cases at the lower court for six years, spoke about the torment a nine-year-old girl went through during a trial recently.
"The child was only about four years old when she was raped. So the judge was careful and talked with the girl softly but the defence lawyer was shouting at her and accusing her of lying about how she was raped," said Rinky.
This is despite the medical examination documents and other evidence clearly showing that the girl was raped.
"The child was so embarrassed and ashamed that she shrunk in fear," said Rinky.
The girl recoiled from the humiliation in the courtroom full of people and kept on looking at Rinky.
 "I felt so bad that she had to go through that," said the lawyer.
Often, defence counsels "decidedly" choose a line of questioning aimed at maligning the victim in efforts to make the crime look like the victim's fault, said Laily Maksuda Akhter, director of Legal Aid Unit of Bangladesh Mahila Parishad.
To save themselves from all this, especially the two-finger test which law activists vehemently oppose, many rape victims do not report the assault to the police.
"Many victims get so traumatised that they do not want to go through the forensic examination. Children in particular scream, because they fear they would get hurt again," said Tahmina Haque, psychological counsellor at the OCC.
However, according to Bilkis Begum, coordinator of the OCC, there is no alternative to the two-finger test for women older than nine years. "It is part of any gynecological examination. Injuries cannot be detected without it."
In many countries, including the UK and the US, doctors use the specula, a medical tool, for the test instead of fingers.
But the main problem lies in the report itself, said Ishita Dutta, project facilitator, SHOKHI, Bangladesh Legal Aid and Services Trust (BLAST). "It is not for the doctors to determine if a victim has been raped or not. But that is what they write down in the reports."