A life story altered in cop brutality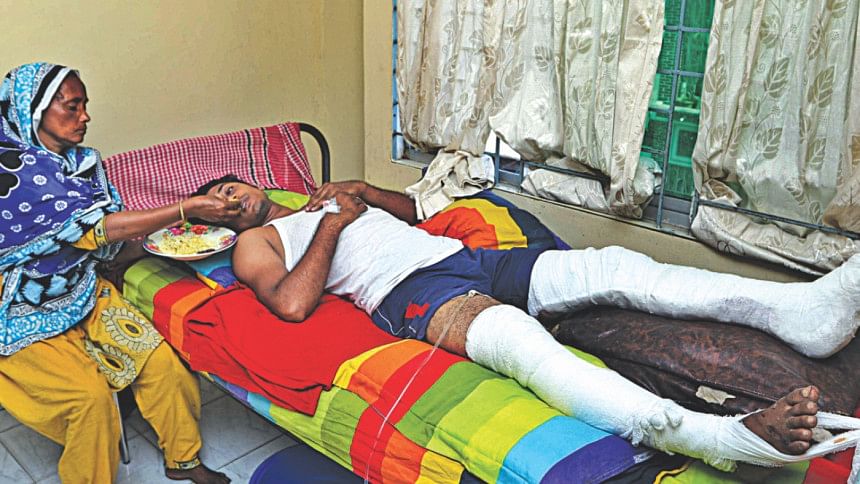 The story of Al Amin Hossain Rubel could have been a happy one, and the stage was all set for that too. Friday was supposed to be his wedding day. But thanks to police brutality, he is in a city hospital. 
With both his legs plastered after they were broken into pieces in alleged police beating, the 26-year-old is now groaning in pain. It's too early to say when he will walk again.   
Five cops, including two sub inspectors, of Joydevpur Police Station went to his Gazipur home early hours of Thursday to arrest him in connection with a robbery case filed by a relative following a family feud. But instead of arresting him, the cops broke his legs with iron rods and sticks, locals and family members said. 
Rubel, an employee of a cable operator, is taking treatment at Janasheba Nursing Home and Diagnostic Centre at Mohammadpur. Doctors operated on his left leg on Thursday morning, and his right leg is expected to be operated on Monday.
One SI has been suspended over the incident.
The whole house was in a festive mood until the cops came around 1:00am on Thursday, when the two SIs -- Ali Akbar and Firoz -- knocked at Rubel's door. As soon as he came out, they dragged him towards a rail track, about 100 yards from the home, said his mother Josna Begum.
Rubel's cousins Rahim and Lokman, their father Kamal Hossain and two brothers-in-law, with whom Ruble had an enmity, were standing there, she added.
The cops then started beating Rubel up. The five and their men also joined the police, said Josna.   
"They might have hired the police in exchange for money. Even if my son had done something wrong, there is the law to try him. But under which law have the police broken my son's legs?" she told The Daily Star at the nursing home.
After the beating, police tried to take away the unconscious body of Rubel, but angry locals prevented them and besieged the cops and other attackers.
Later, additional police from Joydevpur Station rescued them.
Talking to The Daily Star, Rubel said, "I lost my sense after the second strike in my legs. I don't remember anything else."
His left leg is broken under the knee and the right leg in the thigh, said Dr Noor Mohammad Shamim of the hospital.
"He needs at least four months to make his first attempt to walk," the doctor added.
Visiting Rubel's house yesterday, our correspondent saw the family had made all the preparations for his marriage. They set up a gate and the stage and decorated the would-be couple's room. For the feast, they bought an ox.
The girl's family had also completed their arrangements to host a couple of hundred people. The girl's father, Ibrahim, said they removed the seats for the bride and the groom after the incident.
 Rezaul Karim, officer-in-charge of the police station, said they suspended SI Ali Akbar for his negligence in duties as he went to arrest the accused without investigation. The allegation against SI Firoz was not true, he claimed. 
Contacted, Ali Akbar denied that he tortured Rubel. He claimed Rubel broke his legs while trying to flee.