Learn anywhere, anytime
Start-ups show the digital way of quality education for all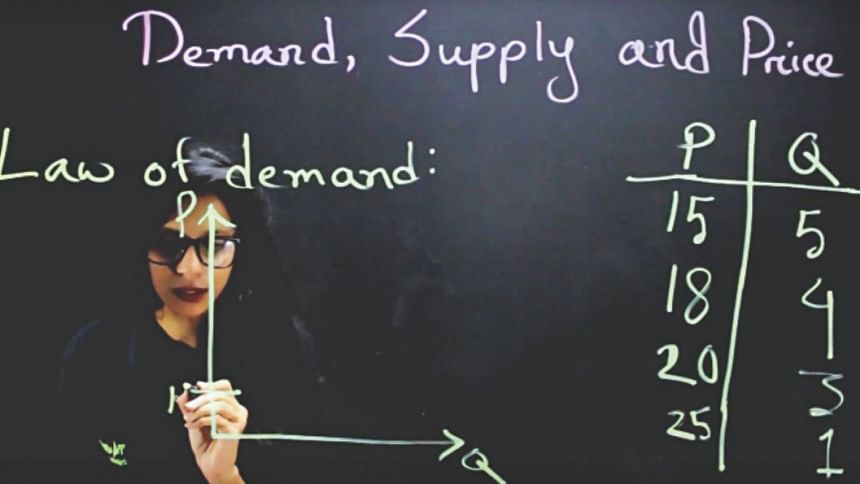 Access to education is now just a click away and diving into it can be fun too.
To make this happen, start-ups founded by young and creative minds have created easily accessible digital content and applications aimed at solving inequality in education.  The efforts have made enough of a mark to be noticed, recognised and, in cases, appreciated nationally and internationally.
Students from as early as class five can use their mobile phones or computers to peruse relevant video tutorials. They can also evaluate their understanding of a topic by participating in tests and comparing their scores with their peers, said Mostafizur Rahman, co-founder of Durbin Academy, in an interview with The Daily Star.
Durbin boasts more than 1,500 video tutorials on their website covering up to the national curriculum of higher secondary education. Support is also available for graduates who are planning to take the Bangladesh Civil Service exams and also for those who provide private tuition.
The new start-ups are also using the platforms their target segment is most likely to use. Facebook, that now raises a frown of concern on parents' faces, has been used successfully as a learning tool by 10 Minute School, another education start-up. The free learning digital platform won the Commonwealth Youth Award 2016.
On 10 Minute's Facebook page, learners and teachers can interact with each other via live sessions. The initiative has already drawn more than six lakh followers.
Students and candidates looking to study abroad can also easily prepare from home by watching videos on 10 Minute School's website. They can also take practice tests in preparation for SAT, GRE, GMAT and IELTS tests.
Watching a 10-minute video is all that students need to learn a topic on the platform. Contents are available for students of Junior School Certificate to Higher Secondary Certificate levels. 
Apart from using the internet to access this new method of education, there are additional ways.
Another education technology (edtech) start-up, Eshosikhi.com, prepares paid video contents covering the curriculum of Higher Secondary Certificate exams.
At a cost of Tk 650 per subject, a student can access video tutorials and receive DVDs and other supplementary books through courier. The materials are also available online.
The courier option is available because internet penetration in the country is not comprehensive  and being able to watch as many as 40-50 hours of video content online for one subject will be difficult if the internet speed is not good, said SM Tanveer, the man behind the initiative and the chief operating officer of Esho Sikhi Limited.
It can also prove to be expensive.
The new edtechs also try to go beyond and add new dimensions to the method of providing education.
For instance, a learner can challenge another on the Durbin platform and invite them to a quiz competition over a chapter. Learners can also earn points by winning a contest, through outstanding performance in an exam or by asking questions or answering them in forums. The points are meant for unlocking video content. Additionally, users can also spend Tk 99 to get access to all contents of a single class for a year. 
One of the driving forces behind this new wave of educators is its ability to be inclusive.
"Building a cloud school is what we envisage … where all, including underprivileged children, will receive quality education," said Mohammad Adnan, chief executive officer of Durbin Labs Ltd that funds Durbin Academy.
The Academy, among others, won the first prize in Telenor Digital Awards 2015 and was the first runner-up in BASIS (Bangladesh Association of Software and Information Services) National ICT Award 2017.
10 Minute also extends support to admission seekers at public and private universities and medical and engineering colleges and institutions through its 1,400 plus videos, quizzes, instant evaluation and other means. It offers skill development and professional courses too.
"I believe the new era of online education will reshape the idea of learning within the next two years," said Ayman Sadiq, founder of 10 Minute School, who won the Queen's Young Leaders 2018 award for his role in the education sector.   
10 Minute School currently has sponsored content on all the mediums used( five youtube channels and 3 Facebook pages). The initiative has sponsors for interactive videos, blog posts etc.
Esho Sikhi also wants to play an important role in promoting education for those lacking the support of good teachers and learning materials, its founder Tanveer said.
After receiving financial support from BD Venture last year, Esho Sikhi now has 1,500 paid subscribers -- HSC students, university admission seekers and BCS candidates.
"We are striving to ensure quality education for all [living across the country] at an affordable cost," Tanveer said. 
Another platform, OnnoRokom Pathshala, has committed itself to creating better understanding of the sciences. They have plenty of video content for class eight students on general science and also for students from class nine to class twelve on physics, biology, mathematics and chemistry.
Talking about the cost of his paid content, he said, "It is as cheap as the rickshaw fare of a student to and from coaching classes or private tuition for his entire academic session."
 OnnoRokom group funds OnnoRokom Pathshala as a corporate social responsibility (CSR) and it now looks forward to making contents on life lessons.
"We want to see a beautifully different Bangladesh …. For that the change should begin with the people, with their perception," said Mahmudul Hasan Sohag, founder of OnnoRokom Pathshala.     
While the education system still has a long way to go in the country, initiatives such as these seem to be a promising and positive step in the right direction. With a plethora of options to choose from, access to education is getting easier than ever and there may actually come a day when no child will be left behind.