'Leaked' SSC Questions: Examinees continue to be lured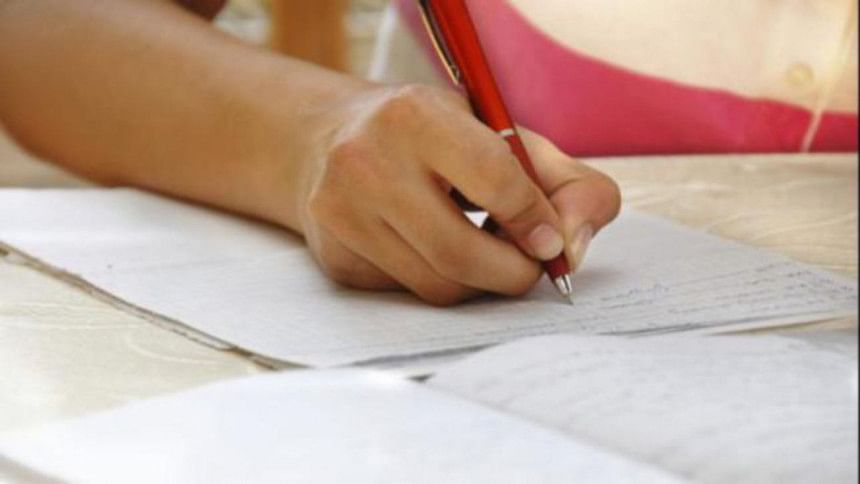 Every question paper of the first five exams of the ongoing SSC has been leaked.
The leakers have even declared to reveal the math questions hours before the exam scheduled for 10:00am today.
"I would try to give you the part with creative questions in hand written form by night while the multiple choice questions with solutions will be given in the morning. Be added in our new group if you want to get it," wrote one user yesterday afternoon in a Facebook messenger group titled, SSC Helper 2018.
Even though the leakers sell question papers the day before the exam, they give it away for free in groups on Facebook and Whatsapp hours before the test.
"If you want to get the math question paper before everyone else, be with us," reads a status in a group on Facebook called, PSC JSC SSC HSC Degree Honours Masters Admission Test BCS Job Question Out.
Such posts have been doing the rounds on Facebook since the beginning of the SSC exams earlier this month.
A good number of people from different parts of the country allegedly communicated with the leakers and got the questions, The Daily Star learnt by talking to some of them on Facebook.
Nagarik Chhatra Oikya, student front of Nagorik Oikya, at a discussion at Jatiya Press Club yesterday said the government had failed to stop the SSC exam questions leaks.
"The government, including the prime minister and the education minister, is responsible," read the statement of the student body.
Riazul Islam, member-secretary of the platform, read out the statement. Nagarik Oikya Convener Mahmudur Rahman Manna was present at the programme.
"Students are now losing their interest in studies. Instead of educating themselves, they are now learning how to pass exams through immoral means by getting the easily accessible questions," the statement said.
Questions of different public examinations have been leaked over the last few years.
Following media reports on the leaks, Education Minister Nurul Islam Nahid declared a Tk-5 lakh reward for helping catch those involved in question-paper leaks. His ministry formed a committee to decide on the next course of action.
But the leaks continued.
Nahid met Prime Minister Sheikh Hasina at the Gono Bhaban and said he would step down. But the premier asked him to tackle the situation with stricter measures, said ministry sources.
Nahid had earlier told journalists that exams would be cancelled as soon as the leaks were proved.