JP wins big in bastion
Mostafa elected Rangpur city mayor in peaceful voting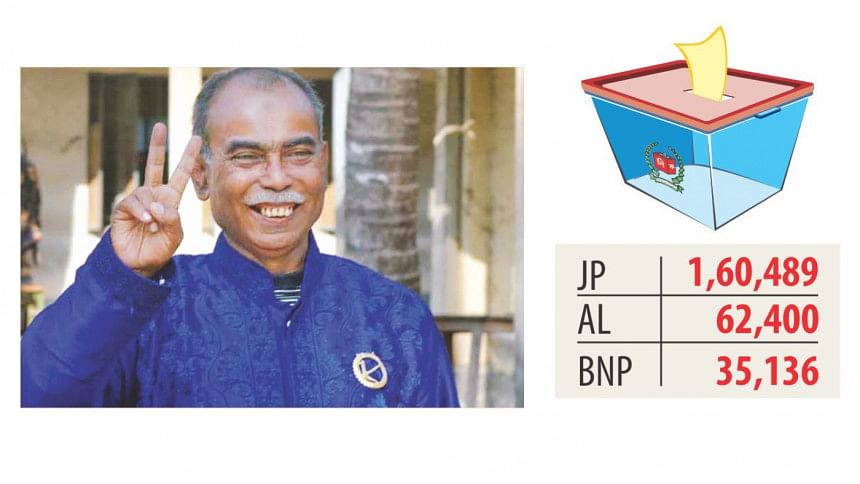 Jatiya Party mayoral candidate Mostafizar Rahman Mostafa is leading by a wide margin in Rangpur City Corporation polls held peacefully amid tight security yesterday.
According to the unofficial results from all the 193 polling centres, Mostafa got 1,60,489 votes. His nearest rival from the ruling Awami League Sharfuddin Ahmed Jhantu bagged 62,400 votes while BNP candidate Kawsar Zaman Babla secured 35,136 votes.
Mostafa's win can be seen as a revenge for his defeat to Jhantu five years ago in the maiden RCC election held on non-partisan basis. Yesterday's election was held along the party line.
"The people of Rangpur have made the right decision. I am overwhelmed by their love and the trust they have in me. I will give my maximum effort ... to make the city beautiful," he told The Daily Star.
Asked about the factors contributing to his victory, defeating the heavyweight AL candidate, he said his commitment to the people and his party's popularity in Rangpur played a decisive role.
He also said he would take advice from Jhontu in running the RCC.
Meanwhile, at a press conference at the district BNP office, Kawsar rejected the election results, claiming that the "results were rigged".
Briefing journalists at the Election Commission office in the capital, Chief Election Commissioner KM Nurul Huda said, "We are satisfied with the overall situation."
He also dismissed BNP's claim that the local administration created obstacles to a smooth voting environment. "We collected information from local level. Voters did not come up with any allegation. So the allegation [by the BNP] does not seem to be authentic."
The BNP alleged that its polling agents were driven out of some centres, raising question about the neutrality of the Election Commission. But election officials said they received no written complaints from any candidates or parties.  
Voting began at 8:00am and continued till 4:00pm without a break. As many as 3,93,994 voters were registered to vote.
Voters' turnout was 74.3 percent, said Returning Officer Subhas Chandra Sarker.
Seven candidates ran for the mayor post and 276 for 33 ward councillor seats. As many as 65 fought for the reserved seats for women.
More than 5,500 security personnel were deployed during voting that ended without any incidents of violence. There were no reports of irregularities.
After the Comilla City Corporation election in March, it was the second major polls held under the Nurul Huda-led EC.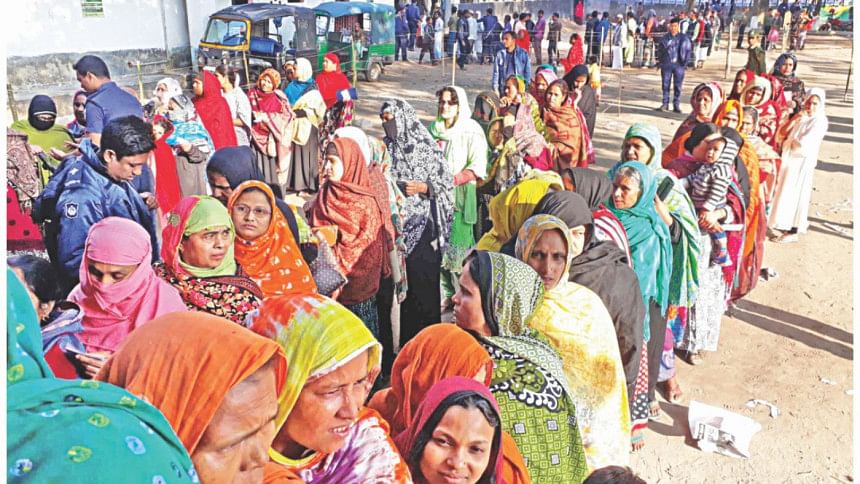 Visiting the polling centres at Tajhat High School, Senpara High School and Lions School and College, The Daily Star correspondents saw an overwhelming turnout of female voters, many gathering in front of polling stations before voting opened.
Supporters of mayor and councillor candidates thronged polling stations in a festive mood.
"I am happy to cast my vote without any fear. The environment is peaceful," said Abdul Wahed, 60, who voted at Tajhat High School centre.
Mahbuba Nasrin, a housewife from the city's college road, voted for the second time in her life.
"The situation is much better this time compared to the last time [2012]," she said.
AL mayor candidate Jhantu voted at Guptopara Salema Girls High School centre, BNP candidate Kawsar at Mahiganj Dewandigi Govt Primary School centre and JP's Mostafa at Alamnagar Govt Primary School centre.
After casting their votes, Jhantu and Mostafa said they were satisfied with the polls environment and that they were optimistic about their victory.
But Kawsar alleged that his agents were barred from entering many polling centres.
Casting his vote at Senpara Shishu Mongol Govt Primary School centre around 9:00am, Jatiya Party Chairman HM Ershad said the Rangpur city polls were a "test for the Election Commission" to prove its capability and impartiality.
As part of a trial, Electronic Voting Machines (EVMs) were installed at Begum Rokeya Government College centre (2,069 voters) in ward-25.
Six EVM devices were set up at six polling booths there, said Azharul Islam, the presiding officer.
Voting at the centre remained suspended for about 20 minutes due to technical glitches, but it resumed after the problem was fixed, said Abu Saleh Mohammad Jangi, an official who helped voters to use EVMs. 
In the first RCC polls in 2012, Jhantu had won with 106,255 votes, defeating Mostafa by 30,000 votes. Jatiya Party-backed AKM Abdur Rouf Manik got 37,208 votes and BNP-backed Kawsar bagged only 21,235 votes.