JMB den busted in Chittagong
Sniper rifle, ammo, explosives seized
Law enforcers for the first time found a semi-automatic sniper rifle from a den of militant outfit Jama'atul Mujahideen Bangladesh (JMB), police say.
Detectives in Chittagong raided a rented flat of JMB regional commander at Amanbazar on the city outskirts early yesterday and recovered the MK-11 semiautomatic sniper rifle.
According to Chittagong Metropolitan Police Commissioner Abdul Jalil, neither police nor Rab use this rifle in Bangladesh.
Contacted, security analyst Maj Gen (retd) MA Rashid said this weapon is not for regular military operations and Bangladesh Army doesn't use this rifle. It is mostly used by special forces or assassins.
Replying to a query, he said separatists in India and Myanmar and some smuggling rackets in the region are known to have this gun.
Talking to The Daily Star, a Rab official in Chittagong said MK-11 is an assault rifle and some rebel groups of Arakan use it.
During three and a half hours raid from 12:30am, Detectives did not find any JMB operative in the three-room flat on the ground floor of two-storey Haji Ishak Mansion just two kilometres off Chittagong Cantonment and on the main road to Chittagong University.
Searching a locked room of the den, the detectives also fund two magazines of the rifle, 5kg gel explosive, 13 army uniform, a pair of badges of army major rank, 252 bullets including 186 of sniper rifle, 25 detonators, bomb-making materials and documents of the outfit.
The high-precision semi-automatic rifle is able to fire 750 rounds of bullets every minute. Its effective range 1,500 yards, said a Chittagong police press release.
The raid comes days after the discovery of JMB's "grenade-making factory" in Mirpur in the capital. Javed, a Chittagong JMB operative killed in a "grenade explosion", had received training on bomb-making from the Mirpur factory, say police.
Babul Akhtar, additional deputy commissioner of Detective Branch of CMP, who led the Amanbazar drive, said they conducted the raid following information gleaned from three JMB members arrested on Saturday evening in the city.
The arrestees -- Naimur Rahman Nayan, Faisal Mahmud and Shawkat Russell -- told police that JMB's regional commander Md Fardin had been using the Amanbazar as a den.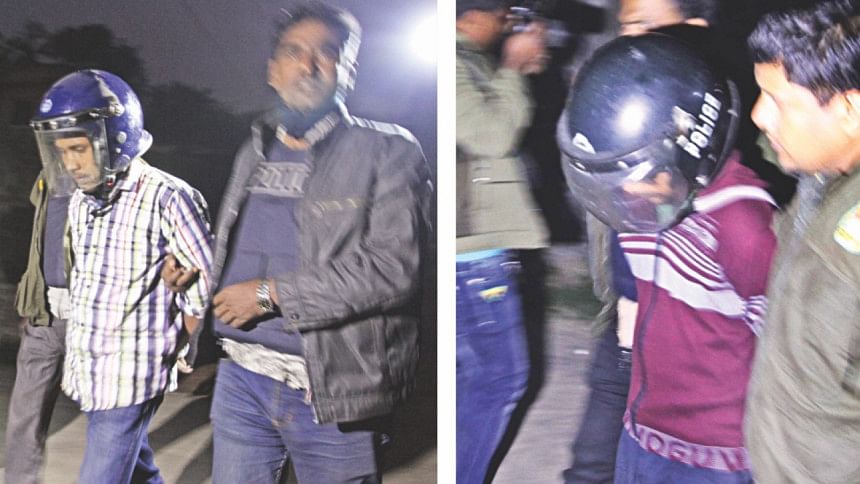 Nayan, hailing from Nageshwari of Kurigram, is a fourth-year student of physics department at Chittagong University. Faisal of Noakhali and Shawkat of Moheshkhali in Cox's Bazar are final-year students of the same department, said the additional deputy commissioner.
A top DB official wishing anonymity said they have found Nayan's connections with Islami Chhatra Shibir, student wing of Jamaat-e-Islami.
The official said Fardin suffered minor injuries in the "grenade blast that killed Javed" and they had information that JMB member Shawkat Russell supplied him medicine.
Fardin, who rented the flat posing as a businessman named Nafis six months ago, had left the place a couple of weeks back, ADC Babul Akhtar said.
Owner of the building Haji Ishak said Nafis moved in with his wife and a daughter. Three months back, he went somewhere with his wife and daughter and a month later came back alone with an injury in his hands.
"He told me that it was from a motorbike accident," said Ishak, adding that later a cousin of Nafis started staying here with him.
On recovery of the arms, ammunition and the military uniform, Deputy Commissioner (DC) Kusum Dewan of DB told The Daily Star that it was not unlikely that the militants had plans to attack cantonment area.
CMP boss Abdul Jalil said nowadays this kind of uniforms of both army and police are being made unlawfully and such activities must be checked.
ADC Babul Akhter said detectives had arrested five JMB men at a flat in Karnaphuli area of Chittagong on October 5.
They were involved in mugging a manager of a local distributor company at Sadarghat in the city on September 23. Two militants -- Robiul and Rafik -- and the manger were killed in the explosion of a hand grenade thrown by the JMB men.
The JMB men were also involved in killing a pir (a Muslim spiritual guru) and his attendant on September 4, said DB officials.