Infant dies during act of mugging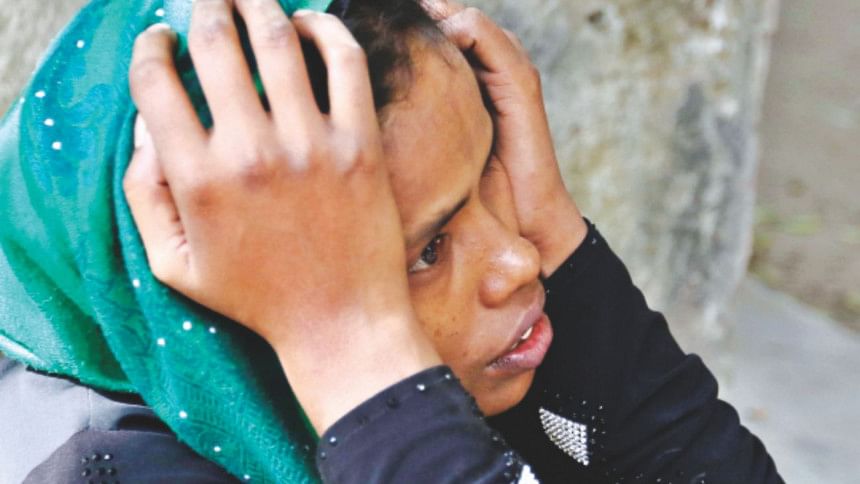 A six-month-old baby fell off his mother's lap and died in a mugging incident in the capital's Doyaganj area yesterday.
While on their way to a relative's house on a rickshaw during dawn, a mugger suddenly tried to snatch the victim's bag. The force of the pull jerked Aklima, the mother, off the rickshaw, along with the baby who was on her lap.
The baby, Arafat, sustained serious wounds to his head after the fall. He was rushed to Dhaka Medical College Hospital where doctors declared him dead.
Aklima said she and her husband, with their two sons, -- Arafat and four-year-old Al Amin -- were going to her sister's Sanirakhra residence in the city from Sadarghat.
"Arafat was on his mother's lap while Al-Amin was on my lap," said Arafat's father Shah Alam.
"Soon after we passed Doyaganj intersection at 6:10am, a man, aged around 22 to 25, in a t-shirt and a pant, crossed the road from the opposite side," he said.
"The youth suddenly pulled at the bag hanging from my wife's shoulder and she fell down with Arafat," Shah Alam said.
"My son cried out once and then fainted. I jumped off the rickshaw and picked up Arafat's unconscious body," he told The Daily Star, tears streaming down his face.
The family had come to Dhaka by launch from their home in Shariatpur for Al-Amin's treatment, who has been suffering from rheumatic fever for the last two years.
Aklima's hands and legs were bruised.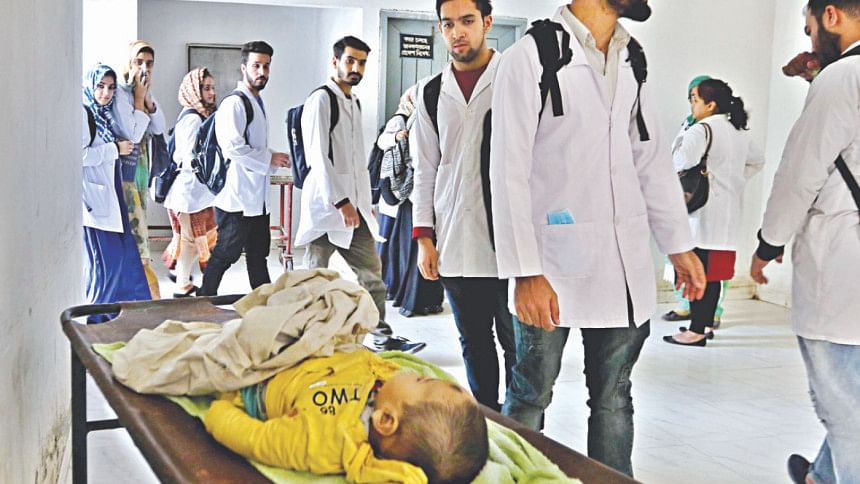 The mugger escaped with the bag that had Tk 18,000, for Al-Amin's treatment, some clothes and medicine, said Shah Alam.
"We could not find anyone, not even any policemen on the street but were able to hail a CNG-run auto rickshaw and rush to the hospital. But it was too late,"Shah Alam, a farmer by profession, added.
Talking to this correspondent at DMC morgue, Shah Alam, showing some pictures of Arafat on his mobile phone, said, "These pictures are now my only memories of him. Although, I am a farmer but my dream was to educate my sons so that they can get a government job but now it cannot be fulfilled."
Morgue sources said Arafat died of a brain hemorrhage from the fall.
With a vacant look on her face, Aklima was found sitting beside the morgue gate. She kept asking, "How did my son die falling from my lap?"
Shah Alam filed a murder case accusing one unidentified person with Jatrabari police station.
Iftekhairul Islam, assistant commissioner of Dhaka Metropolitan Police's Demra Zone, said they are investigating the case with top priority and are hopeful of arresting the suspect.
While visiting the area, this correspondent found a slum on both sides of Doyaganj rail tracks. A police box was found situated at Doyaganj intersection and there were police check posts of Gendaria and Jatrabari police station within 150 meters on both sides of the spot.
Inspector Rahat Khan of Jatrabari Police Station said there were check posts and a patrol team but the area often remains unprotected as there was a slum nearby and floating drug peddlers, who take shelter there, were responsible for the crime.
Babul Hossain, a local businessman, said mugging is not a new incident in the area and that police activity takes place only after any major incident occurs.
Amirullah, another businessman, alleged that while there were police patrol teams, they only visited when they were in need of money. They just identify some people using their sources and leave after collecting "toll", threatening to entrap them in a drug case., he said.
Nurul Amin, additional deputy commissioner of Wari Division, told The Daily Star that there is a number of floating drug peddlers in the area and they keep returning even after repeated police drives.
After the Doyaganj incident, several teams of the three police stations --- Gendaria, Jatrabari and Wari-- will be conducting special drives to arrest the drug peddlers to make the area secure, he added.