Indoor Farming: Novel way to up fish yield
Experts say it will revolutionise fish sector in Bangladesh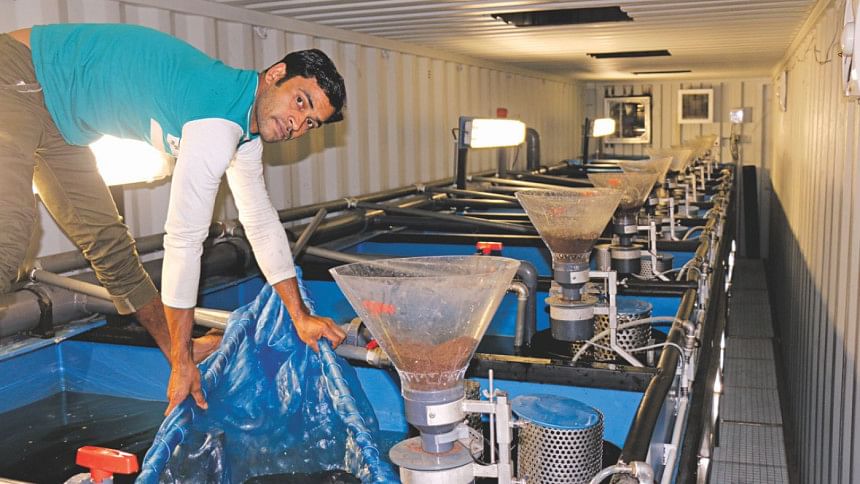 It takes seven months to produce 2,000kgs of pabda (Ompok) from a fish farm the size of a football pitch. How about getting the same results in half the time from an indoor space that is hardly the size of a penalty box?
One fish farmer in Bangladesh has demonstrated that it can be done. He used the recirculating aquaculture system (RAS) for the first time in the country.
An alternative to outdoor open aquaculture, RAS is a series of culture tanks and filters where water is continuously recycled and monitored to keep a suitable habitat for fish round the year. To prevent the deterioration of water quality, the water is treated mechanically through the removal of particulate matter and biologically through the conversion of harmful accumulated chemicals into nontoxic ones.
ABM Shamsul Alam, proprietor of Agro3 Fishery, has pioneered the indoor fish farming by installing an eight-tank RAS in Mymensingh late last year. He has recently marketed his first batch of 500kg of pabda.
Another 200kg of the fish are now in the pipeline while a huge stock of gulsha fish (Mystus Cavasius) should be ready for sale in a month, Shamsul told The Daily Star yesterday.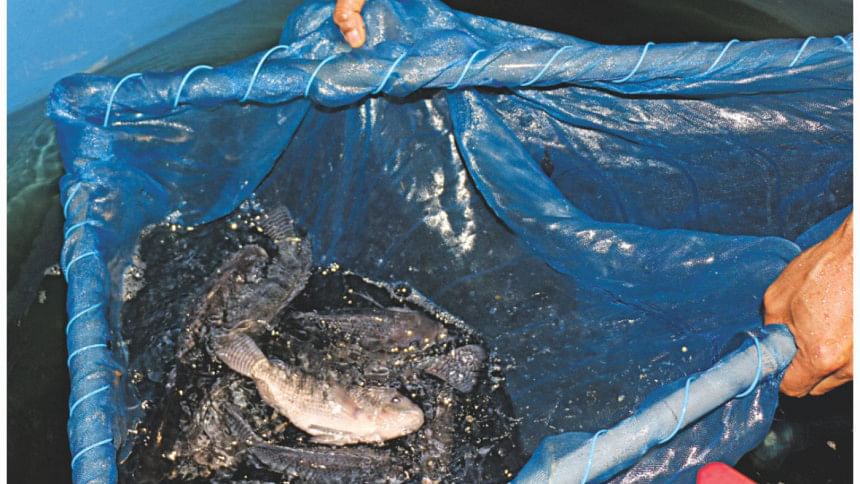 Against a production cost of Tk 200 a kg, Agro3 Fishery sold pabda for Tk 600 a kg in the market, showing a sign that his indoor fish farm would turn out to be a profitable venture.
Bangladesh Council of Scientific and Industrial Research (BCSIR), the leading state-run scientific research body, comes second to Agro3 Fishery in installing a RAS at its headquarters compound recently.
 "It's innovative. It's promising. We've installed the indoor fishery unit in November for research and demonstration purposes. Once entrepreneurs start taking interest in RAS, this will further revolutionise the fish sector in Bangladesh," said Rezaul Karim, who heads the Centre for Technology Transfer and Innovation (CTTI) at BCSIR.
He said BCSIR sold the first batch of RAS fish (100kg of tilapia) to superstore Shwapno yesterday.
With an annual production of nearly 1.8 million tonnes of cultured fish, Bangladesh is the world's fifth largest producer of inland aquaculture after China, Indonesia, India and Vietnam, the UN Food and Agriculture Organisation (FAO) stated in its State of World Fisheries and Aquaculture-2016 report.
Rezaul Karim, also a principal scientific officer of BCSIR, said they installed 11 fish tanks with a maximum production capacity of 15 tonnes, and 33,000 litres of water is being reused over and over again to produce fish like tilapia, catfish and pabda.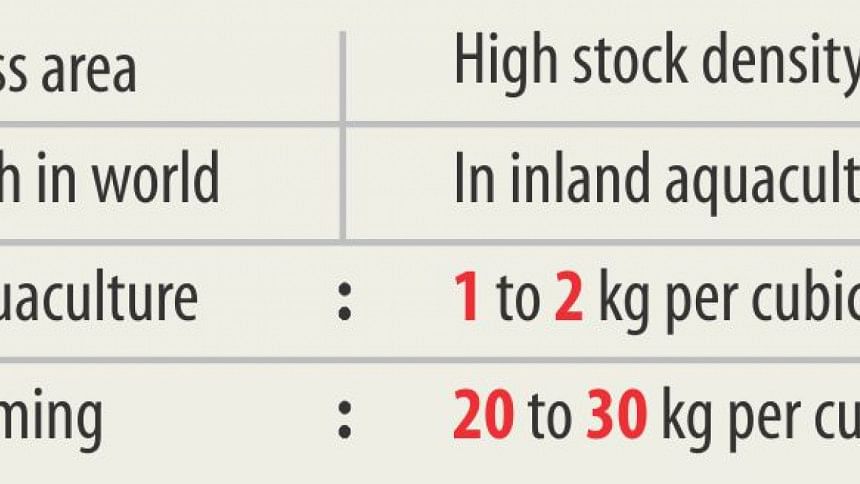 "We've already sold our first batch of fish. We'll also cultivate bhetki (Barramundi) in the next production cycle in this indoor fish farming facility," he said. Along with Shamsul, so far the country's first and only RAS practitioner, the BCSIR would go for training, promoting, demonstrating and encouraging indoor fish farming, he added.
"Some 23 entrepreneurs have already shown interest in knowing about the RAS technology, how to source the required machineries and the cost involved," Rezaul added.
Both Shamsul and Rezaul said given the resource limitation in horizontal expansions of aquaculture in Bangladesh, RAS comes as a wonderful solution to vertical expansion and augments production of quality fish.
They said RAS requires comparatively a lot less land. Six to eight fish-growing tanks per unit, water purification and recirculation system with oxygen enrichment, water biofiltration system, aeration system and a standby power generator are needed for the facility.
RAS' main advantage is its high stock density. Compared to one to two kgs of fish being produced per cubic metre of water in an open pond, RAS has the stock density of 20 to 60kgs per cubic metre depending on fish species.
Agro3 proprietor Shamsul said while he got 35kg of pabda per cubic metre of water in his fish tanks, he got 60kg of hybrid catfish and up to 80kg of pangas.
Both Shamsul and Rezaul said RAS requires less manpower to maintain and run compared to large fish farms.
Rezaul explained how an ideal RAS functions. He said water is purified and recirculated in the fish tanks, certain kinds of nitrifying bacteria are produced from the waste. The bacteria convert the toxic ammonia produced by the fish waste into nitrite. Since nitrite is toxic to fish, this again is converted to nitrate by the beneficial bacteria.
Nitrate is not toxic, and is used by plants or algae.
Prof Wahida Haque, who teaches fisheries at the University of Dhaka, told this correspondent that recirculating aquaculture is a good way of augmenting production of certain species of fish but not suitable for all kinds.
She emphasised on proper treatment of the sludge to be generated from such indoor fish tanks prior to disposing those.
BCSIR official Rezaul said, "Fish farmers who would go for RAS should preserve the sludge in a dry place for a month and then they can use or sell those as good quality bio-fertiliser."
The RAS facility of BCSIR is established on 1,800 square feet of land while Agro3's indoor fish farm is set up on 3,000 square feet in Mymensingh's BSCIC industrial area.
BCSIR sourced the RAS unit, all logistics and equipment from the Netherlands while Agro3 got those from Canada through a company named JAK International.
JAK International's Chief Executive Officer Jahangir Ali told The Daily Star that after providing RAS equipment to Agro3 in July last year, his company installed one in Haryana, India. Three more units -- one in Sunamganj, Bangladesh, and two in Delhi, India, -- are at the final stages of installation.
He acknowledged that the RAS is a capital-intensive venture, giving an idea that it had cost Agro3 $62,900 to procure the 8-tank facility.
"But those who can afford the initial investment would definitely get good rate of returns quickly," Jahangir assured.
Rezaul said BCSIR installed the RAS for research and demonstration purposes. "So one of our goals will be cost minimisation. If this technology can be made less costly, many fish farmers in Bangladesh would be able to start indoor fish farming."
He said it costs Tk 60 lakh to import a RAS unit but "if we can design and develop bio-filter here in Bangladesh, cost of a RAS unit would come down to Tk 20 lakh."
He said superstores like Agora and Meena Bazaar also showed interest in marketing the fish to be produced in BCSIR's RAS unit.