Indo-Pak final after 10 years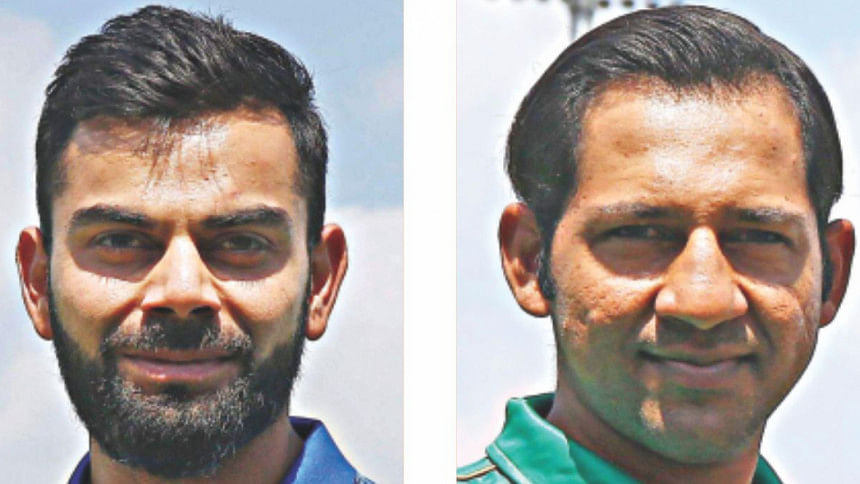 India are favourites to retain the Champions Trophy on Sunday but they would probably have preferred to face different opponents than arch-rivals Pakistan in what is sure to be a highly-charged final.
The neighbouring countries have moved on from years of political conflicts but emotions will run high as millions of supporters around the world watch the first major cricket final between the teams since the 2007 Twenty20 World Cup.
One of the most unpredictable sides in world sports, Pakistan were the lowest-ranked side going into the tournament and produced a shambolic performance in their heavy opening defeat by India.
As they have done many times before, however, Pakistan suddenly found form with wins over top-ranked South Africa and Sri Lanka before delivering an outstanding all-round display to stun previously unbeaten hosts England in the semifinals.
Now, with left-arm paceman Mohammad Amir returning to the side after a back spasm that ruled him out of the England match, Pakistan coach Mickey Arthur believes there will be no repeat of their woeful pool showing against India when the latest edition of world cricket's most high-profile contest takes place in London.
"The India game was an aberration," Arthur told reporters at the Oval on Saturday. "What we've produced after that doesn't come as any surprise, because that's how we trained, and that's what we worked at. It was very disappointing to see that go wrong in the Indian game, but... We've closed the chapter on that.
"That was an aberration. We're now moving forward."
Amir's return bolsters an already impressive Pakistan pace attack featuring Hasan Ali, the tournament's leading wicket-taker.
And Arthur believes that if Pakistan can strike with the new ball, they will have the chance to test an India middle order who have hardly been required to bat during this Champions Trophy, with the likes of openers Rohit Sharma and Shikhar Dhawan, as well as captain and star No. 3 Virat Kohli piling on the runs.
"Our strength has been the fact that we've been able to take wickets, and we've been able to take wickets consistently through the middle periods," explained Arthur.
"If we can get amongst them with the new ball, we can expose the middle order that hasn't batted much in this competition -- so that's pretty much our aim and focus."
Pakistan captain Sarfraz Ahmed said they had quickly forgotten the opening loss to India and simply focused on the next game in their bid to win the Champions Trophy for the first time.
"After the India match, we just motivated the guys," he said. "Don't worry about the India match. This is gone. If we play good cricket, definitely we will win this tournament."
Meanwhile, India suffered a shock loss to Sri Lanka in the group stage before overwhelming Bangladesh in the semis, and their captain Virat Kohli has been impressed by Pakistan's resurgence.
India, who beat Pakistan by five runs in the Twenty20 final 10 years ago, have been lifted by outstanding batting form of Kohli, Dhawan and Sharma.
"What we are going to try to do is repeat the similar sort of cricket that we have played so far, knowing the strengths and weaknesses they have," Kohli said. "I don't think we need to look too far away from what we are doing as a group, focus on our skills and our abilities and believe in ourselves on that particular day."
The Oval pitch should be more favourable for batsmen but India will not be complacent, especially with the match attracting a global audience of around 1 billion according to some estimates.