India take on Kiwis in even battle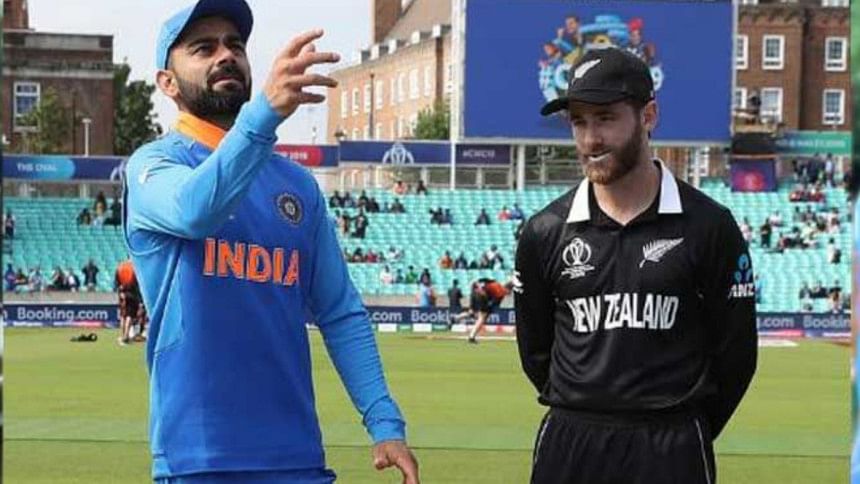 After more than five weeks of high-octane cricketing action, the 2019 World Cup has boiled down to three matches and four teams. Two of those -- India and New Zealand -- will face off in the first semifinal at Old Trafford today with each side knowing that they need just two good performances to take home cricket's most coveted trophy.
There is a chance of light rain in Manchester today, but a complete washout is a slim possibility as unlike the group stage, there are reserve days for the semifinals and finals. If rain does stop play today, the teams will continue the match tomorrow from the score they end on today.
While New Zealand have struggled into the knockouts, India have cantered into the last four as the top-placed side. However, while India are ahead, they are not clear favourites as there is precious little to separate the four semifinalists after a group stage that none have escaped unscathed. Neither side are strangers to the pressure cooker atmosphere of World Cup knockouts, although India have had a better experience in semifinals overall, winning three out of six. New Zealand, on the other hand, lost seven semifinals before winning their first one in 2015 against South Africa and then finishing runners-up to Australia.
India skipper Virat Kohli was well aware of the pressure of World Cup knockout games being different from the league matches, likening it to the 'toughest situations' in Test cricket.
"League stages, when you know that you need a victory to qualify, the team is a bit more relaxed and you know you can go out and try a few things," said Kohli in the pre-match press conference yesterday. "But I think in knockout games you need to be very precise, at the same time being intense. This is more similar to the toughest situations you get in Test cricket where you have to be absolutely precise but your intent cannot go down, so decision-making will be crucial."
While India are known for their batting prowess, the match well may become a fight between two of the best bowling lineups in the World Cup. India's seamers -- Jasprit Bumrah, Mohammad Shami, Bhuvneshwar Kumar and Hardik Pandya -- have been the most successful fast men in the World Cup, scalping 51 wickets. India will also feel that they have the edge on non-subcontinental teams with two leg-spinners in the right-handed Yuzvendra Chahal and the left-handed Kuldeep Yadav. With off-spin-bowling all-rounder Kedhar Jadhav also in the mix, they will certainly have a lot of options when forming the ideal bowling combination to run through the Kiwis.
New Zealand, meanwhile, have been the only team among the top four to have conceded runs at less than five an over. Their seam attack is a varied one, with Trent Boult and Matt Henry providing movement up front, Lockie Ferguson providing high pace and Colin de Grandhomme's cutters and change-ups keeping batsmen guessing in the middle overs. Completing the picture is left-arm spinner Mitchell Santner, who has kept a tight lid on scoring in the middle overs.
While their bowling is in rude health, New Zealand should be worried about their top order. Opener Martin Guptill has just scored 166 runs in eight matches, and New Zealand have lost 13 wickets in the batting Powerplay in the group stage. They have been overly reliant on skipper Kane Williamson, whose 481 runs have constituted an astonishing 28.73 per cent of New Zealand's runs. The partnerships between Williamson and Ross Taylor -- who is the team's second-highest scorer with 261 -- have proven integral in New Zealand's wins.
"No, I don't really look at it like that. I look at my role as a role and that's one of 11 guys that do try and play their role to the best of their ability," Williamson said when asked if his and Taylor's were the key wickets for opposition. "And there's so many guys that have had significant contributions over the last few years that have gone a long way for us to win cricket matches and we all have that same opportunity going into tomorrow."
With a maximum of two games left to play, it will all come down to which side holds their nerves better on the day. If New Zealand's top order can come to the party, it may well be a great contest to kick off the knockouts.