Imported LNG to end gas crisis
But govt may have to hike energy prices in all sectors to cover the huge LNG import bill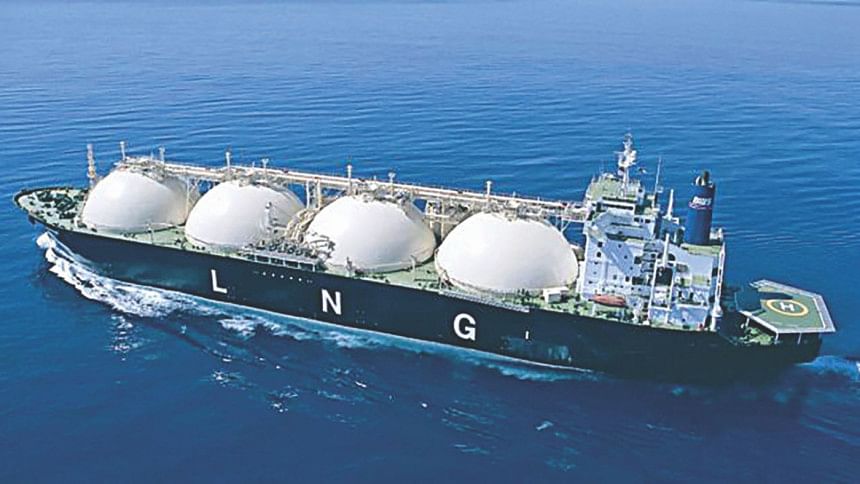 Good news: Annual Import of US$3 billion Liquefied Natural Gas (LNG) is to ease the decades-long gas crisis of the country. Import will start in
April,
2018 and by October more than
one third
of the country's gas needs would be imported in the form of Liquefied Natural Gas (LNG).
Bad news: to cover the cost of the pricy LNG import, the government may have to hike the gas price by as much as double—which would result in cost hike in all sectors: power, captive power, fertiliser, industry, commercial, CNG, tea gardens and domestic.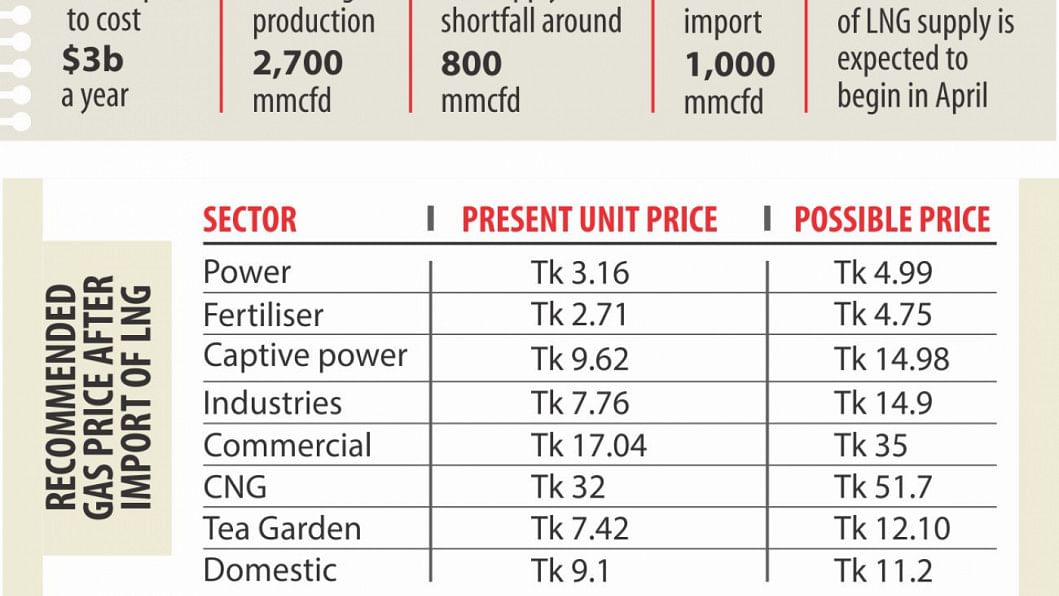 The annual US$3 billion import bill for the LNG would also take out a sizable chunk from the country's foreign currency reserve.
According to an analysis of Petrobangla, the bulk price of per million cubic feet per day (mmcfd) gas for power, fertilizer, industry or commercial sectors would have to be increased by one third to double.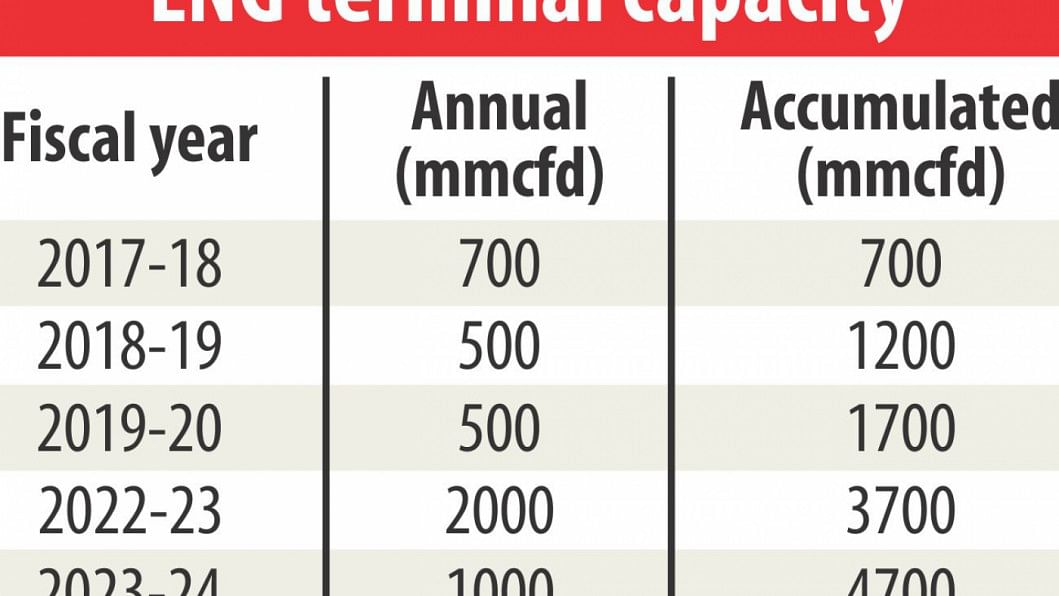 Such an increase would make life costlier, as the overall production cost would go up at all levels.
In spite of this burden, the overall result is going to be positive as the import of 1000 mmcfd gas could help produce almost 5000 megawatts of power—which is about half of what the country produces today. Petrobangla concludes that the contribution of this gas to the GDP is equivalent to Tk 2,76,000 crore.
In simple terms, the supply of gas would result in full swing production at the industries, power plants, fertiliser factories and any other economic activities.
The country presently produces and supplies around 2700 mmcfd of natural gas which is 800 mmcfd short of actual demand, according to Petrobangla. Many power plants cannot run in full capacity, many industrial units cannot function optimally and many fertiliser plants remain shut down for several months due to the shortage.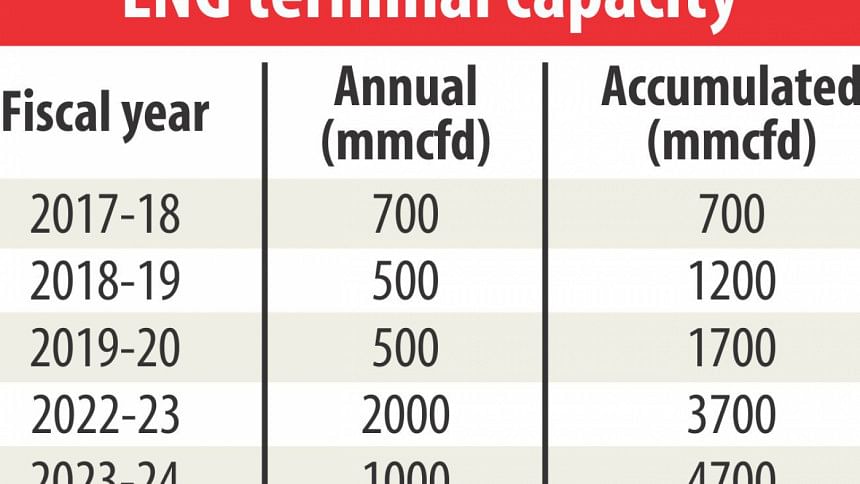 The government recently signed an agreement with Qatar to import the LNG based on a pricing formula.
Petrobangla sources said import of 500 mmcfd gas will require Tk 12,720 crore per year. And import of 1000 mmcfd gas will cost around Tk 25,000 crore or US$ 3 billion a year.
The first installment of LNG supply is expected to begin from April from a floating LNG terminal being built by US-based Excelerate Energy in Moheshkhali under a Petrobangla sponsored project. The terminal will receive imported LNG, gasify the liquids and pump it into the national gas grid at the rate of 500 million cubic feet per day (mmcfd).
The Gas Transmission Company Limited is building a pipeline from Moheshkhali to the national gas grid in Chittagong and expects to be ready for pumping gas by April 2018.
The second installment of LNG supply is expected from late 2018 from another LNG terminal being built by country's biggest local power producer Summit. Summit would supply another 500 mmcfd from Moheshkhali.
 "Our LNG cost will be US$0.46 per mmcfd for port services to bring in the LNGC (Liquified natural gas carrier) berthing them along side Summit LNG's FSRU (Floating Storage vessel and Regasification Unit) with a capacity of 1,38,000 m3 (meter cube) with a send out capacity of 500 mmcfd," said Muhammad Aziz Khan, chief of Summit Group.
Aziz noted that US$0.46 was among the world's lowest tariff for this kind of operation. Re-gassified LNG is the cleanest and most environmentally friendly fossil fuel available in the world.
Summit has tolling arrangement with the Rupantorito Prakritik Gas Company Ltd (RPGCL) for 15 years after which Summit would hand over the vessel, mooring system, subsea pipe etc free to RPGCL. The RPGCL would import the LNG.
In his last budget speech, finance minister AMA Muhith had suggested that the gas price would have to go up alongside import of LNG.