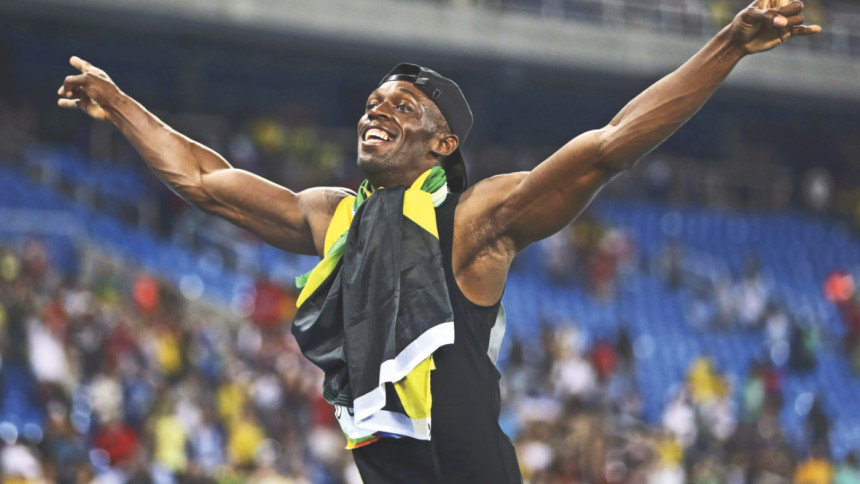 Immortality: Sealed with a burst of speed, in the blink of an eye and in the matter of 37.27 seconds.
Usain Bolt must have lived many a memorable 37.27 seconds in his life, but those on Friday 19th of August, 2016 at Rio de Janiero's Olympic Stadium will forever remain special, for it transcended the Jamaican from the realm of greats to the pantheon of immortals.
37.27 seconds was all it took to script the closing chapter of this incredible journey. A journey that had started on a grass track of a nondescript Kingston school some two decades ago and first hit the highs eight years ago in Beijing reached its climax on Friday night, culminating in a ninth gold medal in nine Olympic finals. The journey has been written in blazing black, green and gold.
The script for the final episode of this journey couldn't have been written any better. The 4x100m race was the final race of his storied Olympic career; it was a race that was going to define his legacy as either the greatest sprinter of all time or as the man who just fell short of that greatness. The stakes were high and there was no scope for fluffing the lines.
But Bolt was not alone in this one. He was part of a team; he was carrying the baton of a team with lesser men -- namely Asafa Powell, Yohan Blake and Nickel Ashmeade. Another man's fault would have put his legacy on the line. But they also ran for Bolt as much as they did for Jamaica. They all wanted Bolt to win his ninth. The world wanted Bolt to win.
When the 6ft 5in Jamaican got the baton for the anchor leg, his team had a very slim lead. But it was a lead nonetheless, and that was more than enough. A lesser man might have still buckled under the pressure of the situation, and given in to the nerves facing the enormity of what was at stake. But with Bolt, that was never going to happen. He has always been a man of his own making and he had walked many a fine line in life and come up trumps.
As soon as he got the baton, running last for his team, the 29-year-old unleashed his unrivalled speed, pulling away from the rest of the field. And he was out of sight of the rest of the field in a flash. By the time Bolt touched the finish line, he had forged a 0.33 second lead over closest finishers Japan.
With the record ninth gold and a 'triple triple' of Olympic victories sealed, the sprint king was off to play to the adulation of the audience, dancing with his teammates with the colours of Jamaica wrapped around his shoulders.
The world bowed to the greatest of all time. The Olympics might never see one like him again.