Heavy Rain, Waterlogging: No respite for city residents
Morning shower sends many parts of capital under water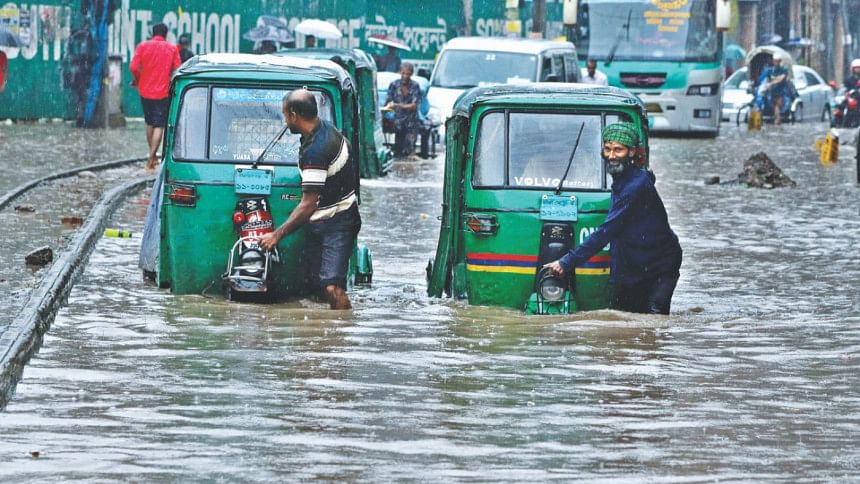 Heavy rain took the capital under ankle-to-knee-deep water and pushed the public road transport system into a near-breakdown yesterday, a day after the flooding of the city's major parts by moderate rain.
Streets, lanes and by-lanes were submerged. Traffic stood still after the morning rainfall. People, mainly office-goers, suffered immensely. Many of them had to wade through filthy water to reach their workplaces, failing to get any vehicle.     
"It seems Dhaka is an orphan city. No one is there to take care of it. Whenever it rains, we face similar situation," said Muntakim Noor, a private service holder.
A major portion of the city experienced floods on Sunday as well following moderate rain.
Yesterday's heavy rain recorded by the Met office at 80 millimetres in six hours from 6:00am worsened the situation at some places.
Most part of the country, including the capital, will witness rain today also as monsoon is active over Bangladesh, a Met official said. 
More often than not Dhaka city turns into a water body following a moderate rain, which experts blame on inadequate storm water drainage system managed by different authorities with little coordination between them.
They do the job haphazardly and have little clue about what the other parties are doing, according to experts.
With a well-managed drainage network in place, rainwater instantly runs into the low-lying retention areas. But, it takes hours for the rainwater runoff if the network is faulty or destroyed, leading to immense public sufferings.
As there was heavy rain yesterday, things took a turn for the worse.
Muntakim Noor on his way to Farmgate from Mohammadpur could not get any public vehicle. So, he went by a rickshaw to Manik Mia Avenue, which cost him more than his usual bus trip, and from there he walked to Farmgate. 
"I have seen more than a dozen of buses, auto-rickshaws, and motorbikes getting out of order in water at Manik Mia Avenue," Noor said. 
College student Sabbir Ahmed Noman had similar experience.
He had to walk through knee-deep water "with rubbish floating" from Rajarbagh to Mouchak while returning home at Moghbazar.
"I have waited for an hour in front of my college [at Rajarbagh].... I could not manage to board any public bus as they were jam-packed," Noman said.
Phul Miah, a helper of Lams Paribahan, said the bus started from Motijheel at around 8:00am and it took some five hours to reach Mirpur-10.
"It took around three hours to cross Shahbagh," he told The Daily Star around 1:00pm.
"We will have rest reaching Pallabi and then will decide whether to go for the next trip."
Sewrapara to Kazipara part of Begum Rokeya Sarani remained inundated for hours since morning, reports one of our correspondents.
Shantinagar, Khilgaon, Bashabo, Malibagh, Shantibagh, Mugda, Badda and different parts of Old Dhaka also witnessed similar situation.
Meanwhile, the Met office forecast that light to moderate rain or thunder shower accompanied by temporary gusty wind is likely to occur today in Rangpur, Rajshahi, Mymensingh, Dhaka, Khulna, Barisal, Chittagong and Sylhet divisions.