He went to Turkey on 'honeymoon'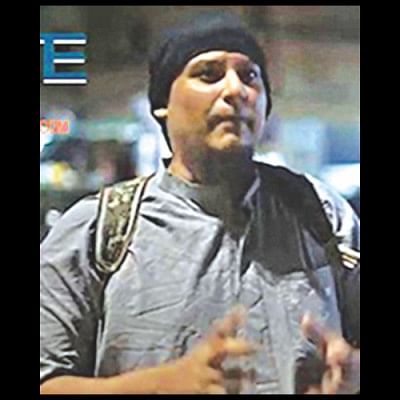 The first man seen in a video released during the Eid holidays praising the Holey Artisan Bakery attack was identified by his friends and family members as Tahmid Rahman Safi.
The 30-year-old is the son of former election commissioner and home secretary late Safiur Rahman.
Soon after the video went viral and he was identified, his elder brother Shahrukh Safi told police that Tahmid left the country on April 23 last year, saying he was going on a honeymoon.
"He told us that he was going to Malaysia on a 10-day trip. When he didn't return after about 15 days, we called his travel agent and found out that he and his wife went to Istanbul in Turkey," said Sub-Inspector Mohammad Kamal of Khilkhet Police Station, quoting Shahrukh.
The SI said he talked to Shahrukh and his mother soon after Tahmid was identified.
The Daily Star could not independently verify the police official's claims.
When this correspondent contacted Shahrukh, he said he and his family members would not speak to the media on the matter, as they have already told the police everything.
Tahmid was a singer who was passionate about music since childhood. So much so that he made it to the top 15 in the first season of the country's popular talent hunt show Close Up 1, his friends said.
According to his family, Tahmid got married to a girl he liked in February last year. In April, he and his wife Sayma Khan told their families that they wanted to go to Malaysia on their honeymoon and left the country informing their families that they were going for about 10 days, Kamal said.
Before her marriage Sayma lived with her parents at the city's Niketan.
Tahmid called home a few days after he left and said he and his wife were doing fine. After about 15 days, the families became worried as they did not hear anything from the couple and contacted their travel agents and found out that they went to Istanbul, not Malaysia.
Tahmid had been occasionally sending text messages to his mother Nasheta Zerin, saying he and his wife were fine. However, he hardly ever called, the police official said, quoting Nasheta.
Nasheta once asked Tahmid how he and his wife were making a living there, Tahmid said they lived in a room, cooked their food and slept on the floor. "We don't need much for a living anyway," he told his mother.
Kamal added that whenever the family asked his whereabouts and living conditions, he just said he was fine.
After his wife gave birth to a girl on May 31 this year, Tahmid called his family to inform this, the SI added.
Two of Tahmid's friends, seeking anonymity, told The Daily Star that he was a brilliant Brac University student studying with full scholarship.
His past is completely opposite to the Tahmid that is seen talking about radicalisation with conviction and celebrating the deaths of the 22 innocent Gulshan café victims, they observed.
After graduating from Brac University in 2007, he worked for a mobile carrier for five years, said SI Kamal, adding that Tahmid also got enrolled for the MBA programme in IBA of Dhaka University.
The sudden change in Tahmid occurred in 2010-11 after he allegedly had a breakup with his then girlfriend. It is being said that he stopped socialising shortly after that and became somewhat of a hermit. His friends suspected a brief period of drug abuse too.
He quit his job by the end of 2012 and taught in English medium schools and coaching centres for a while, said Kamal.
Tahmid was also known to be learning Arabic somewhere near Kalachandpur in Dhaka, said the friends.