Gunman kills 50 in US nightclub
53 others wounded in the deadliest mass shooting in US history; lone attacker killed in police shootout; shooter pledged IS allegiance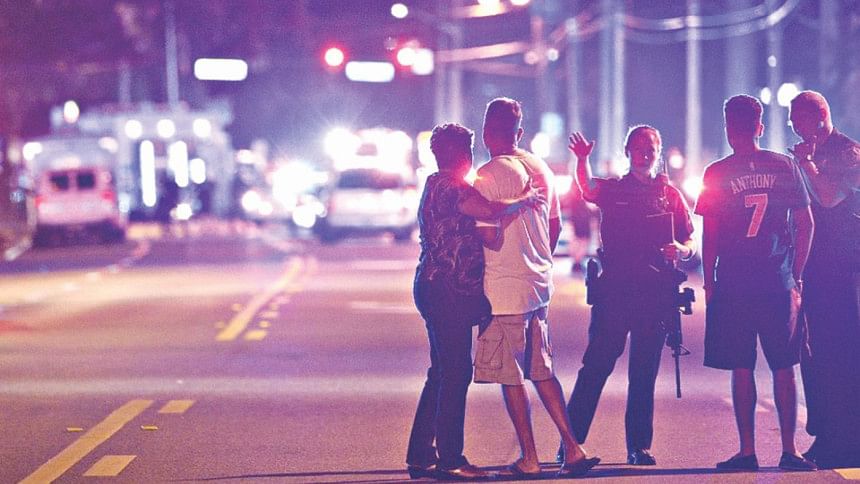 An American-born man who'd pledged allegiance to ISIS gunned down 50 people at a gay nightclub in Orlando -- the deadliest mass shooting in the United States and the nation's worst terror attack since 911, authorities said yesterday.
Mateen carried an assault rifle and a pistol into the packed Pulse club about 2:00am Friday and started shooting, killing 50 people and wounding at least 53, police said. After a standoff of about three hours, police crashed into the building with an armored vehicle and killed Mateen.
"It appears he was organised and well-prepared," Orlando Police Chief John Mina said early Sunday. Authorities have not described finding any accomplices.
There has been no claim of responsibility for the attack on jihadi forums, but ISIS sympathisers have reacted by praising the attack on pro-Islamic State forums.
"We know enough to say this was an act of terror and act of hate," President Obama said in an address to the nation from the White House.
While the violence could have hit any American community, "this is an especially heartbreaking day for our friends who are lesbian, gay, bisexual or transgender," he said.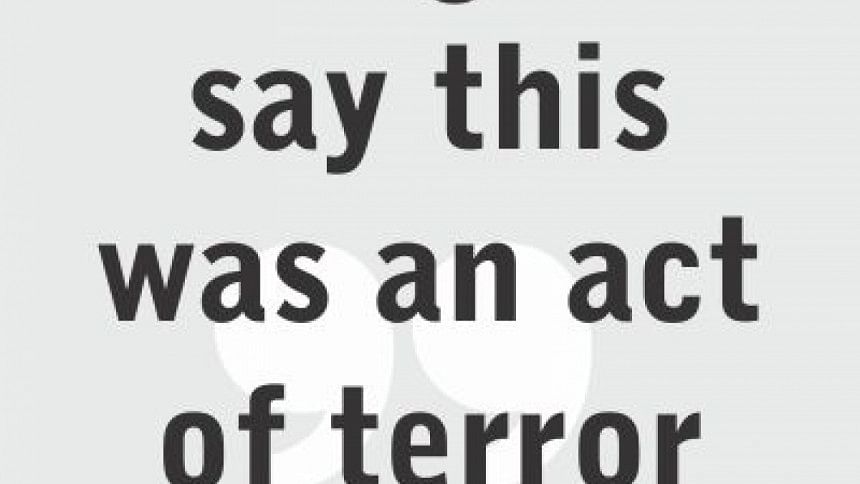 People inside the cavernous nightclub described a scene of panic made more confusing by the loud music and darkness.
Christopher Hansen said he was getting a drink at the bar about 2:00am when he "just saw bodies going down." He heard gunshots, "just one after another after another."
The gunshots went on for so long that the shooting "could have lasted a whole song," he said.
Ricardo Negron Almodovar escaped the club and posted this description on his Facebook page: "People on the dance floor and bar got down on the floor and some of us who were near the bar and back exit managed to go out through the outdoor area and just ran."
Orlando Mayor Buddy Dyer said he had declared a state of emergency for the city. Florida Governor Rick Scott declared a state of emergency for Orange County, where the attack occurred.
HELMET SAVES OFFICER
Law enforcement sources had told CNN that the suspect had possible explosive devices strapped to his body and in his vehicle, but a U.S. official said later that no explosives were found.
Mina said authorities were called to the club. After a shootout with the gunman around 2:00am ET, the shooter ran back inside the club and took people hostage.
People inside the club were communicating on their phones with law enforcement between that time and around 5:00am, when authorities used an armored vehicle to break down the door of the building. The club is a vast, open space that was hosting more than 300 patrons.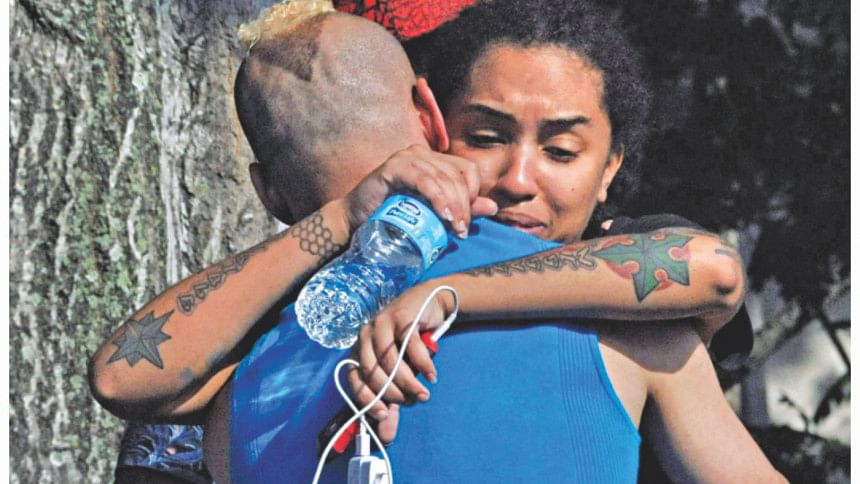 One officer suffered an eye injury when a bullet struck his Kevlar helmet, said Danny Banks, special agent in charge of the Florida Department of Law Enforcement's Orlando bureau. The helmet saved the officer's life, Banks said.
The shooter, Omar Saddiqui Mateen, is 29 and from Fort Pierce, about 120 miles southeast of Orlando, two law enforcement officials told CNN. He had been trained as a security guard, CNN has learned.
Two officials tell CNN that the FBI had investigated Mateen at some point for possibly having ties to or sympathizing with Islamic extremism. A law enforcement official said there were two cases opened involving Mateen but the probes didn't result in enough evidence to charge him with anything.
In the past two weeks Mateen legally purchased a Glock pistol, found at the shooting scene, from a St. Lucie County area gun store, a law enforcement official said.
Investigators have talked to Mateen's family, who indicated he had expressed anti-gay feelings.
Orlando authorities said they consider the violence an act of domestic terror. The FBI is involved. While investigators are exploring all angles, they "have suggestions the individual has leanings towards (Islamic terrorism), but right now we can't say definitely," said Ron Hopper, assistant special agent in charge of the FBI's Orlando bureau.
Authorities are also looking into the possibility the attack was a hate crime, a law enforcement source told CNN.
SHOOTING, HOSTAGE SITUATION
Video from CNN affiliate WKMG captured clubgoers carrying injured people from the club.
When the shots erupted, Hansen hit the ground, crawling on his elbows and knees, before he spotted a man who had been shot.
"I took my bandana off and shoved it in the hole in his back," Hansen said, adding that he saw another woman who appeared to be shot in the arm.
Luis Burbano was with his best friend inside the club when they realized the pop, pop, pop they were hearing wasn't the music but gunfire.
It was getting, "closer and louder and louder," he told CNN's Jake Tapper. He and his friend noticed a 10-second break in the shooting, so they managed to make a break for the door.
"We tried to save ourselves and as many people as we could to make it out of there," he said.
Once outside he saw a young man collapse in front of him. "I grabbed him not realizing that his forearm was split in two," Burbano said.
He acted fast by ripping off his shirt and tightening it around the man's arm to try to slow the bleeding.
Burbano spoke with CNN hours after talking with police and getting home. He was still very shaken.
MAJOR MASS SHOOTINGS IN US
Blacksburg, Virginia, April 16, 2007: A 23-year-old student of Korean origin goes on a rampage at Virginia Tech University, killing 32 people before committing suicide.
Newtown, Connecticut, December 14 2012: A young man kills 26 people, including 20 children at Sandy Hook elementary school. He also fatally shoots his mother. He commits suicide.
Killeen, Texas, October 16, 1991: A man shoots dead 22 people in a restaurant and then kills himself. Another wounded victim dies later.
Littleton, Colorado, April 20, 1999: Two teenage boys shoot and kill 12 classmates and a teacher at Columbine High School before killing themselves.
Aurora, Colorado, July 20, 2012:  A man kills 12 people and injures 70 more when he opens fire at a movie theater showing a late-night premiere of a Batman film in a suburb of Denver. The gunman James Holmes is given a life jail sentence with no chance of parole.
Fort Hood, Texas, November 5, 2009: US army psychiatrist Major Nidal Hasan opens fire at his military base, killing 13 people and wounding 42, before being overpowered by police. The shooting was the worst such incident on a military base in the United States.