Govt claim false and fictitious, says Taleya
Demands Rehman's release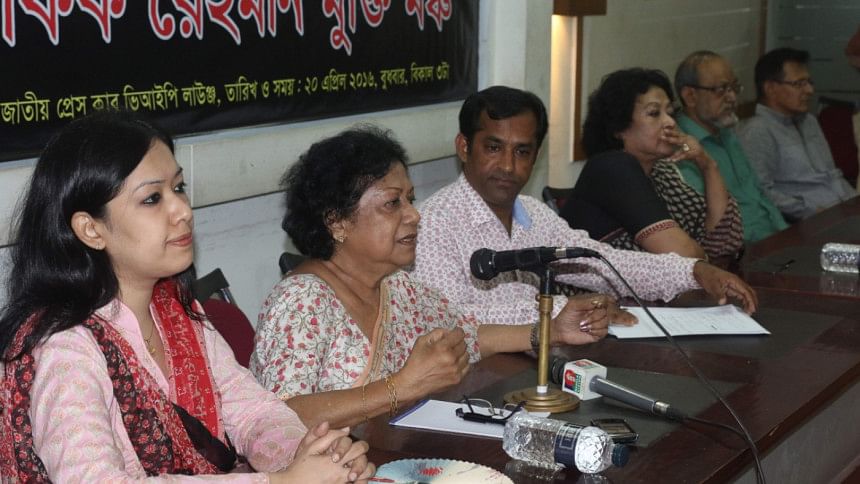 Speakers, including detained journalist Shafik Rehman's wife Taleya Rehman, yesterday outright rejected the government's claim that Shafik was involved in a conspiracy "to abduct and kill" Prime Minister Sheikh Hasina's son Sajeeb Wazed Joy. 
At a programme at the Jatiya Press Club, they also dismissed the PM and the detectives' claim that such a plot was proven in a US court and that the Bangladesh government had evidence in this regard.
Newly floated "Platform to free Shafik Rehman" organised the programme, demanding cancellation of Shafik's remand and his release.
Participants, including human rights and development activists, lawyers, doctors, teachers and singers, quoted a report published yesterday in "The Wire," an Indian publication.
The report said the US court records contradicted the Bangladesh government's claims that the conviction a year ago of three men in New York for illegally obtaining confidential FBI records involved a plot to kill Joy.
Speakers also said the US court judge who tried the case specifically dismissed prosecutors' claim that the men planned to "physically harm" Joy, who lives in the US. 
Taleya said the government's allegation that her husband was involved in a conspiracy "to kill Joy was out-and-out false and fictitious."
"The man who has introduced Valentine's Day in the country and love people can never be involved in a conspiracy to kill anyone. What an irony of fate that the man who spread love among people throughout his life, has been accused in a criminal case," she said.
"As his wife I have spent 59 years with him. But I have never seen him do anything wrong." 
Taleya sought assistance from all quarters to free her husband.
Participants said that as a journalist, Shafik Rehman might have collected information on many people, including Joy. But there is nothing wrong with that.
"It is a journalist's job to collect information. But it doesn't mean that they intend to harm anyone with that information," said Prof Saiful Islam of Bangabandhu Sheikh Mujib Medical University. 
Prof Dilara Chowdhury said human rights situation in Bangladesh was at the bottom now and the government was gradually turning into a repressive one.
"It seems people have no right at present to speak against or criticise the government and they have no human rights as well. It would be suicidal for all of us as well as for the country if we accept the present situation," she added.
Gonoshasthaya Kendra founder Zafrullah Chowdhury said it was Shafik Rehman who congratulated Hasina with a rose after she gave birth to Joy. "And the government has now brought false charges against him only to cling to power."  
"DIVERTING ATTENTION"
BNP Secretary General Mirza Fakhrul Islam Alamgir yesterday claimed the arrest of Shafik Rehman was meant to divert public attention from Bangladesh Bank cyber heist and Tonu murder.
At a programme at Dhaka Reporters Unity, he said the report in The Wire mentioned that Shafik Rehman and Amar Desh acting editor were not involved in the "conspiracy to abduct and kill Joy".
The arrest of Shafik makes it clear that the government was nervous, he claimed.