Gayeshwar Roy arrested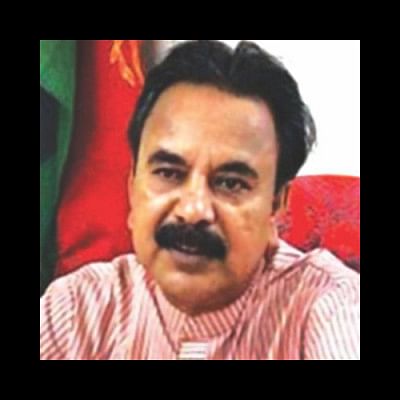 Police last night arrested two BNP leaders, including its Standing Committee Member Gayeshwar Chandra Roy, police and the BNP said. 
Gayeshwar was arrested around 9:30pm from in front of Police Plaza on charges of "plotting" an attack on policemen near the Supreme Court and snatching two party activists from a prison van, said Dhaka Metropolitan Police (DMP) Commissioner Asaduzzaman Mia.
BNP activists also snatched firearms from two policemen and dismantled them during the attack that left seven cops wounded, he told The Daily Star.
"We arrested him [Gayeshwar] after getting specific evidence that he gave instructions for attacking policemen," the said DMP chief.
Abdus Salam Azad, BNP's assistant organising secretary, said a police vehicle stopped Goyeshwar's microbus and detained him when he was returning home from party chief Khaleda Zia's Gulshan office.
In an instant media briefing at the party's Nayapaltan office, BNP Senior Joint Secretary General Ruhul Kabir Rizvi condemned his arrest and demanded his immediate release.
Gayeshwar is one of the few BNP leaders vocal against the government. After a Dhaka court set February 8 for pronouncing verdict in a corruption case against Khaleda, he called on BNP men to protest the trial.
He also warned of a tougher movement in case Khaleda is convicted "wrongly".
Meanwhile, plainclothes policemen picked up BNP's Assistant Organising Secretary Aninda Islam Amit from his Shantinagar house around midnight, said Shamsuddin Didar, an official of Khaleda's press wing.
Amit's father Tariqul Islam is a BNP Standing Committee member.
Contacted, a number of sources in the DB said they were not aware of his arrest.
BNP leaders also alleged that police raided the house of BNP leader Shafiul Bari Babus in the capital's Eskaton.
Police also took away the CCTV set from his house, they claimed.
But local police and sources in the DB said they knew nothing about this incident either.
Earlier on Monday night, Rab picked up Anisur Rahman Talukder Khokon, mass education affairs assistant secretary of BNP's executive committee, from Ramna area. Rab admitted arresting him yesterday on charges of plotting subversive activities but did not say from where he was arrested.