Fizz fever in IPL goes viral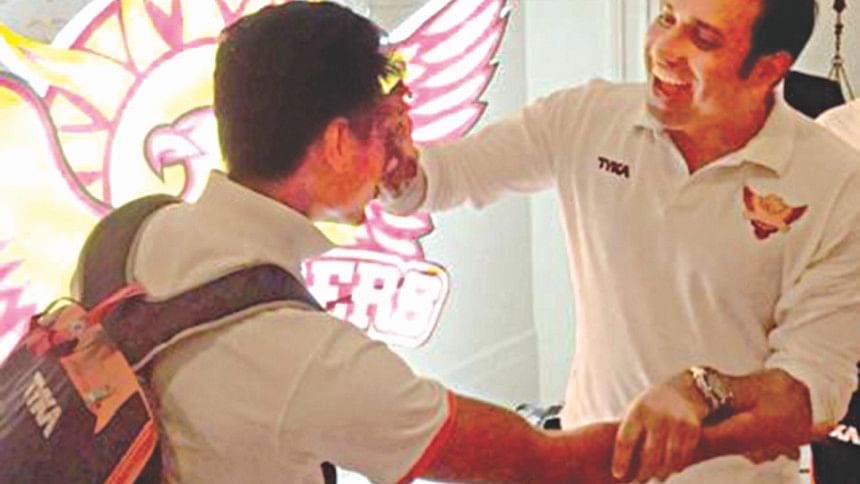 "Bangladesh is privileged to have Mustafizur Rahman," Sunrisers Hyderabad captain David Warner said after Mustafizur's superb spell of nine for two in four overs set up an emphatic win over Kings XI Punjab in Saturday's Indian Premier League (IPL) match.
The Bangladeshi eyes eagerly watching the telecast could have told him right then that they are aware of the privilege and count themselves lucky to have Fizz in their team. Since his international debut exactly a year ago on April 24, 2015 in the T20I against Pakistan, swiftly followed by 11 wickets in his first two ODIs that brought about a maiden series win over India, he has been treated like the precious gem that he is. A thought uppermost in the minds not only of the cricketing establishment but also among casual fans is the danger that too much cricket will result in an injury.
That attitude has spread, now that he has proven his brilliance in five consecutive IPL games, beyond Bangladesh's boundaries to people who are not normally associated with toasting Bangladesh's successes: the likes of commentators Rameez Raja and Navjot Singh Sidhu, both of whom were gushing in their praise of the 20-year-old. During Saturday's broadcast a poll went up asking viewers who the best left-handed pacer in the IPL is -- 71 per cent of the votes were cast under Mustafizur's name.
Before leaving for his stint in the IPL, there was genuine concern not only about his injury, but also about how he, a boy from Satkhira just a year old in international cricket, would fare in the highly professional atmosphere of a tournament where hardened cricketers from all over the world come to display their prowess. By the looks of things so far, Mustafizur is having a blast and the Hyderabad team treat him with as much tender loving care as his countrymen do. Evidence of that lies in captain Warner easing his young bowler's discomfort during Saturday's presentation, and the Australian's earlier revelation on twitter that he was learning bits of Bangla to communicate with his ace bowler.
After the Saturday game, Mustafizur was the toast of his team during quite a unique celebratory party.
"Soon after we got down from the team bus and entered the hotel lobby we all assembled in front of a cake," Mustafizur, for whom speaking in public is perhaps the greatest challenge, told The Daily Star over telephone yesterday. "Since I was the top performer of the match it was my turn to cut the cake. But after that you have to run fast because everybody will try to smear your whole body with the cake.
"But being the junior most member of the team they care for me very much. [Hyderabad mentor VVS] Laxman Da splashed part of the cake on my head and immediately inquired if I'm feeling alright. If you are at the centre of the party your job is to run and be resigned to a shower. This is the way we have been celebrating every win. And I'm enjoying it," recounted Mustafizur.
For his part, Mustafizur has ensured that he feels as much at home as possible.
"It's very hot here during daytime. I don't go out of my room. Others play indoor games but I enjoy staying in my room and watching dramas on Youtube. I watch Bangla dramas and don't miss any show by Mosharraf Karim.
Someone who desperately misses his mother's cooking, Fizz has however cautiously ventured into South Indian cuisine.
"The biriyani is good here and I also like the roshmalai (sweet)."